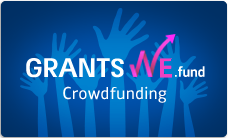 It is time to dust off your not yet funded grant applications!
In May, you will be able to take your pending proposals and synergize them with crowdfunding. Through GrantsWe.fund the people of the world will decide which project to fund through small donations that will collectively add up to the sum you need.
Prepare to start the process by gathering pictures and video clips in anticipation of the crowdfunding of your project. We have crowdfunding mentors through GrantWriterTeam.com that will help you transpose your proposal to the GrantsWe.fund platform. From design to final publish, we can assist with the socializing of your project.
We are all happily anticipating the Grand Opening of GrantsWe.fund COMING SOON!