OJJDP FY 2013 National Mentoring Programs
Grants to USA National For-Profits and
Non-Profits to Mentor At-Risk Youth

Office of Juvenile Justice Delinquency Prevention

04/29/13 11:59 PM ET

Grants are available to USA national organizations to provide evidence-based mentoring services to at-risk, high-risk, and underserved youth, 17 years or younger, in order to promote better behaviors, attitudes, and outcomes for this population. Organizations seeking to either establish a mentoring program or enhance an already existing one must operate according to one of the following categories:

One-on-One Mentoring where an adult (mentor) forms a mentoring relationship with a youth (mentee); Group Mentoring where an adult (mentor) forms a mentoring relationship with two or more youth (mentees); or Combined One-on-One and Group Mentoring where an adult (mentor) forms a mentoring relationship with a youth (mentee) and an adult (mentor) forms a mentoring relationship with two or more youth. OJJDP encourages applicants to target mentoring services and programs to youth with a parent in the military, including a deployed parent, and/or tribal youth. If targeting tribal youth, establishment of mentor/mentee relationships on tribal reservations/lands is encouraged.

Mentoring programs should support a structured relationship between an adult or trained peer and one or more youth. Mentoring promotes positive behaviors, attitudes, and outcomes for youth and reduces risk-factors. It has been shown to improve academic performance and/or social or job skills, support behavioral or other personal development, and reduce alcohol and other drug consumption. Successful mentoring programs include matches between a mentor and one or more youth; mentoring can take place in multiple and informal settings, as well as in a school or program context.

Up to 3 years.

National organizations, defined as having active chapters or subawardees in at least 45 states. For purposes of this solicitation, two or more independent organizations that form a collaborative to cover 45 states do not meet the definition of a national organization.

For-profit organizations must agree to forgo any profit or management fee.

National headquarters organizations must submit applications, and OJJDP requires successful applicants to subaward 90 percent of this award to at least 38 of the states where they have a presence.

Applicants must register with Grants.gov prior to submitting an application. OJP encourages applicants to register several weeks before the application submission deadline. In addition, OJP urges applicants to submit their applications at least 72 hours prior to the due date of the application to allow them time to receive the validation message and to correct any problems that may have caused a rejection notification.

Before starting your grant application, please review the funding source's website listed below for updates/changes/addendums/conferences/LOIs.
For technical assistance with submitting an application:
Grants.gov Customer Support Hotline
800-518-4726, 606-545-5035
support@grants.gov
Hotline hours of operation are 24 hours a day, 7 days a week, except federal holidays.

For assistance with any other requirements of this solicitation:
Justice Information Center (JIC)
1–877–927–5657
JIC@telesishq.com
Live Web chat: www.justiceinformationcenter.us
JIC hours of operation are 8:30 a.m. to 5:00 p.m. eastern time, Monday through Friday, and 8:30 a.m. to 8:00 p.m. eastern time on the solicitation close date.

16.726

OJJDP-2013-3435

USA: Alabama Alaska Arizona Arkansas California Colorado Connecticut Delaware Florida Georgia Hawaii Idaho Illinois Indiana Iowa Kansas Kentucky Louisiana Maine Maryland Massachusetts Michigan Minnesota Mississippi Missouri Montana Nebraska Nevada New Hampshire New Jersey New Mexico New York New York City North Carolina North Dakota Ohio Oklahoma Oregon Pennsylvania Rhode Island South Carolina South Dakota Tennessee Texas Utah Vermont Virginia Washington Washington, DC West Virginia Wisconsin Wyoming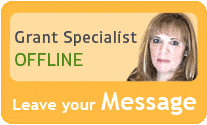 Libby is constantly in touch with grant program managers and reviews numerous publications to make sure that GrantWatch.com provides subscribers with the most up-to-date grant opportunities.
We have grants for:

Need help?
Hi, I would love to guide you through the site.
Please feel free to call or write.
Customer Sales & Support
(561) 249-4129