Natural Community Conservation Planning (NCCP) Local Assistance Grant (LAG) Program
Grants to California Nonprofits and Agencies
to Implement Local Conservation Plans

California Department of Fish and Wildlife (CDFW)

08/18/17 5:00 PM PST
Grants to California local jurisdictions, nonprofits, and public agencies to support urgent tasks related to the implementation of local conservation plans. Eligible projects include, but are not limited to, restoration and enhancement, monitoring, management activities, acquisition, reserve management plans, mapping, and targeted studies for adaptive management.

Program Overview:

The Natural Community Conservation Planning Local Assistance Grant (NCCP LAG) Program was created to assist local public and nonprofit entities in the implementation of Natural Community Conservation Plans (NCCPs) throughout California, as authorized under Fish and Game Code (FGC) 2800 et seq. Additional legal authority for the NCCP LAG Program is provided by FGC Section 1501.5, which allows the California Department of Fish and Wildlife (CDFW) to grant funds for fish and wildlife habitat preservation, restoration, and enhancement. CDFW offers NCCP LAGs to eligible Applicants on an annual basis for highest priority tasks needed to implement NCCPs. Highest priority tasks are identified by the NCCP implementing partners and Wildlife Agencies throughout the preceding year.

The California Department of Fish and Wildlife seeks proposals for highest priority projects associated with NCCP implementation, including management and monitoring as well as critical targeted studies. The intention of this Proposal Solicitation Package is to attract proposals of the highest quality that are consistent with the goals of the NCCP Program. To help achieve this intention, we are providing guidance on Applicant eligibility, the grant process and deadlines, and application and submission procedures.

Eligible Projects:

Grants are available for highest priority tasks associated with the implementation of approved NCCPs and for NCCPs that are anticipated to be approved within 12 months of grant program announcement. Routine, on-going management activities are not eligible. Projects legally required as mitigation by a regulatory agency as a condition for a permit are not eligible. In addition, Permittee-responsible activities and administrative tasks (for which the funding commitment is specified in the NCCP or Implementing Agreement) are also not eligible. Examples of types of projects that are eligible for funding are shown below.

Project Type:

Management Activities: Immediate management actions on newly acquired NCCP reserve lands

Restoration/Enhancement: Restoration or enhancement of habitats or species populations on NCCP reserve lands

Monitoring: Design and implementation of biological monitoring programs identified in an NCCP, including the establishment of sampling methods, monitoring plots, data collection, management, and analysis

Acquisition: Acquisition of land by fee title or conservation easement that is an essential part of an NCCP reserve system and acceptable to CDFW

Reserve Management Plans: Development and implementation of individual reserve management plans

Mapping: New or updated mapping in support of NCCP management or monitoring activities, such as vegetation community mapping

Targeted Studies for Adaptive Management: Studies to evaluate management actions for covered habitats or species, and whether such actions are meeting stated goals or require adjustments through adaptive management

Other: Other priority tasks, identified by the NCCP LAG Applicant and NCCP implementation partners, that are needed to ensure effective implementation of the NCCP

For this grant cycle, executed grant agreements will likely not be in place until early 2018, and all grant funds must be expended by March 31, 2020. Applicants should plan project timelines accordingly.

The estimated start date for projects is February - March 2018.

Eligible Applicants include local jurisdictions or other entities that are implementing a CDFW-approved NCCP or will be implementing an NCCP within 12 months of the release of the Proposal Solicitation Package.

Other eligible entities include public agencies and nonprofit organizations that have an interest in assisting with the implementation of Eligible Projects.

It is recommended that Applicants work with regional CDFW staff; U.S. Fish and Wildlife Service (USFWS) and National Marine Fisheries Service (NMFS) staff (if appropriate); and the appropriate Implementing Entity, throughout the year to develop proposals for high priority tasks needed to implement NCCPs.

Proposals should be developed by the Applicant in collaboration with governmental and non-governmental NCCP partners, the Implementing Entity, and local Wildlife Agency staff.

The following timeline summarizes the grant process for the FY 2017-18 grant cycle:

-July 5, 2017: CDFW will solicit Proposals by posting the Proposal Solicitation Package (PSP) on CDFW's NCCP Grants webpage

-August 18, 2017: Applicants will submit their Proposals electronically via email to the Habitat Conservation Planning Branch (HCPB) by 5:00 PM PST

-September, 2017: Review of Proposals by a statewide review team will be completed and projects will be recommended to the CDFW Director for funding.

-October 2017: CDFW Director or designee will send notification letters to Applicants.

-October - December 2017: Grant agreements will be developed by CDFW in collaboration with the Grantee for each project.

-December 2017 - February 2018: Grant agreements will be sent by CDFW to Grantees for approval and signature. Grantees will return signed Agreements to CDFW. CDFW will approve, sign, and execute each Agreement and send the Grantee a copy.

-February - March 2018: Estimated start date for projects.

Before starting your grant application, please review the funding source's website listed below for updates/changes/addendums/conferences/LOIs.
Shannon Lucas
shannon.lucas@wildlife.ca.gov

Habitat Conservation Planning Branch
Landscape Conservation Planning Program
California Department of Fish and Wildlife
1416 Ninth Street, 12th Floor
Sacramento, CA 95814

USA: California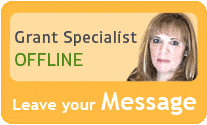 Our team of researchers and grant specialists review hundreds of funding resources daily to make sure GrantWatch.com provides members with the most up-to-date grants.
We have grants for: