Community Arts (CA) Grants
Grants to New York Nonprofits, Agencies, and Artists for Public Arts and
Cultural Programs in Cattaraugus, Allegany, and Chautauqua Counties
Agency Type:
Foundation / Corporation

Cattaraugus County Arts Council (CCAC) and New York State Council on the Arts (NYSCA)

09/29/17

10/06/17
Grants ranging from $500 to $5,000 to New York nonprofits, municipalities, and artists to develop community-based arts and cultural programs in Cattaraugus, Allegany, and Chautauqua Counties. Grant information sessions will take place between July 7 and September 29, 2017. New applicants are required, and returning applicants are strongly encouraged to attend at least one session.

The priority of CA is to fund the arts related aspects for the proposed project (e.g.,artist fees, supplies, and materials needed for the execution of the program, production costs, etc.). Funding may also be requested for marketing, publicity and other outreach costs and administrative expenses.

Priority will be given to applications that address a number of the following priorities:
- First time applicants.
- Artist initiated projects.
- New initiatives from past applicants.
- Collaborative projects.
- Employment and payment of skilled and meriting artists, evidenced by resumes and supplemental information.
- Service to under-represented or under-served populations.
- Programs that present cultural traditions and/or contemporary creative expression of a particular ethnic group.

Grants are awarded from $500-$5,000.

Projects must take place between January 1, 2018, and December 31, 2018.

To be eligible for this grant, applicants must:

- Be an established nonprofit organization, a local government municipality, or sponsored artist/non incorporated organization legally located in Allegany, Cattaraugus, or Chautauqua County.

- Applicant organizations must have an active Board of Directors/Trustees or volunteer group that meets on a regular basis.

- Applicants must not exclude persons with disabilities, according to the 1991 Americans with Disabilities Act.

- Chapters of national organizations must have their own non-profit status in the county of their organization area and may not use the non-profit status of group-ruling parent organizations.

- Individual artists and non-incorporated arts organizations residing or legally located in the tri-county service area may apply for CA funding through the fiscal sponsorship or partnership of a qualified non-profit that meets the above criteria. Organizations who wish to apply with a sponsor or partner MUST meet with CCAC's Grants Administrator.

- Individual artists must be over the age of 21 and any students enrolled in a degree program are not eligible for funding.

Individual artists or organizations that do not have a not-for-profit status can seek sponsorship or partnership with an organization that fits the eligibility criteria. Any group interested in finding a sponsor or partner must contact CCAC as soon as possible. It is up to the artist or group to find their own sponsor/partner, but CCAC can assist in the search.

Funds will not be granted for:
- NYS agencies and departments (including SUNY Schools)
- Public Universities, colleges; and public, private or parochial secondary and elementary schools
- DEC site staff or board members
- Unincorporated applicants without an eligible sponsor or partner organization
- NYSCA applicants, including fiscally-sponsored applicants that have applied to NYSCA is the most recent cycle.
- Projects involving partners that apply directly to NYSCA.
- Non-incorporated chapters of organizations whose "parent" is incorporated outside of the DEC site service area
- Start-up or seed funding for the establishment of a new organization
- General operating expenses
- Requests that are greater than an organizations total operating expenses minus total operating income.
- Past re-grantees that have failed to submit final reports
- Operational expenses of privately-owned facilities (home and studios).
- Activities not opened to the general public such as camps, clubs, or college associations
- Events that take place in private homes
- Non-arts related activities including galas, benefits or fundraising events and entertainment such as balloons, clowns, magicians
- Programs that are essentially recreational, therapeutic, rehabilitative or social. Decentralization funds are not appropriate for magic shows, clowns, balloons, juggling, bubble demonstrations, nature or animal presentations.
- Acquisitions of works of art
- Contingency funds
- Permanent equipment or capital improvements
- Creating of textbook or classroom materials
- Lobbying expenses
- Programs which children are used as professional artists (paid a fee)
- Regrants by applicants to fund other activities
- Cash prizes, juried shows, fellowships, scholarships and other awards to students.

The Cattaraugus County Arts Council offers free in-person informational seminars to assist applicants in understanding the grant application process. Seminars focus on specifics of the grant application, including writing the narrative, successfully completing the budget, successful project examples, and review panel tips. Applicants can attend any seminar in any county. Please register for the seminar of your choice by calling the Foundation (see Contact Information below).

All new applicants are required to attend a grant workshop or meet with Grants Administrator individually before applying and at least two weeks before grant deadline to ensure ample time to prepare grant. If you have not applied and received a grant in the past 3 years, you must attend an informational seminar.

FY 2017 Applicants
Any applicant that has applied in the past year is strongly encouraged to attend a grant workshop to review changes to the application process; however, this is not mandatory.

Please see the URL for Full Text link below for current seminar dates.

Organizations may submit up to three (3) separate grant applications for three separate and distinctly different programs, but funds requested may not exceed a total of $5,000.

The Community Arts grant is not intended to fund the total expense of any project. Applicants must seek and commit other sources of revenue and support in addition to the requested funds. Creative collaborations and support from community organizations and businesses are strongly encouraged. All proposals must show income that is equal to or greater than 25% of the total project request.

CCAC's Grants Administrator will gladly review and critique a draft of your application questions up to two weeks prior to the deadline date. All drafts have to be submitted by email to Courtney Mealy. Please note that by having your application reviewed by the Grants Administrator does not guarantee your application a grant award.

All applicants will be notified of the panel's decision via mail in late November/early December.

Before starting your grant application, please review the funding source's website listed below for updates/changes/addendums/conferences/LOIs.
Submit grant applications to:

Courtney Mealy, Grants Administrator
Courtney@myartscouncil.net
716-372-7455

Cattaraugus County Arts Council
100 West Main Street
Allegany NY 14706

USA: New York: Cattaraugus, Allegany, and Chautauqua Counties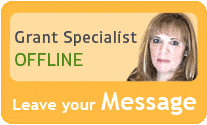 Our team of researchers and grant specialists review hundreds of funding resources daily to make sure GrantWatch.com provides members with the most up-to-date grants.
We have grants for: