AmeriCorps Competitive Grants
Grants to New Jersey Nonprofits, Schools, and Agencies
to Employ Volunteer Staff for Community Services

New Jersey Department of State, New Jersey Commission on National and Community Service

10/26/16

12/05/16

12/13/16 4:00 PM Electronic Receipt; and 12/15/2016 Hard Copy Receipt

Request a Grant Writer
Grants of up to $13,430 per volunteer to New Jersey nonprofits, schools, IHEs, government agencies, and labor organizations to employ volunteer staff to carry out community services. Technical assistance sessions are scheduled for October 26, November 1, and November 2. The intent to apply is due by December 5.

AmeriCorps is a national service network that provides full- and part-time opportunities for participants, called members, to serve their communities and build the capacity of organizations to meet local needs. The New Jersey Commission on National and Community Service, New Jersey Department of State, seeks to fund local initiatives and utilize the AmeriCorps model to increase civic engagement and improve New Jersey's communities by deploying AmeriCorps members to provide services in the six focus areas identified in the Serve America Act.

Focus Areas:

1) Disaster Services - Grant activities will provide support to increase the preparedness of individuals for disasters, improve individuals' readiness to respond to disasters, help individuals recover from disasters, and/or help individuals mitigate disasters. Grantees also have the ability to respond to national disasters under CNCS cooperative agreements and FEMA mission assignments.

2) Economic Opportunity - Grants will provide support and/or facilitate access to services and resources that contribute to the improved economic well-being and security of economically disadvantaged people; help economically disadvantaged people, including youth identified in My Brother's Keeper (see Mandatory Supplemental Guidance) to have improved access to services that enhance financial literacy; transition into or remain in safe, healthy, affordable housing; and/or have improved employability leading to increased success in becoming employed.

3) Education - Grants will provide support and/or facilitate access to services and resources that contribute to improved educational outcomes for economically disadvantaged children; improved school readiness for economically disadvantaged young children; improved educational and behavioral outcomes of students in low-achieving elementary, middle, and high schools; and/or support economically disadvantaged students prepare for success in post-secondary educational institutions.

4) Environmental Stewardship - Grants will provide support for increased individual behavioral change leading to increased energy efficiency, renewable energy use, and ecosystem improvements particularly for economically disadvantaged households and communities. Grant activities will decrease energy and water consumption; improve at-risk ecosystems; increase behavioral changes that lead directly to decreased energy and water consumption or improved at-risk ecosystems; and/or increase green training opportunities that may lead to decreased energy and water consumption or improved at- risk ecosystems.

5) Healthy Futures - Grants will provide support for activities that will improve access to primary and preventive health care for communities served by CNCS-supported programs; increase seniors' ability to remain in their own homes with the same or improved quality of life for as long as possible; and/or increase physical activity and improve nutrition in youth with the purpose of reducing childhood obesity.

6) Veterans and Military Families - Grants will positively impact the quality of life of veterans and improve military family strength; increase the number of veterans, military service members, and their families served by CNCS- supported programs; and/or increase the number of veterans and military family members engaged in service through CNCS-supported programs.

Cost Reimbursement:
-Traditional: Up to $13,830.
-Professional Corps: Up to $1,000.

Fixed Amount:
-Full-Time: Up to $13,430.
-EAP: Up to $800.
-Professional Corp: Up to $1,000.

The project period is generally one year with a start date proposed by the applicant. The grant award covers a three-year project period unless otherwise specified.

Awards from this competitive NOFO will implement the first year of the program which runs from September 1, 2017 to August 31, 2018.

In most cases, the application is submitted with a one-year budget. Continuation funding for subsequent years is not guaranteed and shall be dependent upon availability of appropriations and satisfactory performance.

Eligibility is open to:

-Public or private nonprofit organizations, including community organizations and faith-based organizations;
-Local Education Agencies (LEAs) including charter schools;
-Institutions of higher education;
-Government entities within the state (e.g., cities/municipalities, counties, state departments);
-Labor organizations; and
-Partnerships or consortia consisting of the aforementioned.

Organizations that have been convicted of a Federal crime are disqualified from receiving the assistance described in this NOFO. Pursuant to the Lobbying Disclosure Act of 1995, an organization described in Section 501(c)(4), that engages in lobbying activities is not eligible to apply.

Three Technical Assistance Workshops will be held:

-Wednesday, October 26, 10:00 AM – 1:00 PM: Cumberland County Emergency Communications/OEM, 637 Bridgeton Ave., Bridgeton, NJ 08302 (Use side parking lot and side entrance).

-Tuesday, November 1, 10:00 AM – 1:00 PM., Morris County Vocational School District, 400 East Main Street (Route 53), Health Lab Building #2, Denville, NJ 07834

-Wednesday, November 2, 10:00 AM – 1:00 PM: Monmouth County Library, 125 Symmes Drive, Manalapan, NJ 07726

Only applications submitted by agencies that attend one of the technical assistance sessions listed above will be accepted.

Pre-registration is requested by calling 609-633-9627 or via e-mail to Mary Callahan.

Registrants requiring special accommodations for the Technical Assistance Workshops should identify their needs at the time of registration.

Submission of a Notice of Intent to Apply is requested and is due Monday, December 5, 2016 by email to Ivette Ramos.

Applications must be submitted electronically on eGrants no later than 4:00 PM on Tuesday, December 13, 2016.

Hard copies of the application should arrive at the Commission office by Thursday, December 15, 2016. Hard copies must be mailed to the address listed below.

Before starting your grant application, please review the funding source's website listed below for updates/changes/addendums/conferences/LOIs.
Ivette Ramos
Ivette.Ramos@sos.nj.gov

Mary Callahan
Mary.Callahan@sos.nj.gov

NJ Commission on National and Community Service – AmeriCorps
NJ Department of State
PO Box 456, 4th floor
225 West State Street
Trenton, NJ 08625
ATTN: Ivette Del Rio Ramos

609-633-9627

USA: New Jersey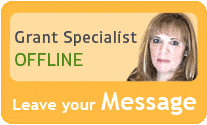 Libby is constantly in touch with grant program managers and reviews numerous publications to make sure that GrantWatch.com provides subscribers with the most up-to-date grant opportunities.
We have grants for:

Need help?
Hi, I would love to guide you through the site.
Please feel free to call or write.
Customer Sales & Support
(561) 249-4129