Multimodal Transportation Fund
Grants to Pennsylvania Agencies, Businesses,
and Ports to Enhance Transportation

Pennsylvania Department of Community and Economic Development

07/31/17 Receipt by Close of Business
Grants to Pennsylvania municipalities, public transportation agencies, ports, businesses, councils of governments, and economic development organizations to ensure safe and reliable transportation throughout the state. Projects will enhance pedestrian safety, communities, and transit revitalization.

Funds may be used for the development, rehabilitation and enhancement of transportation assets to existing communities, streetscape, lighting, sidewalk enhancement, pedestrian safety, connectivity of transportation assets and transit-oriented development.

Eligible Projects:

1. A project which coordinates local land use with transportation assets to enhance existing communities, including but not limited to: intercity bus and rail service improvement, bus stops, transportation centers, park and ride facilities, rail freight sidings, land acquisition for eligible airport development, land interests required for air approach and clear zone purpose, sidewalk/crosswalk safety improvements, bicycle lanes/route designation, in-fill development by assisting with traffic impact mitigation, develop local highways, highway noise and sound barriers, and bridges which will benefit state system and local economic development, greenways, etc.

2. A project related to streetscape, lighting, sidewalk enhancement and pedestrian safety, including but not limited to: sidewalk connections, crosswalks, pedestrian and traffic signals, pedestrian signs, and lighting. Streetscape amenities, such as permanently affixed benches, planters or trashcans and trees, shrubs or mulch, may not exceed 10% of the total project cost.

3. A project improving connectivity or utilization of existing transportation assets, including but not limited to: coordinated transit services; bicycle/shared lane markings or bicycle parking at transit stops; improved signage; rail freight sidings; track rehabilitation or upgrades; obstruction removal to protect airport critical airspace; airport perimeter fencing; airport wildlife hazard assessments; development and improvement to airport facilities, such as runways, taxiways, aprons, lighting, public areas of terminal buildings, other building structures for airport operational use, access roads, and airport navigational facilities; development or improvement to an integrated transportation corridor in order to improve the productivity, efficiency and security of goods movement to and from PA ports; improvement to facilities and operations of ports, which may include maintenance dredging berths, last mile access, rail-on dock, pipelines to a port, vessel conversions or repowering from fossil fuels to natural gas; etc.

4. A project related to transportation aspects of transit-oriented development, which consists of development concentrated around and oriented to transit stations in a manner that promotes transit riding or passenger rail use. The term does not refer to a single real estate project, but represents a collection of projects, usually mixed use, at a neighborhood scale that are oriented to a transit node. Projects may include, but are not limited to: relocation of transit routes to serve densely populated areas, transit shelters, pedestrian improvements to/from transit stops, rail station development, etc.

Eligible Costs:

a. Acquisition of land and buildings, rights of way and easements

b. Construction activities

c. Fixed equipment

d. The clearing and preparation of land

e. Demolition of structures directly related to the eligible transportation project

f. Environmental site assessment and environmental studies

g. No more than 10% of the grant award for engineering, design and inspection costs related to a construction project

h. Preliminary engineering design related to an eligible project where construction is subsequent phase.

i. Settlement costs and appraisals for acquisition projects
Multimodal Transportation Fund (MTF) Program Guidelines 02/15/2017

j. Administrative costs of the applicant necessary to administer the grant. Administrative costs can include advertising and legal costs, as well as documented staff expenses. Administrative costs shall not exceed 2% of the grant award and any amount over 2% cannot be included as match for this program.

k. Noise or sound barriers.

l. Project contingencies associated with construction and/or infrastructure costs are limited to 5% of those actual costs. No other contingencies shall be included as eligible project costs.

All applications for financial assistance will be reviewed by the DCED and PennDOT under the direction of the CFA to determine eligibility and competitiveness of the proposed project. Projects will be evaluated using the appropriate criteria from the following list of evaluation criteria for the various types of eligible projects:

1. The economic conditions of the region where the project is located.

2. Consistency with local, regional and statewide planning.

3. Benefits to a transportation system by mitigating a public safety issue.

4. The technical and financial feasibility of the project. Applicants must show that all financial commitments are in place to achieve the project goals and ensure the project will be fully completed with the use of these funds.

5. The level of non-CFA matching investment in the project. Increased consideration will be given to those projects that exceed the matching funds requirement.

6. Increased consideration will be given for the number and quality of the permanent jobs to be created or preserved in Pennsylvania by an identified business as part of the project.

7. Regional nature of the project.

8. The capital efficiency of the project.

9. Project readiness.

10. Financial need of the project.

11. Energy efficiency.

12. Operational sustainability.

13. Multimodal in nature, supporting the connectivity, integration or revitalization of at least two different means of transportation.

Grants are available for projects with a total cost of $100,000 or more. Grant requests shall not exceed $3,000,000 for any project.

The CFA will consider grant requests over $3,000,000 for projects that will significantly impact the CFA's goal to leverage private investment and create jobs in the commonwealth.

Eligible Multimodal Transportation Fund projects, which commence construction after the approval date, must be owned and maintained by an eligible applicant, except in the case of a state-owned highway.

1. Municipality - Any county, city, borough, school district, incorporated town, township or home rule municipality or an authority of a municipality.

2. Councils of Governments - An entity organized by units of local government under an intergovernmental agreement, which provides cooperative planning, coordination and technical assistance to its member governments on issues of mutual concern that cross jurisdictional lines, and which does not act under the direction and control of any single member government.

3. Business - A corporation, partnership, sole proprietorship, limited liability company, business trust, privately owned airports (must be open to the public), or other commercial entity approved by the Commonwealth Financing Authority ("CFA"). The term shall also include not-for-profit entities.

4. An Economic Development Organization - A nonprofit corporation or association whose purpose is the enhancement of economic conditions in their community.

5. Public Transportation Agency - A public transit agency, including but not limited to an airport authority, public airport, port authority, or similar public entity, created through the laws of this commonwealth, charged with the provision of transportation services to the traveling public, that owns and maintains or is authorized to own and maintain a physical plant, including rolling stock, stations, shelters, hangars, runways, maintenance and support facilities.

6. Ports - Rail / Freight - Railroad owner, railroad lessee/operator, railroad user and port terminal operators.

Ineligible project costs include, but are not limited to: fees for securing other financing, interest on borrowed funds, refinancing of existing debt, lobbying, fines, application preparation fees, security cameras (except for those located in a transit center, such as a bus or train station,) parking lots or garages not associated with the development or expansion of transportation related assets such as rail stations, transit centers or airports, reparations and costs incurred prior to the approval of CFA funding.

Applications will be received between March 1st and July 31st of each year. All applications and required supplemental information must be electronically submitted by close of business on July 31st.

The CFA charges a $100 non-refundable application fee for the submission of Multimodal Transportation Fund applications. The application fee is due at the time of application submission and is payable to the Commonwealth Financing Authority.

Matching Funds Requirement:

Financial assistance under the Multimodal Transportation Fund shall be matched by local funding in an amount not less than 30% of the non-federal share of the project costs. Matching funds from a county or municipality, shall only consist of cash contributions provided by one or more counties or municipalities. Liquid fuels tax, Act 13 impact fees, and other statutorily allocated fees/taxes paid directly to a county or municipality may be used as a local match.

Matching funds from a government council, business, economic development organization, or other public transportation agency shall only consist of cash contributions or cash equivalents for the appraised value of the real estate necessary to construct an eligible project. If using the value of real estate as a cash equivalent, an appraisal not older than one year is required and must be provided with the application submission.

In order to be eligible for a Multimodal Transportation Fund grant, all other funding must be committed for the proposed project by the application deadline.

Before starting your grant application, please review the funding source's website listed below for updates/changes/addendums/conferences/LOIs.
Apply Online:
https://www.esa.dced.state.pa.us

For technical inquiries regarding the submission of the on-line application, contact the Customer Service Center at:

(800) 379-7448 / (717) 787-3405.

Mail hard-copy applications and supporting materials to:

PA Department of Community and Economic Development
Center for Business Financing - Grants Division
Multimodal Transportation Fund
Commonwealth Keystone Building
400 North Street, 4th Floor
Harrisburg, PA 17120-0225

Program inquiries should be directed to:

P: (717) 787-6245
F (717) 787-9154
ra-dcedsitedvpt@pa.gov

USA: Pennsylvania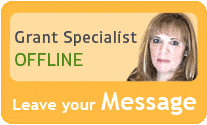 Our team of researchers and grant specialists review hundreds of funding resources daily to make sure GrantWatch.com provides members with the most up-to-date grants.
We have grants for: