Head Start and/or Early Head Start - Bucks County, Pennsylvania
Grants to Bucks County, Pennsylvania Non-Profits
& Businesses for Early Childhood Programs

United States Department of Health & Human Services, Administration for Children and Families, Office of Head Start

11/24/14 11:59 PM ET for online submissions; 4:30 PM ET for paper applications (with Exemption from Required Electronic Application).

Grants to Bucks County, Pennsylvania non-profits and businesses to operate early childhood programs accommodating low-income pregnant woman, children from birth through age 5, and their families. Programs must also serve homeless children, children in foster care, and children with disabilities. Funds can be used to improve services currently provided or increase the number of children served.

These models should be designed to be responsive to community needs, be evidence-based or evidence-informed, and maximize the extent to which the Early Head Start and Head Start resources, in collaboration with other partners and early childhood education providers, can prepare children and their families for school. Programs should provide high-quality, comprehensive early education services that help facilitate healthy development, including physical and social/emotional development, and prepare them for school success.

Applicants are strongly encouraged to use this opportunity to design a model of services and program options that best meet the needs of children and families over time, including helping to meet the child care needs of parents who are either working, in school, or in job training. In many cases, this may include providing services across the full working day and the full year, often through collaborations with local child care providers and through utilization of the Child Care and Development Fund (CCDF) and other funding sources.

Children are selected for enrollment based on age and income eligibility and relative level of need with regard to other criteria that are identified within each community.

2

$500,000 - $4,333,541 Per Budget Period

60 month project with five 12-month budget periods

Child Care Center
Community-based Organizations; CBO(s)
Domestic public or private and non-profit entities
Early Childhood Providers
Faith-based Organizations
Family Child Care
For profit organizations other than small businesses
Group Family Day Care
Head Start
Nonprofits having a 501(c)(3) status with the IRS
Small businesses

It is important to note that the eligibility requirements are different for Head Start and Early Head Start.

* For Head Start, local public or private non-profit organizations, including community-based and faith-based organizations or for-profit agencies in the community are eligible to apply. Applicants must demonstrate they meet the statutory requirement for designation as a Head Start and/or Early Head Start agency as defined in the Head Start Act at sections 641(a)(1) and 645A(d).

* For Early Head Start, all public or private non-profit organizations, including community-based and faith-based organizations, or for-profit agencies are eligible to apply. Entities operating Head Start programs are eligible to operate Early Head Start programs.

For designation as a Head Start agency, ACF will consider all "qualified applicants in such community" as required by Section 641(d) where the applicant demonstrates it has an organizational base within the community to be served. This could be established by virtue of the applicant being a provider of services in the community or having a clear relationship to the community as evidenced, for example, by board representation from the community or by evidence of the support of community leaders, including, but not limited to mayors; city council members; school principals; presidents of local chambers of commerce; county government officials; social service provider organizations; community organizations representing low-income, minority, or other relevant sectors of the community; and child care providers and organizations.

OHS strongly encourages entities interested in applying for this funding opportunity to visit http://eclkc.ohs.acf.hhs.gov/hslc/hs/grants. This interactive applicant support website offers a robust collection of resources intended to support organizations in gaining a deeper understanding of the Head Start and Early Head Start programs, the FOA, and evaluation criteria. A profile of current grantee services, equipment, and inventory can also be found through this website.

Prospective applicants have the opportunity to send questions to OHS by e-mail through the applicant support website: http://eclkc.ohs.acf.hhs.gov/hslc/hs/grants. A summary of the questions and OHS' responses will be posted for public view on this website as soon as they become available.

Grantees must provide at least 20 percent of the total approved cost of the project. The total approved cost of the project is the sum of the ACF (federal) share and the non-federal share. The non-federal share may be met by cash or in-kind contributions, although applicants are encouraged to meet their match requirements through cash contributions.

Before starting your grant application, please review the funding source's website listed below for updates/changes/addendums/conferences/LOIs.
Shawna Pinckney
OHS Operations Center:
(866) 796-1591
TTY: 711
DRS@headstartinfo.org

Office of Grants Management
ACFOGMREGE-grants@acf.hhs.gov

Hearing-impaired and speech-impaired callers may contact the Federal Relay Service:
1-800-877-8339

93.600

HHS-2015-ACF-OHS-CH-R03-0936

USA: Pennsylvania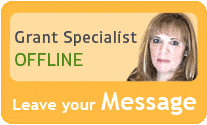 Libby is constantly in touch with grant program managers and reviews numerous publications to make sure that GrantWatch.com provides subscribers with the most up-to-date grant opportunities.
We have grants for:

Need help?
Hi, I would love to guide you through the site.
Please feel free to call or write.
Customer Sales & Support
(561) 249-4129