Visual Arts and Media Arts Projects
Grants to Toronto, Ontario Nonprofits and
Collectives for Arts Projects and Exhibits
Agency Type:
Foundation / Corporation

Toronto Arts Council

08/01/17 11:59 PM
Grants of up to $10,000 to Toronto, Ontario nonprofit organizations and collectives for short-term media and visual arts projects. First-time applicants must contact program staff prior to applying. This program is intended for one-time and time-limited activities involving distribution or exhibition of works of art, as well as other activities that promote the develop of the visual and media arts in Toronto.

Funding through this program contributes to the direct costs associated with an organization/collective's visual arts or media arts project, including artistic fees, installation or technical costs, marketing and publicity costs, interpretation and documentation costs, administrative costs, etc.

Applicants applying for exhibition and/or screening projects (including festivals) must present the work of visual and/or media artists in a curatorial or critical context and must have a well-focused audience development plan. Organizations/collectives applying to exhibit the work of their own members must likewise have a clearly defined curatorial or critical framework informing the selection and exhibition of work.

TAC Accessibility Grant:

Projects involving Deaf artists and artists with disabilities may apply for an additional TAC grant by completing the Accessibility Expenses section of the application and including the requisite information in their budget.

A TAC Accessibility grant will provide up to a maximum of $5,000 towards accessibility costs for artists incurred during the project. Accessibility costs include but are not limited to: ASL interpretation, audio description, closed captioning, communications assistants, and attendant care.

The maximum grant available in this program is $10,000.

A TAC Accessibility grant will provide up to a maximum of $5,000.

Projects must be completed within two years of the date of your grant notification letter. Projects may commence after November 1. TAC does not fund retroactively.

To be eligible for Project funding:

-Applicants must be incorporated nonprofit organizations or unincorporated collectives operating on a not-for-profit basis. A collective is defined as a group of two or more artists working together under a group name, either on a single project or on an ongoing basis.

-Organizations/collectives must be located within the City of Toronto and the activity for which the funding is requested must occur within the City of Toronto.

-For collectives of two artists, both must be City of Toronto residents. For collectives of more than two artists, the majority of members must be City of Toronto residents.

-The payment of artist fees is a requirement in this program.

The following activity is not eligible for funding through this program:

-Student exhibitions or screenings;
-Screening programs or festivals that do not include the work of Toronto artists*;
-The creation or production of individual visual or media artworks;
-Curatorial/programming research. Applicants must have already selected the artists or artworks they wish to present or, at minimum, have developed clear critical or curatorial objectives and be able to provide a list of artists and/or artworks under consideration;
-The ongoing activities of an organization/collective.

*This is not intended to exclude works by non-Toronto artists.

The following are not eligible to apply to this program:

-Organizations/collectives that receive Toronto Arts Council Operating funding;
-Educational and religious institutions, unless there is a clear demarcation at both the program and budget level between their regular activities (i.e. religious/congregation activities or educational/student body activities) and their arts activities;
-Schools that are part of Ontario's public or private education system;
-Individuals.

Costs related to the creation or production of visual or media artworks, curatorial/programming research, equipment purchase, capital projects (e.g. building purchases, renovations, etc.), publishing, archiving, awards and award ceremonies, art therapy, fundraising events/projects and deficit reduction are not covered by these grants. Costs related to activities occurring outside of the City of Toronto are also not covered (e.g. touring, travel, etc.).

Application deadlines are March 1 and August 1, 2017. Project applications submitted to the March deadline must be for projects commencing after June 1. Project applications submitted to the August deadline must be for projects commencing after November 1.

Applications must be submitted on TAC Grants Online no later than 11:59 PM on the deadline dates.

First-time applicants to this program are advised to speak with the Visual/Media Arts Officer to confirm eligibility prior to submitting an application.

TAC does not fund 100% of a project budget. Applicants must indicate a range of revenue sources, which may include donated goods and services. Applicants may receive less than the full amount requested.

Application Instructions:
http://www.torontoartscouncil.org/grant-programs/discover-tac-grants/online-application

Before starting your grant application, please review the funding source's website listed below for updates/changes/addendums/conferences/LOIs.
Apply Online: http://tac.smartsimple.ca/

Peter Kingstone, Visual/Media Arts Officer
peter@torontoartscouncil.org

Toronto Arts Council
200-26 Grand Trunk Crescent
Toronto, ON M5J 3A9

Canada: Ontario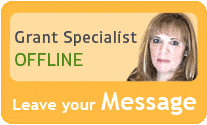 Our team of researchers and grant specialists review hundreds of funding resources daily to make sure GrantWatch.com provides members with the most up-to-date grants.
We have grants for: