Collegiate Science and Technology Entry Program (CSTEP)
Grants to New York Non-Profit & For-Profit
IHEs to Promote STEM Education

New York State Department of Education

03/06/15 4:00 PM submission or Postmarked

Grants to New York non-profit and for-profit IHEs for programs promoting licensure and careers in the fields of math, science, technology, and health to underprivileged and minority resident students. January 30, 2015 is the deadline for questions.

For this funding cycle each Collegiate Science and Technology Entry Program shall address each of the following priorities:

A. Increase the recruitment, enrollment and retention of eligible students at your institution pursuing registered academic programs in severe regional or statewide scientific and technical career shortage areas.

B. Increase the recruitment, enrollment and retention of eligible students that are most in need at your institution.

Allowable costs include the following:

1. Program administration, including professional and non-professional salaries, benefits, staff travel for required program administration as approved by NYSED. *Note: Out of state travel requires prior approval by NYSED liaison;

2. Supplemental Financial Assistance (to include stipend, nominal travel assistance, and CSTEP student conference-related expenses) for students participating in CSTEP-coordinated research opportunities and internships;

3. Program activities and services directly related to pre-professional or professional education programs of study that lead to professional licensure and to careers in scientific and technical fields and the licensed professions, such as: tutoring, academic counseling, remedial, standardized test instruction fees; recruitment of students, academic enrichment, career planning, and review for licensing examinations;

4. Student classroom supplies, including student laboratory supplies;

5. Administrative and instructional supplies and materials (including instructional or administrative computer software and computers, lab equipment, etc.).
a. When equipment (items with a unit value of $5,000 or more) is purchased with CSTEP funds, it is the responsibility of the institution to ensure that the Equipment Inventory Form is completed and that a copy is submitted to the CSTEP-SED.
b. If a program closes, any equipment purchased with CSTEP-State funds must be released for transfer to another CSTEP program so that the equipment continues to support CSTEP students.
c. CSTEP-SED staff will assist College staff in arranging the transfer of such equipment.

6. Indirect costs at no more than 8% are allowed.

$8,600,000

49

Up to $400,000 per year.

July 1, 2015 through June 30, 2020.

For the initial program funding year, projects may begin as early as July 1, 2015, but must be completed by June 30, 2016. The operational dates for subsequent years covered by this proposal will be July 1st through June 30th.

For profit organizations other than small businesses
Institutions of Higher Education; IHE(s)
Nonprofits having a 501(c)(3) status with the IRS
Small businesses
Companies certified with the New York City Department of Small Business Services as Minority and Women Owned Business Enterprises ("M/WBE")

Degree-granting post-secondary institutions, or a consortium of such institutions, which offer an approved undergraduate program of study and/or an approved graduate level program of study.

Webinar: http://vimeo.com/117594674

January 30, 2015: Deadline for questions to be submitted by email.
February 13, 2015: A Question and Answer Summary will be posted at http://bit.ly/1yPSM47.

There is a 25% match required for each year of funding from a combination of institutional and/or other non-NY state funds.

The State of New York has implemented a new statewide prequalification process (described in http://www.grantsreform.ny.gov/Grantees) designed to facilitate prompt contracting for not-for-profit vendors.

All not-for-profit vendors are required to pre-qualify by the grant application deadline in order to be eligible for this grant.

This includes all currently funded not-for-profit institutions that may have previously received an award and are in the middle of the program cycle.

Before starting your grant application, please review the funding source's website listed below for updates/changes/addendums/conferences/LOIs.
Program:
Dr. Chris Fernando

Fiscal:
Ms. Nell Brady

csteprfp@nysed.gov

M/WBE:
Ms. Joan Ramsey
MWBE@mail.nysed.gov

RFP# GC15-004

USA: New York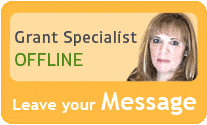 Libby is constantly in touch with grant program managers and reviews numerous publications to make sure that GrantWatch.com provides subscribers with the most up-to-date grant opportunities.
We have grants for:

Need help?
Hi, I would love to guide you through the site.
Please feel free to call or write.
Customer Sales & Support
(561) 249-4129