Music: Touring Grants
Grants to Canada Musicians and Music Groups for
Domestic and International Performance Series

Canada Council for the Arts

10/15/16 Postmarked

Request a Grant Writer
Grants to professionally recognized Canada musicians, musical groups, and organizations to help cover budget shortfalls for domestic, Canada/USA, and international tours. Applicants must also allow enough time to complete the application and organize required recordings as presentation is extremely important.

Choirs, orchestras, and operas, as well as domestic tours with significant grant requests, must inform the program officer in advance of their application (preferably 18 months before a major tour start date).

The program supports a series of three or more paid, professional performances. Funding is available to cover the overall budget shortfall only.

The program has three components:
- Domestic
- Canada/U.S.
- International

This program is designed to:
- Assist with the viability of tours for Canadian artists and contribute to an increase in performance opportunities.
- Facilitate access by the public to music across Canada and facilitate the dissemination of music from one region to other regions of the country.
- Facilitate access by Canadian presenters and the public to unique musical voices.
- Contribute to the visibility and reciprocity of Canadian professional music artists with foreign audiences.
- Increase opportunities for Canadian compositions to be performed, and therefore extend the life of these works.

Eligible tours:
- A tour is defined as a series of at least three consecutive, eligible performances in three different cities or towns.
- Applications should represent a single, cohesive tour only. Substantial breaks in the schedule must be explained in the project description otherwise the application may not be accepted.

Domestic:
- For tours within Canada, performances outside your province or territory of residence are eligible. For large provinces or territories, performances 800 km or further from your place of residence are also eligible.
- Touring networks that receive funding from the Canada Council's Professional Music Organizations Program will count as one eligible performance, but cannot make up the entirety of an eligible application.

Canada/U.S.:
- For tours with eligible performances in Canada and the United States.

International:
- For tours outside of Canada.
- For Canadian artists residing outside of Canada, performances must be outside of your country of residence to be eligible.

Note, for all components:
Tours of fewer than three cities or towns may also be eligible to this program. However, the applicant should contact the program officer to confirm eligibility and must be able to articulate the importance and value of the performance opportunity to the advancement of their career. In addition, these projects require a strong market development rationale.

Payment of professional fees:
For your application to be eligible, you must be receiving professional fees as determined by the practice of your community. For this program, professional fees are typically in the form of guarantees. However, the Canada Council does make allowance for a percentage of the door and/or box office split where this is in line with industry standards and can be expected to produce fair compensation for the performers.

- Domestic: For this component, there is no minimum or maximum grant amount.

- Canada/U.S. and International: For either of these components, the maximum grant amount that you may receive is $100,000.

Tours must begin no sooner than April 1, 2017.

- Canadian citizen or have permanent resident status, as defined by Citizenship and Immigration Canada. You do not need to be living in Canada when you apply.
- You must be a professional music artist, group or performing organization to be eligible for this program.

All musicians must also meet the Canada Council's definition of a professional artist, which is an artist who:
- Has specialized training in the artistic field (not necessarily in academic institutions)
- Is recognized as a professional artist by her or his peers
- Is committed to devoting more time to artistic activity, if possible financially
- Has a history of public presentation in a professional context

Non-Canadian professional artists:
- If you are a foreign professional music artist (individual), group or organization, you may also have access to the Music: Touring Grants program, to tour in Canada. However, your application must be submitted by a Canadian citizen or permanent resident of Canada who will take financial responsibility of the grant on behalf of the music artist, group or organization.

Canadian groups with non-Canadian members:
- To be eligible, the group/ensemble must have a Canadian identity (such as leader, repertoire or at least 50% Canadian membership).

Canadian orchestras, choirs, and opera/new opera companies:
- To be eligible to apply to this program, you must represent an orchestra, choir or opera/new opera company that has received a grant in the last three years in one of the following operating grant programs of the Canada Council:
Music: Grants to Professional Orchestras
Music: Grants to Professional Choirs or Opera/New Opera Program.

Because the deadline date falls on a weekend, the deadline moves to the next business day, Monday, October 17, 2016.

If you are planning to apply to this program on behalf of an orchestra, choir or opera/new opera company, you must inform the program officer as soon as possible (preferably 18 months in advance of a major tour start date).

If you are planning an extensive tour in Canada with a significant shortfall/grant request, it is strongly recommended that you contact the program officer well before the deadline (preferably 18 months in advance).

If you are submitting this application for a foreign applicant, you must provide at least two performance contracts signed by both the presenters and the performer (individual artist, artistic member, leader of the group or organization).

Travel costs to bring foreign musicians into Canada are not eligible; however, costs while touring in Canada are eligible. For international touring, only expenses related to the Canadian members are eligible.

Applicants who are Deaf or have disabilities may apply for additional funds to cover expenses for specific services and supports which are required to carry out the proposed eligible activities. The Canada Council may contribute toward the access-related expenses, subject to available funds.

Before starting your grant application, please review the funding source's website listed below for updates/changes/addendums/conferences/LOIs.
Philippe Lafrenière
philippe.lafreniere@canadacouncil.ca
1-800-263-5588 (toll-free) or 613-566-4414, ext. 4294
TTY: 1-866-585-5559

Canada Council for the Arts
150 Elgin St.
P.O. Box 1047
Ottawa, ON
CANADA
K1P 5V8

Canada: Alberta British Columbia Manitoba New Brunswick Newfoundland and Labrador Northwest Territories Nova Scotia Nunavut Ontario Prince Edward Island Quebec Saskatchewan Yukon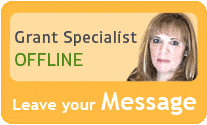 Libby is constantly in touch with grant program managers and reviews numerous publications to make sure that GrantWatch.com provides subscribers with the most up-to-date grant opportunities.
We have grants for:

Need help?
Hi, I would love to guide you through the site.
Please feel free to call or write.
Customer Sales & Support
(561) 249-4129