The Atlantic Salmon Conservation Foundation (ASCF) Grant
Grants to Canada Municipalities, IHEs, and Organizations
in Multiple Provinces to Conserve Wild Salmon
Agency Type:
Foundation / Corporation

The Atlantic Salmon Conservation Foundation (ASCF)

11/15/17 4:00 PM AST Receipt
Grants ranging from $5,000 to $50,000 per year to New Brunswick, Newfoundland and Labrador, Nova Scotia, Prince Edward Island, and Quebec NGOs, municipalities, educational institutions, and First Nation or Aboriginal organizations for the conservation of wild salmon and its habitat. This program seeks to achieve healthy and sustainable wild Atlantic salmon stocks.

Eligible Project Categories and Provincial Conservation Priorities:

The Foundation is interested in funding innovative projects that will have a high probability of success with measurable results for on-the-ground conservation of wild Atlantic salmon and its habitat. As the basis for promoting the most effective use of, and accountability for, grant funding, the Foundation wishes to promote and improve conservation planning and management at the watershed level. The Foundation will consider eligible projects from the following categories:

-Planning: Development of salmon and salmon habitat conservation plans for a watershed or sub-watershed (watershed planning)

-Habitat: Conservation, rebuilding and restoration of wild Atlantic salmon habitat

-Populations: Conservation and restoring of wild Atlantic salmon stocks and populations

-Access: Restoring access of wild Atlantic salmon to salmon habitat

-Education: Public education and awareness of the importance of conservation of wild Atlantic salmon and its habitat

Recognizing that wild Atlantic salmon and habitat conservation issues and needs vary according to each province, the Foundation strongly encourages that proposals address the priorities below. Review and scoring of proposals will take into consideration the degree to which the project addresses provincial priorities.

2018 Provincial Conservation Priorities:

-New Brunswick: Priority will be given to projects derived from a watershed management plan, action plan or restoration plan that identifies, prioritizes and seeks to address limiting factors impacting salmon production and/or survival.

-Newfoundland & Labrador: Further to eligible project categories, priority will be given to projects in areas where conservation issues exist.

-Nova Scotia: Priority will be given to projects that mitigate the impact of acid rain; develop watershed plans; or address limiting factors impacting salmon production and/or survival as identified from a watershed management plan, action plan or restoration plan.

-Prince Edward Island: Priority will be given to projects that aim to develop or implement: a fish habitat management, an action plan or restoration plan that identifies, prioritizes and seeks to address limiting factors impacting salmon productive and/or survival in viable salmon habitats while simultaneously maintaining existing structures and habitat quality in the Island's watersheds.

-Quebec: Priority will be given to projects that develop or implement a plan or a strategy for salmon and its habitat. Preference will be given to projects that aim to acquire knowledge related to salmon population abundance as well as to characterization, improvement and protection of salmon habitat.

-Applied Scientific Research: To strategically direct applied scientific research, ASCF's Scientific Advisory Committee has identified key topics that will be top priority going forward (see Appendix A).

Notes:

a. Project Location: The proposed project must be located in a watershed within or between the provinces of New Brunswick, Newfoundland and Labrador, Nova Scotia, Prince Edward Island, or Quebec.

b. Partnership: Proposals demonstrating partnership among the eligible groups are very important to the Foundation, therefore proposals demonstrating real, working partnerships will be considered favourably. Partnerships between First Nations, Aboriginal groups and community groups are encouraged where reasonably possible. All applicants are required to indicate if they have made an effort to attract a First Nation, Aboriginal group or community group, as the case may be, to partner in the proposed project.

If a First Nation community is not immediately adjacent the project area, please consider partnerships with regional aboriginal organizations (e.g. AAROMs, native councils, etc.). If in-kind contributions have been confirmed, please include a letter of support with your application.

c. Transferability: Proposals that offer transferability of information or broadly applicable benefit to other groups and jurisdictions are encouraged and will be given additional weighting in scoring.

d. Research Projects: Multi-year, applied research projects will be required to publish at least one article in the primary, peer-reviewed scientific literature. In the case that funding has been received for multiple years for a research project, no further applications for funding will be accepted until such the project has produced the required publication.

Legal Capacity: The proponent organization must possess the legal capacity to enter into a binding contract with the Foundation. Incorporation or registration of your organization under provincial or federal law will support this requirement. If your organization is not incorporated, it is suggested that you find a partner organization that is incorporated with which to present your proposal. In addition, a demonstrated track record of success in carrying-out salmon conservation initiatives will be considered favorably.

Pre- and Post-Monitoring: Proposals are expected to provide a monitoring plan for both pre-project and post-project conditions. The overall monitoring plan and program should be of sufficient scope and duration to document whether or not project objectives were achieved.

Eligible Costs: Eligible costs include the following:

(a) Reasonable and properly itemized and substantiated costs directly incurred and paid by the recipients of grants to carry out their projects, as determined by the Foundation, and approved by the Board.

(b) Acquisition of office equipment and other project equipment (e.g. capital assets such as buildings, vehicles, boats, motors, etc.), to a maximum of $1,000 per item, and only where expressly approved in the funding agreements between the Foundation and the recipients. On an exceptional basis, the Board may authorize an amount which exceeds $1,000 where the Board is of the opinion that the nature of the project justifies a higher amount.

(c) GST and PST are eligible costs (net of any refund to which the recipient is entitled).

(d) Indirect or overhead costs for community groups, First Nations and aboriginal organizations and municipalities may be acceptable provided they do not exceed 20% of the total grant request. Indirect or overhead costs include administrative salaries, general software and office supplies, postage, etc. that are not directly related to the grant, but not necessarily limited to these categories.

Note: In the case of universities and research institutions, indirect or overhead costs for institutional administration shall not exceed 15% of the total grant request. Justification for this expenditure shall be given in the form of a detailed breakdown showing how funds will be used. Preferentially, grant funds will be used exclusively for research expenditures with no overhead or indirect costs.

Interprovincial funding applications are no longer being accepted by ASCF except in response to a specific Request for Proposals.

Applied scientific research projects may be submitted under any of the provincial streams, however, going forward a maximum of 20% of available grant funds will be allocated to research initiatives. Taking multi-year projects into account, this may mean that limited funds are available for new research projects in some provinces.

$1,000,000

Submissions for individual projects should not be less than $5,000 per year nor exceed a maximum of $50,000 per year.

Long-term (up to 3 year) grants are possible, and may be spread over a period of up to three years depending on the project.

It is anticipated that awards could be made for successful proposals in May 2018. The project must be completed within 12 to 36 months of contract approval, dependent on the duration of the contract.

Eligible Applicants:
-Non-governmental organizations (e.g. community-based conservation organizations, cooperatives, watershed-based organizations, etc.)
-Municipalities
-Education institutions
-First Nations and Aboriginal organizations

Note: Partnership among these groups are preferred.

Ineligible costs: Funds may not be used to support major capital costs (including capital leasing costs); permanent staffing costs (however, a reasonable level of staff overhead during the grant period is acceptable); scholarships to individuals; deficit reduction activities or funding of projects that have already been completed; or for those activities that constitute legally required mitigation for the adverse effects of an activity regulated or otherwise governed by federal, provincial or municipal law.

All grants require at least a one-third cash or in-kind contribution from other funding sources. Match may be in cash, time, goods, or services. Projects that do not meet at least one-third cash or in-kind contribution will not be accepted or considered for funding.

If your project partners are also submitting a proposal to the Foundation for a different project, please ensure that matching in-kind support from these partners is independent of their funding request (i.e. Foundation contributions to another organization cannot be counted as in-kind match). Similarly, where multiple organizations are contributing to a project, a proposal will be accepted from only one organization.

The final submission date for receipt of all other proposals is November 15, 2017 by 4:00 PM AST.

Before starting your grant application, please review the funding source's website listed below for updates/changes/addendums/conferences/LOIs.
New Brunswick and Quebec:

Darla Saunders, Conservation Program Manager
darla@salmonconservation.ca

Prince Edward Island, Newfoundland and Labrador, and Nova Scotia:

Krystal Binns, Conservation Program Coordinator
krystal@salmonconservation.ca

The Atlantic Salmon Conservation Foundation
480 Queen Street, Suite 200
Fredericton, NB E3B 1B6

P: 506.455.9900
F: 506.455.9905
info@salmonconservation.ca

Canada: New Brunswick Newfoundland and Labrador Nova Scotia Prince Edward Island Quebec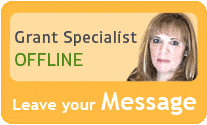 Our team of researchers and grant specialists review hundreds of funding resources daily to make sure GrantWatch.com provides members with the most up-to-date grants.
We have grants for: