Machias Savings Bank Community Giving
Grants to Maine Nonprofits for Community Development
and to Improve Quality of Life for Residents
Agency Type:
Foundation / Corporation

Machias Savings Bank

09/01/17 - Postmark deadline for Community Development Grant applications only. Deadlines for Charitable Contributions/Donations, Sponsorships, Program Book Advertisement, Business Development Activities are ongoing.
Grants to Maine nonprofit organizations for programs to advance community development and improve the quality of life for local residents. Funding is available for community building programs, charitable donations, sponsorships, program book advertising, and business development.

A complete list of the funding categories is as follows:

Community Development Grant
Machias Savings Bank's goal is to fund projects that result in a satisfactory level of community development with an emphasis on projects that will benefit low-to-moderate income individuals and/or families. Ideally, grant funds will be awarded to projects or services that: create or retain jobs, revitalize communities within the service area, and help to provide affordable housing or other programs designed to assist low-to-moderate income individuals and/or families.

Charitable Contributions/Donations
Machias Savings Bank looks for opportunities where moderate funding can affect significant results within the community. These contributions are used to provide assistance in support of a specific program or service. Opportunities that in turn give Machias Savings Bank CRA credit are highly favored (i.e. low-to-moderate income recipients and/or geographies, economic development, affordable housing.) Funding priority is given to those projects which:
- Support an established customer relationship between Machias Savings Bank and the requesting organization or individual.

-Positively impact low and moderate income populations or support Machias Savings Bank Community Reinvestment Act (CRA) initiative.

- Show evidence of employee interest and involvement that is more than just fundraising, but may include hands-on volunteerism.

- Assist in promoting financial education and credit service information to the community.

Sponsorships
Sponsorships are payments made to any for-profit or not-for-profit organization for which Machias Savings Bank will receive marketing, public relations, and community relations value. Examples of sponsorships include road races, arts festivals and events, school sports teams, golf tournaments, fundraising dinners, and walk fundraisers.

Machias Savings Bank focuses sponsorship funding on a number of areas of interest. Examples of organizations that fall within these special interest areas include:
- Affordable housing
- Children
- Human services
- Arts and culture
- Schools/education
- Civic groups
- Economic development

Program Book Advertisement
From time to time, Machias Savings Bank will purchase program book ads for civic, school/educational, and nonprofit events for which it is not a corporate sponsor. In these instances, no publicity benefits are received, other than the advertisement.

Business Development Activities
Business Development Activities include many different types of requests, such as:
- Donations of premium items/giveaways with the Machias Savings Bank logo for sponsorship events
- Donation of physical space within a branch lobby or community room for the staging of a community function or activity
- Purchase of tickets or a full table for the purpose of entertaining customers or to support business and charitable events
- Gifts/raffle prizes, or other in-kind donations

The total amount awarded in the Community Development Grant category will be $50,000.

Community Development Grant
The beneficiary(ies) of this award will have a deserving project(s) located or serving in Machias Savings Bank's primary lending area. The primary lending area shall, at a minimum, include all areas where a Machias Savings Bank location is present. Grant funds are generally awarded to several deserving applicants in various denominations throughout the service area.

Charitable Contributions/Donations
These grants are made only to qualified 501(C) 3 organizations.

Sponsorships
Sponsorships made to any for-profit or not-for-profit organization.

The foundation will generally not contribute to:
- Special interest groups such as political, labor or religious groups
- Multiple requests within the same calendar year

Community Development Grant
Deadline for Community Development Grant applications is Friday, September 1st. Applications postmarked after this date will not be considered.

Charitable Contributions/Donations and Sponsorships
Please allow up to four weeks to process grants in these categories. Please use the attached donation request form.

Business Development
All requests for Business Development should be sent to the Branch Manager in the community where the organization is based. Branch Manager, Business Banker (if applicable) and Marketing will determine the level of sponsorship. Allow up to four weeks to process.

Program Book Advertising
All requests for Program Book Advertising should be sent to the Branch Manager in the community where the organization is based. The request should include the nature of the program/event, deadline for advertising materials, ad specifications, contact information for where the ad should be sent, cost of the ad, etc.

Before starting your grant application, please review the funding source's website listed below for updates/changes/addendums/conferences/LOIs.
Submit grants applications to:
Machias Savings Bank
Attn: Melissa Moffett
4 Center Street, P.O. Box 318
Machias, Maine 04654-0318

Applications may be emailed to grants@machiassavings.com, or delivered in person to any Machias Savings Bank location.

USA: Maine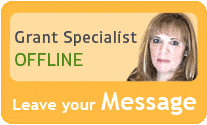 Our team of researchers and grant specialists review hundreds of funding resources daily to make sure GrantWatch.com provides members with the most up-to-date grants.
We have grants for: