Program Grant
Grants to Austin, Texas Nonprofits for Culture,
Environment, Education, and Wellness Programs
Agency Type:
Foundation / Corporation

Impact Austin

10/26/16

12/14/16

02/16/17 5:00 PM

Request a Grant Writer
Grants to Texas nonprofits for highly effective programs in the areas of education, environment, culture, families and health and wellness that benefit residents of Bastrop, Hays, Travis, and Williamson Counties. The projects must be specific, with results that are measurable.

More details on the focus areas are as follows:

- Culture: Programs and projects that cultivate, develop, educate and improve the cultural climate in the Greater Austin area.
- Environment: Programs and projects that seek to 1) improve, enhance or restore the surroundings and promote conservation of our natural resources in the Greater Austin area, 2) promote the protection and welfare of animals and 3) encourage research, public awareness and education relating to the environment and animals.
- Education: Programs and projects that further the ability to educate and improve education in the Greater Austin area.
- Family: Programs and projects that strengthen and enhance the lives of children and families in the Greater Austin area.
- Health and Wellness: Programs and projects that positively impact the mental or physical health and wellness of the people in the Greater Austin area.

The grant funds must be expended within 24 months.

In order to be eligible for an Impact Austin grant, an organization must:
- Be classified as a "public charity" with tax-exempt status under Section 501(c)(3) and 509(a) of the Internal Revenue Service Code
- Provide an IRS 501(c)(3) status approval letter at the first step of the process.

In addition, the organization's proposal must:
- Outline a project or program that targets a specific population for a specific duration with specific measurable goals to be achieved;
- Provide services in Bastrop, Hays, Travis and/or Williamson Counties, Texas.

Impact Austin will not fund the following:
- Debt reduction
- Endowments or memorials
- Bridge funding or interim financing
- Operational deficits
- Political lobbying or legislative activities
- General fund drives, annual appeals, or fundraising events
- Fraternal, sectarian and religious organizations where the grant is intended to principally benefit members/adherents or to fund inherently religious activities
- Private foundations
- Litigation/legal expenses in actions by or against the organization
- General construction or renovation (unrelated to a specific proposed project or program)
- General capital campaigns (unrelated to a specific proposed project or program)
- Advertising
- Sports teams or any sports-related activity or competition.

To learn more about the grant program, check out the FAQs at http://www.impactaustin.org/apply/grant-application-faqs

The first step for program grant applicants is to submit an LOI using Impact Austin's online grants management system. Impact Austin members serving on program Grant Review Committees evaluate the submitted Letters of Inquiry and, by early February, select about six organizations for each of the focus areas to invite to complete a grant application.

Organizations selected by Impact Austin to complete a program grant application must submit their applications, including all attachments, via the online grants management system. You will receive acknowledgment of receipt of your application within one week. By early April, Impact Austin Grant Review Committees will select and notify 3-4 semifinalists in each focus area.

For an overview of the full grant application and the required attachments, see the Program Grant Application Overview. The overview will help you assess your readiness to participate in the process and begin collecting the information which will be required.

By early May, Impact Austin Grant Review Committees will select two finalists in each of the focus areas. At the annual meeting in June 2017, Impact Austin's members will vote for one finalist in each focus area, with the majority deciding the grant recipients.

Timeline:
Annual Impact Austin Nonprofit Workshop: 10/26/2016
Letters of Inquiry submissions open : 11/07/2016
Letters of Inquiry due: 12/14/2016 by 5:00 PM
Announcement of available grant amounts: 01/27/2017
Letters of Inquiry decisions communicated : 01/27/2017
Program Grant Applications due: 02/16/2017 by 5:00 PM
Applicants notified of selection for site visit: 03/31/2017
Site visits to grant semifinalists: 04/10/2017 – 04/12/2017
Grant finalists selected and notified; all other applicants declined by: 04/28/2017
Finalists meet with Impact Austin to receive presentation instructions: 05/02/2017
Impact Austin Annual Meeting with finalist presentations and member vote: 06/05/2017
Grant presentations to 2016 Community Partners: 06/14/2017

Before starting your grant application, please review the funding source's website listed below for updates/changes/addendums/conferences/LOIs.
Apply online: https://ctk.apricot.info/bulletins/list

grants@impactaustin.org
(512) 335-5540

Impact Austin
P.O. Box 28148
Austin, TX 78755

Bastrop, Hays, Travis and Williamson Counties

USA: Texas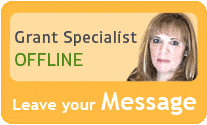 Libby is constantly in touch with grant program managers and reviews numerous publications to make sure that GrantWatch.com provides subscribers with the most up-to-date grant opportunities.
We have grants for:

Need help?
Hi, I would love to guide you through the site.
Please feel free to call or write.
Customer Sales & Support
(561) 249-4129