Drinking Water Tribal Set-Aside (DWTSA) Program
Grants to California, Nevada, and Arizona Tribes
to Improve the Safety of Public Water Systems

United States Environmental Protection Agency (EPA) Region 9

11/10/16 Receipt

Request a Grant Writer
Grants starting at $25,000 to California, Nevada, and Arizona federally recognized Indian tribes for public drinking water infrastructure improvements. Projects should address significant public health hazards associated with water systems serving tribal communities. Funds are awarded through direct grants to tribes or interagency agreements with the Indian Health Service.

Eligible projects (or portions of projects) must ensure compliance with the National Primary Drinking Water Regulations under 40 CFR Part 141 or otherwise further the health protection objectives of SDWA. As stated in the national guidelines, eligible infrastructure improvement projects can:

-Rehabilitate/develop sources (excluding reservoirs, dams, water rights);
-Install or upgrade treatment facilities;
-Install or upgrade storage facilities, including finished water reservoirs;
-Install or replace transmission and distribution pipes;
-Replace aging infrastructure if replacement is needed to maintain compliance or further the health protection goals of the SDWA;
-Install new transmission, distribution or service lines to connect existing homes to a public water supply;
-Water efficiency projects (e.g., installation of meters);
-Expansion, consolidation or development of a new public water system (limited circumstances, see guidelines); and
-Develop preliminary engineering reports (PERs).

Projects ranking higher than Health Category 9 may be considered for anticipated FY18 funds.

$6,500,000

EPA estimates 6 - 10 construction projects and a few feasibility studies.

Projects may range is size from $25,000 to over $1,000,000.

Over the history of the program, the average cost of funded construction projects is approximately $600,000.

The total duration of the project period for an Interagency Agreement typically may not exceed 7 years (see guidelines for exceptions).

Only federally recognized Indian tribes within EPA Region 9 may submit proposals.

If a tribe receives a grant, the tribe may elect to provide some or all of the funds to another entity, including a tribal consortium, to implement the project, consistent with federal procurement requirements and the EPA Sub Award Policy. The plan for the tribe's use of the grant funds must be identified in the grant award document. In such a case, the tribe is still the grant recipient, and is ultimately responsible to EPA for proper management of the funds.

Eligible Water System:

1) Only public water systems that are community water systems or nonprofit, non-community water systems are eligible to receive funding.

-A public water system is defined as an entity that supplies water for human consumption and has at least 15 service connections or regularly serves an average of at least 25 individuals daily at least 60 days out of the year. It may include collection, treatment, storage, and distribution facilities.

-A public water system is classified either as a community water system or a non-community water system. A community water system means a public water system which serves at least 15 service connections used by year-round residents or regularly serves at least 25 year-round residents. A non-community water system means any public water system that is not a community water system.

2) The system must serve an Indian tribe. Funding can be provided to improve any eligible public water system, whether or not it is owned by a tribe, on or off-reservation, or serving tribal communities living on or off-reservation. Since tribes will be applying for funds on behalf of the water system, EPA will assume that the water system serves a tribe, as required by the SDWA, and the requested improvements are a high tribal priority. In cases where commercial entities and/or non-tribal populations receive water from the public water system, EPA may require the tribe to contribute funds to the project proportional to the water demand of the commercial entity and/or non-tribal populations.

3) Systems that are in significant noncompliance with any requirement of the National Primary Drinking Water Regulations will not be eligible for funding unless the project which is being funded will ensure compliance. Monitoring and reporting requirements must also be met to maintain compliance with the SDWA.

4) Any system to be assisted with DWTSA funding must be operated by adequately trained and certified operators. Please note that public water systems subject to the Surface Water Treatment Rule and community and non-transient non-community water systems subject to the Disinfection/Disinfectant Byproducts Rule must be operated by qualified personnel meeting requirements specified by EPA. EPA determines that a qualified operator is an operator certified at the appropriate level of the water system to be in compliance with the SDWA.

5) Tribes will only receive funding for a project if they can demonstrate that the utility has, or will develop, the technical, financial, and managerial capacity to properly maintain the water system.

Timeline:

-November 10, 2016: Proposals must be received by this date. This includes the Project Proposal Form, tribal government endorsement, and any preliminary engineering reports and supporting documents.

-December 2016: EPA will notify each applicant of the draft proposal priority and whether the project was selected to continue with the application process.

-February 2017: Applicants can submit comments on the draft prioritization. For projects selected to continue with the application process, applicants must submit responses to any EPA comments, and capacity and managerial checklists.

-March-August 2017: EPA will notify applicants of the final priority list and funding decision, along with guidance letters for projects to be funded by a grant.

-May-August 2017: Tribe submits a grant application, or Indian Health Service submits a draft Memorandum of Agreement and Project Summary (exact dates will be included in funding decision notification letters).

-September 2017: EPA awards funds for selected projects

Matching Funds:

Matching funds are not typically required; however, in cases where commercial entities and/or non-tribal populations receive water from the public water system, EPA may require the tribe to contribute funds to the project proportional to the water demand of the commercial entity and/or non-tribal populations.

Similarly, for projects whose costs are correlated with water usage, a funding contribution may be required for water systems using over 150 gallons per capita per day, with the contribution proportional to the amount over 150 gallons per capita per day used.

Additionally, given the limited funds available under this program and EPA's goal to maximize the number of projects it can fund, EPA may work with applicants to explore the availability of funding from other federal agencies, tribal or third-party sources to contribute to the total project cost.

Before starting your grant application, please review the funding source's website listed below for updates/changes/addendums/conferences/LOIs.
Emmanuelle Rapicavoli
rapicavoli.emmanuelle@epa.gov

Emmanuelle Rapicavoli, WTR 3-2
U.S. Environmental Protection Agency, Region 9
75 Hawthorne Street
San Francisco, CA 94105

USA: Arizona; California; Nevada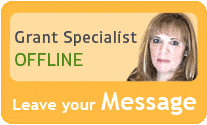 Our team of researchers and grant specialists review hundreds of funding resources daily to make sure GrantWatch.com provides members with the most up-to-date grants.
We have grants for: