Sustaining Grant
Grants to USA Grassroots Nonprofits in New
England States to Promote Social Justice
Agency Type:
Foundation / Corporation

Haymarket People's Fund

11/28/16

11/30/16 5:30 PM Receipt

Request a Grant Writer
Grants of up to $10,000 to Connecticut, Maine, New Hampshire, Massachusetts, Vermont, and Rhode Island grassroots nonprofits to combat racism and promote social justice throughout New England. Applicants must contact program staff by November 28 to apply. Applications will be evaluated according to a demonstrated commitment to strengthening anti-racist movement building in the region.

Haymarket envisions a world free of racism and other oppressions:

-Where peace and cooperation flourish.
-Where people are valued and respected for their gifts and able to bring their whole selves to humanity.
-Where vibrant communities thrive and different cultures are celebrated.
-Where abundant resources and opportunities are equally shared and distributed while honoring the earth and all within it.

Applicants may apply in the following categories:

1) Emerging Groups - Grassroots groups that are start-ups or are in the earlier stages of development. Organizations at this stage often focus on self-definition, understanding the root causes of the problems they are facing, leadership development and capacity building. Emerging groups are typically less than five years old; however, groups coming out of a dormant phase or going through a period of transformation or rebirth may also fall into this category.

2) Movement Building Groups - More developed organizations that have a well-established identity and position within their community, a clear track record, and are actively working to strengthen the social justice movement. Effective organizations at this stage have a clear vision and mission, a solid understanding of the root causes of the problems they face, strong constituency leadership, well-developed organizing strategies, and a demonstrated commitment to anti-racist movement building.

Up to $10,000

You do not have to have 501(c)3 tax exempt status from the IRS or a fiscal sponsor in order to get a grant from Haymarket. You can apply if your work falls within what the IRS defines as charitable or educational tax-exempt activities.

Haymarket is committed to groups that, because of their analysis and vision, have limited access to traditional funding sources (such as government and corporate funding). The Fund has a history of funding start-ups and smaller, grassroots organizations across the region. Haymarket does not fund groups with budgets over $300,000.

The next Sustaining Grant Deadline is Wednesday, November 30, 2016

If you have been funded by Haymarket in the past 3 years you will receive the application in the mail.

If you have not been funded by Haymarket in the past 3 years, call the office and speak to a staff person about your work. If the staff believes you meet the basic criteria, you will be sent an application package. Request for applications will be considered up until November 28, 2016. Receiving an application does not guarantee funding.

Proposals must be in the office by 5:30 PM on Wednesday, November 30, 2016. Postmark dates are not relevant.

Groups will be notified by early spring if they have been selected for an interview, however, please note that selection for an interview does not guarantee funding. Interviews are held in the spring. Groups are notified of grant decisions in June.

Before starting your grant application, please review the funding source's website listed below for updates/changes/addendums/conferences/LOIs.
Jaime Smith
617-522-7676 X115
jaime@haymarket.org

Haymarket People's Fund
42 Seaverns Avenue
Boston, MA 02130

617-522-7676

USA: Connecticut; Maine; Massachusetts; New Hampshire; Rhode Island; Vermont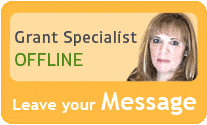 Libby is constantly in touch with grant program managers and reviews numerous publications to make sure that GrantWatch.com provides subscribers with the most up-to-date grant opportunities.
We have grants for:

Need help?
Hi, I would love to guide you through the site.
Please feel free to call or write.
Customer Sales & Support
(561) 249-4129