2017 Michigan Lighthouse Assistance Program (MLAP) Grant
Grants to Michigan Nonprofits and Agencies
to Renovate and Preserve Historic Lighthouses

Michigan State Housing Development Authority (MSHDA) - State Historic Preservation Office (SHPO)

11/17/17 5:00 PM Postmark
Grants ranging from $7,500 to $60,000 to Michigan nonprofits and local or state governments for the rehabilitation, preservation, and protection of lighthouses that are listed as national historic landmarks or are eligible for listing. Eligible projects are those that comly with the Secretary of the Interior's Standards for Rehabilitation:

1. A property shall be used for its historic purpose or be placed in a new use that requires minimal change to the defining characteristics of the building and its site and environment.
2. The historic character of a property shall be retained and preserved. The removal of historic materials or alteration of features and spaces that characterize a property shall be avoided.
3. Each property shall be recognized as a physical record of its time, place, and use. Changes that create a false sense of historical development, such as adding conjectural features or architectural elements from other buildings, shall not be undertaken.
4. Most properties changes over time; those changes that have acquired historic significance in their own right shall be retained and preserved.
5. Distinctive features, finishes, and construction techniques or examples of craftsmanship that characterize a historic property shall be preserved.
6. Deteriorated historic features shall be repaired rather than replaced. Where the severity of deterioration requires replacement of a distinctive feature, the new feature shall match the old in design, color, texture, and other visual qualities and, where possible, materials. Replacement of missing features shall be substantiated by documentary, physical, or pictorial evidence.
7. Chemical or physical treatments, such as sandblasting, that cause damage to historic materials shall not be used. The surface cleaning of structures, if appropriate, shall be undertaken using the gentlest means possible.
8. Significant archeological resources affected by a project shall be protected and preserved. If such resources must be disturbed, mitigation measures shall be undertaken.
9. New additions, exterior alterations, or related new construction shall not destroy historic materials that characterize the property. The new work shall be differentiated from the old and shall be compatible with the massing, size, scale, and architectural features to protect the historic integrity of the property and its environment.
10. New additions and adjacent or related new construction shall be undertaken in such a manner that if removed in the future, the essential form and integrity of the historic property and its environment would be unimpaired

A minimum grant award of $7,500 and a maximum award of $60,000.

Awarded grants will have until September 30, 2019 to complete the project work.

Nonprofit organizations and state or local governments that own (or are in the process of acquiring) or have long-term leases on a lighthouse are eligible to apply for these funds. Private individuals are not eligible for these grants.

The light station must be listed or be eligible for listing in the National Register of Historic Places. The National Register of Historic Places is the official list of the Nation's historic places worthy of preservation.

Unallowable Costs
- Acquisition
- Non-historic site features such as parking lots
- Certain environmental cleanup activities required under federal law
- Reconstruction of demolished buildings (reconstruction of certain missing elements may be allowable if based upon historical documentation, such as photographs)
- Fundraising
- Fines, penalties, debts or interest
- Operational expenses
- Volunteer labor of professionals, such as roofers, painters, electricians, plumbers
- Cost-plus subcontracts, unlimited time and materials sub-contracts, and contingency fees

Completed applications must be received and date stamped by the SHPO no later than 5:00 p.m. on November 17, 2017.

Grants must be matched equal to 50% of the grant amount awarded.

The MLAP grant program is an expense reimbursement program. The grantee must have funds available for expenditure to cover 100% of the costs of the entire project at the time the grant application is submitted.

Before starting your grant application, please review the funding source's website listed below for updates/changes/addendums/conferences/LOIs.
Send one original application to:

Joelle Letts, Grants Manager/Budget Analyst
Michigan State Housing Development Authority
State Historic Preservation Office
735 East Michigan Avenue
PO Box 30040
Lansing, MI 48912-1474

For UPS, Federal Express or DHL deliveries please call or email for instruction.

Joelle Letts, Grants
Manager/Budget Analyst
517-373-1904
LettsJ1@michigan.gov

Bryan Lijewski, Architect
LijewskiB@michigan.gov
517-373-1631

USA: Michigan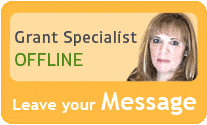 Our team of researchers and grant specialists review hundreds of funding resources daily to make sure GrantWatch.com provides members with the most up-to-date grants.
We have grants for: