Kentucky Crafted Program
In-Kind Grants to Kentucky Visual and Craft
Artists for Marketing and Business Training

Kentucky Arts Council

09/14/17 4:30 PM ET. Postmark deadline for submission of paper copy of the application and support materials: Sept. 19, 2017. Shipped work samples must arrive at the arts council office between Oct. 2 and 10, 2017. Hand delivered samples must arrive between 9 AM and 1 PM, Oct. 16, 2017.
In-kind grants of promotional and marketing assistance to Kentucky resident visual and craft artists who create original work. Selected artists will be eligible to be included in an online craft directory, exhibit at a State craft fair, receive introductions to business opportunities and referrals to galleries and buyers, and receive professional development support.

Specifically, grantees benefit through:

- Use of the Kentucky Crafted logo, nationally recognized as a symbol of artistic excellence and quality craftsmanship.
- Representation in the Kentucky Arts Council's online Kentucky Crafted Directory.
- Eligibility to exhibit at Kentucky Crafted: The Market, an annual wholesale/retail arts marketplace produced by the Kentucky Arts Council.
- Introductions to national wholesale marketing opportunities.
- Invitation to exhibit at the Governor's Derby Celebration in the Kentucky Crafted sales area.
- Opportunities to participate in various state-sponsored displays, exhibits, events, and promotions.
- Referrals to wholesale buyers, galleries, show organizers, state agencies, corporate buyers, and the media.
- Access to professional development through conferences, workshops, and new initiatives.

Visual and craft artists who are residents of Kentucky and are 18 years of age or older may apply. Applicants must be U.S. citizens or lawfully admitted to the U.S. for permanent residence or have permission from the Department of Homeland Security to work permanently in the U.S. Applicants must have been full-time Kentucky residents for at least six months prior to the application deadline.

All digitally created or manipulated work must be derived from your original imagery. Digital impressions of appropriated images, such as clip art, downloaded paintings, prints, drawings, etc., are not allowed.

All work samples submitted must have been created in 2015, 2016, or 2017.

Artwork created under the supervision of an instructor within an undergraduate or graduate degree program is ineligible.

Pieces made from items purchased and decorated or created by combining purchased commercial objects are ineligible. Exceptions are made for pieces in which commercial or found objects play a subordinate role to the overall design.

Handcrafted components used in original artwork may be submitted as a sample only if a resulting finished product is also submitted for inclusion in the program. For example, samples of handspun wool used in making wool hats must be accompanied by samples of the finished hats.

Work that appears to be Native American but was not made by a Native American is prohibited, as stipulated in the Indian Arts and Crafts Act of 1990 with expanded criminal penalties in the Indian Arts and Crafts Amendments Act of 2010.

Applicants who create work in different media must submit separate entries for each medium. Each entry must contain five work samples. Applicants may submit up to three entries by medium in a single application.

Guidelines: http://artscouncil.ky.gov/KAC/Entrepreneurs/KyCraftedGuidelines.htm

Core values of the Council: http://artscouncil.ky.gov/KAC/About/values.htm

Program Timeline

Application deadline: Sept. 14, 2017

Postmark deadline for submission of paper copy of the application and support materials: Sept. 19, 2017

Work sample shipping delivery: Oct. 2–10, 2017

Work sample hand delivery: Oct. 16, 2017, 9 a.m.-1 p.m.

Review of applications by panel: Oct. 17, 2017

Work sample pick up: Oct. 18, 2017, 9 a.m.-1 p.m.

Applicant notification: Nov. 1, 2017

Program Agreement Form due: 15 days after receipt of notification

New Participant and Market Orientation**: November, 2017

Kentucky Crafted: The Market 2018: March, 2018

**The New Participant and Market Orientation is mandatory for all successful applicants. However, participation at Kentucky Crafted: The Market is voluntary.

Before starting your grant application, please review the funding source's website listed below for updates/changes/addendums/conferences/LOIs.
Dave Blevins, Arts Marketing Director
David.Blevins@ky.gov
502-564-3757, ext. 473

Mailing address for completed application and mailed samples:
Kentucky Arts Council
1025 Capital Center Drive
Third Floor
Frankfort, KY 40601

Hand-delivered samples should be brought to:
The Franklin County Extension Office (Room G)
101 Lakeview Ct., Frankfort, KY

USA: Kentucky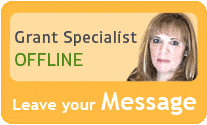 Our team of researchers and grant specialists review hundreds of funding resources daily to make sure GrantWatch.com provides members with the most up-to-date grants.
We have grants for: