Marketing Grant
Grants to Ford County, Kansas Nonprofits,
Businesses, and Individuals for Tourism Marketing

Dodge City Convention and Visitors Bureau

10/31/16

Request a Grant Writer
Grants of up to $2,000 to Ford County nonprofits, businesses, and individuals for marketing-related expenses that will bring tourism to the area. Funding is intended for initiatives that will attract overnight visitors. Brochures or guide distribution are eligible if done through a professional distribution company.

Other fundable activities include:

- Graphic design and printing of promotional materials.
- Advertisements that market to the visitors who is spending the night in Dodge City.
- Brochure and Guide Distribution.
- Hats, shirts, banners, flags, and other promotional items will be considered if they are part of the marketing plan for distribution outside of the community, and/or as a part of advertising for an event or attraction prior to the event.

The grant can cover 80% of the marketing cost, up to $2,000.00 per project.

This grant is available to attractions, venues or anyone who holds an event in Ford County that will attract overnight guests to the community for marketing projects.

Following are items that are not fundable through the grant program:

- Marketing of local community events that promotes mostly to local citizens and is attended predominantly by local citizens.
- Association Memberships.
- Salaries and Wages.
- Entertainment and Honorariums.
- Items for resale.
- Program booklets, stationery, and membership solicitation literature.

The Dodge City 'Get the Heck into Dodge' square logo must be included in printed materials.

The grant will be awarded prior to the completion of the project, with a requirement of proof of completion.

For event grants, a printed piece should be available at least 60 days prior to the event date.

Before starting your grant application, please review the funding source's website listed below for updates/changes/addendums/conferences/LOIs.
Mail or hand deliver the original of the completed application to:

Jan Stevens, Director
Dodge City Convention and Visitors Bureau
400 West Wyatt Earp
Dodge City Kansas 67801

If applying for a Grant for an event, the applicant must "Submit an Event" to the Convention and Visitors website, http://www.visitdodgecity.org.

Jan Stevens
(620) 225-8186
jans@dodgecity.org

Dodge City or Ford County

USA: Kansas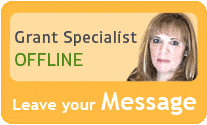 Libby is constantly in touch with grant program managers and reviews numerous publications to make sure that GrantWatch.com provides subscribers with the most up-to-date grant opportunities.
We have grants for:

Need help?
Hi, I would love to guide you through the site.
Please feel free to call or write.
Customer Sales & Support
(561) 249-4129