Community Arts Grants
Grants to New York Nonprofits, Individuals, and Agencies
for Public Arts Initiatives in Eligible Counties
Agency Type:
Foundation / Corporation

St. Lawrence County Arts Council (SLC Arts)

07/25/17

09/15/17 Midnight EST Receipt
Grants ranging from $300 to $5,000 to New York nonprofits, individual artists, agencies, and tribal organizations in Jefferson, Lewis, and St. Lawrence Counties for public arts activities. Workshops will be held July 25 and August 1, 10, and 12, 2017. New applicants must attend a training workshop prior to submitting an application.

Fundable Expenses
- Artists' fees for performing, teaching, or providing services
- Marketing/publicity costs
- Direct administrative expenses (should compose no more than one-half of grant request)
- Expendable project-related supplies and materials
- Project-related travel expenses
- Project-related rentals of space and equipment

Applications will be evaluated on:

Artistic Merit
- Quality of artistic samples and credentials of the artists involved in the project
- Innovation of arts experiences
- Diversity of arts experiences

Community Benefit
- Service to an under-served area
- Cooperation with local artists and organizations
- Cultural diversity in programming
- Consideration of community needs and interests
- Accessibility (financial and physical)
- Non-duplication of comparable existing services or programs

Capacity to Conduct the Project
- Clearly defined objectives, and a robust plan for implementation, management and promotion of the project
- Record of programmatic success
- Reasonable estimation of expenses
- Reasonable cost-benefit ratio for number of participants/audience members

Local Funding Priorities
- Actively engaging community members in public arts experiences (instead of arts experiences where community members are only passive observers)
- Projects that actively engage children.

The maximum allowable project request is $5,000, and the minimum is $300.

Projects must take place between January 1 and December 31, 2018.

- Individual artists, at least 18 years old, living in Jefferson, Lewis, or St. Lawrence County, who apply with an eligible municipality, library, or non-profit
- Municipalities, libraries, and non-profits, incorporated within Jefferson, Lewis, or St. Lawrence Counties, established for at least one year, which conduct all activities with non-discriminating practices regarding race, color, national origin, religion, gender, or disability, including all programming activities, administration, and board representation
- Governmental or quasi-governmental entities, or tribal organizations
- Eligible municipalities, libraries, and non-profits may use their eligibility status to assist as many non-eligible individual artists or organizations to apply as they have the capacity to work with; the three-application/$5,000 limit does not apply. These eligible applicants may simultaneously submit grant requests on behalf of their own organization and assist others - the additional applications will not count towards their $5,000 maximum.

Not Eligible to Apply
- DEC site staff or board members (in this case, SLC Arts)
- New York State agencies and departments (including SUNY schools)
- Public universities and colleges; public, private or parochial secondary and elementary schools, or their components or affiliates
- Unincorporated applicants without an eligible fiscal sponsor or partner organization
- Individuals or organizations, including fiscally-sponsored applicants, applying directly to NYSCA within the same fiscal year, regardless of that application's status or outcome
- Individuals or organizations not based in Jefferson, Lewis, or St. Lawrence County, including non-incorporated chapters of organizations whose "parent" is incorporated outside this region
- Previous recipients of this grant who have failed to provide final reports or other documentation, or have failed to comply with previous contracts

Not fundable:
- Activities that take place in a different county from where the grant check is being sent
- Projects involving partners that apply directly to NYSCA
- Non arts-related activities: Galas, benefits or fundraising events, including food, entertainment and reception costs; Entertainment (includes balloons, clowns, magic, culinary or martial arts, gaming, "sip and paint," and puppets or circuses lacking strong artistic merit); Projects that are recreational, therapeutic, rehabilitative, or religious in nature (includes at-risk/social service programs when the purpose is primarily for rehabilitation, therapy or worship)
- Non-ADA compliant venues
- Permanent things: equipment; capital improvements (includes land, buildings, renovations); anything which extends the life of or improves the value of privately-owned property; acquisition of works of art; creation of textbooks or classroom materials
- Activities not open to the general public (includes camps, clubs, college associations, etc.); in-school activities and programs; lobbying expenses; events that take place in a private residence
- Organization or personal finances: general operating expenses; operating expenses of privately owned facilities (includes homes and studios); start-up or seed funding for the establishment of a new organization; contingency funds (funds reserved for emergencies or unexpected outflows, mainly economic crises); requests which, when added to other income sources, will equal more than the total project expenses
- Awards: competitions or contests (includes cash prizes, juried shows, fellowships, educational scholarships, and other awards to students); regrants by applicants to fund other activities
- Programs in which children are used as professional artists (paid a fee); projects which are part of a liturgy, or which intend to proselytize

SLC Arts offers free training workshops to help individuals and organizations learn how to apply for Community Arts funding. These workshops also contain information about any changes to the grants process or paperwork since the previous year, and provide a valuable opportunity to network with other local artists and organizations.

First-time applicants must attend a workshop in 2017 to apply for a 2018 grant; returning applicants are encouraged to attend. Participants should register in advance by contacting SLC Arts. The workshops are held in various locations around Jefferson, Lewis, and St. Lawrence Counties.

Grant Workshop Schedule:

Tuesday, July 25, 11:00 – 12:30
Arts Association of Northern New York
119 West Main Street; Sackets Harbor

Tuesday, August 1, 11:00 – 12:30
Northern New York Philanthropy Center
131 Washington Street, Watertown (Room 4)

Thursday, August 10, 2:00 – 3:30
Lyons Falls Library
3918 High Street; Lyons Falls

Saturday, August 12, 10:00 – 11:30
St. Lawrence County Arts Council
41 Elm Street, Room 125; Potsdam

Applicants may submit up to three separate project requests in a grant cycle, with the total of all requests not to exceed $5,000. There is no limit on the amount which may be spent on a project – only on the amount which may be requested from this grant to help meet project expenses.

The Community Arts Grant may fund up to 50% of a project's total cash expenses, but never more than 75% of total cash expenses. At least 25% of financial support for the proposed project must come from another income source besides this grant. Contributions of goods or services (known as in-kind donations) are encouraged, but in-kind support does not count as an income source.

Applicants are encouraged to ask for free help:
1) During a scheduled workshop
2) By calling or e-mailing SLC Arts with questions
3) By scheduling an appointment to meet with SLC Arts staff in person to review an application.

View the grant writing webinar here: http://slcartscouncil.org/grant-writing-courses/

Applicants will be notified by mail after the panel review and board approval process is complete. This usually occurs in December.

Before starting your grant application, please review the funding source's website listed below for updates/changes/addendums/conferences/LOIs.
Register for the grant workshops: https://goo.gl/forms/hsY7NbK7Olgh5hUW2

Apply online: https://slcarts.submittable.com/submit/83850/art-funding-2018-community-arts-grant-application

Alicia Murphy, Regrants & Community Engagement Coordinator
315-265-6860
arts@slcartscouncil.org

SLC Arts
PO Box 252; 41 Elm St. Potsdam NY 13676
315.265.6860

USA: New York: Jefferson, Lewis, and St. Lawrence Counties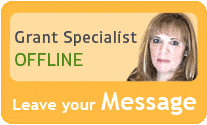 Our team of researchers and grant specialists review hundreds of funding resources daily to make sure GrantWatch.com provides members with the most up-to-date grants.
We have grants for: