FY18 Municipal Planning Grant (MPG) Program
Grants to Vermont Municipalities for
Community Planning and Revitalization

Vermont Agency of Commerce and Community Development (ACCD) - Vermont Department of Housing and Community Development (DHCD)

08/08/17

10/02/17 7:00 PM
Grants starting at $2,500 to Vermont municipalities for planning and community revitalization efforts. Qualifying municipalities must confirm their local planning process no later than September 30. This program invests in cities and towns throughout the state with the goal of breathing new life into communities, enhancing the quality of life for citizens, and planning for future growth and development.

For state fiscal year (FY) 2018, the Vermont Department of Housing and Community Development (DHCD) will provide grants to municipalities to promote community planning, revitalization and development activities that maintain Vermont's land use goal of compact settlements separated by rural lands.

The Municipal Planning Grant (MPG) Program funds a wide range of municipal planning projects as allowed by 24 V.S.A. §4306 (b) and (c). Projects that promote Vermont's historic settlement pattern will be given priority.

Grant funds are regionally apportioned, based on the percentage of municipalities with confirmed planning processes within each of Vermont's 11 regional planning commission (RPC) regions. Eligible municipalities compete within their region for grant funding.

Purpose of MPGs - Carry Out Statewide Planning Goals:

(b) It is also the intent of the legislature that municipalities... shall engage in a continuing planning process that will further the following goals:

(1) To establish a coordinated, comprehensive planning process and policy framework to guide decisions by municipalities, regional planning commissions, and state agencies.

(2) To encourage citizen participation at all levels of the planning process...

(3) To consider the use of resources and the consequences of growth and development...

(c) In addition, this chapter shall be used to further the following specific goals:

(1) To plan development so as to maintain the historic settlement pattern of compact village and urban centers separated by rural countryside...

Eligible Activities:

The Municipal Planning Grant Program supports a wide range of projects relating to planning and land use, and promotes cooperation, collaboration and the exchange of ideas. Eligible projects must have a clear connection to planning and implementation of the municipal plan and will be reviewed for conformance with the Regional Plan.

Funds may be used to:

-Underwrite expenses for public meetings and hearings, informational workshops citizen surveys, outreach and notification costs

-Support research, data collection, capacity studies, inventories and mapping

-Pay consultants, interns, regional planning commission staff, or legal fees associated with the project

-Purchase development rights, easements, and titles of properties for housing and conservation purposes identified in the municipal plan

-Purchase materials needed to produce a plan, bylaw, or implement or administer the project, like writing supplies, maps and copies

-Conduct other non-prohibited activities

$450,000

The maximum grant amount is $20,000 for individual municipalities and $35,000 for consortia.

Minimum grant award is $2,500.

MPG projects must be completed within 18 months. Projects must be completed and all fund spent by May 31, 2019.

Municipalities with large, multi-year projects are encouraged to break projects into related, stand-alone phases that produce a defined product upon completion and then apply for another phase each year. However, because funds are allocated competitively each year, MPG support for subsequent phases cannot be guaranteed.

Municipalities with a local planning process that has been confirmed by September 30, 2017 are eligible to apply.

Municipalities without a confirmed local planning process may apply for funding but only to create a municipal plan approvable by the RPC. They must also have voted to provide local funds for municipal and regional planning purposes. Grant proposals from municipalities that have received RPC recommendations to bring their plan into compliance with statewide requirements must address the changes identified by the RPC.

Municipal organizations other than the planning commission (such as the conservation commission) may apply for a grant, but only with prior approval of their town's planning commission and legislative body. Each municipality may submit only one application per year.

Municipalities may not receive funding if they are (a) suspended or debarred by the Federal Government; (b) delinquent in submitting their subrecipient annual reports; or (c) delinquent in submitting their Single Audit Reports (if required).

Consortium Applications:

Two or more municipalities may apply jointly for a consortium application (up to $35,000). Applications must address a shared issue and must identify a lead municipality to administer the project. All municipalities in a consortium must have a confirmed local planning process by September 30, 2017. No member of a consortium may apply for an individual MPG the same year.

Definition of a Municipality:

For the purposes of the Municipal Planning Grant Program a municipality is defined by 24 V.S.A §4303(12). Under this definition an incorporated village is not considered a separate municipality unless the village adopts its own plan and one or more bylaws either before, concurrently with, or subsequent to such action by the town.

Funds may not be used to:
-Support political activities
-Support projects incompatible with the Regional Plan
-Pay regional planning commission dues
-Reimburse expenses incurred before the grant is awarded
-Subsidize tax mapping (see Mapping Requirements below)
-Pay planning commissioners, selectboard members, or municipal staff
-Capitalize a "reserve" fund for use beyond the grant period
-Purchase computer hardware, software licenses or subscriptions, or other equipment not related to a specific grant funded planning event
-Pay for the cost of administering the MPG grant such as municipal or regional staff time
for documenting grant expenditures and submitting the progress report and close-out
-Support plans, bylaws and policies that violate the State or Federal Fair Housing Act. Fair Housing Training is available to all grantees and is encouraged for projects which relate to housing and/or revisions to zoning bylaws.

An application training session on using the online system and preparing a competitive MPG application will be offered through GoToWebinar on Tuesday, August 8, 2017 from Noon - 12:45.

Applicants are required to provide a cash match for any grant request above $8,000 (or $15,000 for consortia). This is the last year that projects requesting $8,000 or less will require no matching funds.

Municipalities may apply for any dollar amount between $2,500 and $8,000 without a local match requirement. Any grant amount above $8,000 will require a local cash match: 33% of total project cost over $8,000 (or 50% of MPG funds over $8,000), as shown in the table in the guidelines. Consortia application grant awards are capped at $35,000 with a local cash match: 33% of total project cost above $15,000.

Municipalities must confirm local planning process by September 30, 2017 to be eligible. To be confirmed, an adopted plan must be approved by a regional planning commission and the municipality must maintain efforts to provide local funds for municipal and regional planning purposes as required by 24 V.S.A. §4350.

Grant Timeline
-RPC Confirmation of Municipal Planning Process: by September 30, 2017
-Application Training: Tuesday, August 8, 2017
-Application Deadline: Monday, October 2, 2017 at 7:00 PM
-Award Decisions: Early December 2017
-Mid-Project Report Due: August 31, 2018
-Project Completion and All Funds Spent: May 31, 2019
-Final Report and Products Submitted: June 30, 2019

Applicant Guidance:
http://accd.vermont.gov/community-development/funding-incentives/municipal-planning-grant/applicant-guidance

Before starting your grant application, please review the funding source's website listed below for updates/changes/addendums/conferences/LOIs.
Register for the August 8 training session here:
https://attendee.gotowebinar.com/register/1840768665820052993

Register online to apply:
https://egrants.vermont.gov/Registration2.aspx

Annina Seiler, Grants Management Specialist
802-828-1948
annina.seiler@vermont.gov

Faith Ingulsrud, Planning Coordinator
802-828-5228
faith.ingulsrud@vermont.gov

One National Life Drive
Deane C. Davis Building, 6th Floor
Montpelier, VT 05620-0501

USA: Vermont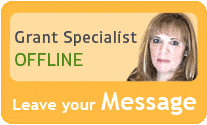 Our team of researchers and grant specialists review hundreds of funding resources daily to make sure GrantWatch.com provides members with the most up-to-date grants.
We have grants for: