Art Project Grant
Grants to Iowa Nonprofits, Schools, Agencies
and Individuals for Public Arts Programming

Iowa Department of Cultural Affairs - Iowa Arts Council

11/01/16 11:59 PM

Grants ranging from $1,000 to $10,000 to Iowa nonprofits, schools, IHEs, government agencies, and individuals for arts programming or the creation and presentation of new artistic works. The purpose of this program is to promote artistic vitality within the State and provide opportunities for residents to engage with the arts.

Art Project Grants create opportunities for the arts to flourish in Iowa by investing in projects that positively impact the vitality of the arts in the state, demonstrate public value, and support Iowa Arts Council funding priorities. Eligible art projects must include excellent and innovative arts activities, involve collaboration, and provide access to Iowans.

Eligible projects must involve the creation and presentation of an original work of art, arts experience or arts learning opportunity and must demonstrate public value to Iowans through deliberate public engagement and access to project activities.

Applicants may only apply for support of a yearly event or series if the applicant can demonstrate how the project is unique and worthy of support within the particular year of the funding period. Project content must change from year to year.

Applicants may only apply for support of a public art project if the applicant can demonstrate broad-based community engagement and programming surrounding the project.

Art project grants do not fund foreign travel or domestic travel dominant projects that primarily benefit the applicant. Projects that involve domestic travel outside of Iowa must clearly demonstrate how the activities benefit Iowans and the arts community in Iowa.

$1,000 - $10,000

The funding period is January 1, 2017 - June 30, 2017.

Eligible applicants must be one of the following types of entities:

1) Current, legal Iowa resident artist who is 18 years of age or older and physically located in Iowa:

-Residence is defined by Iowa Code 422.4 and Iowa Administrative Code 701-38.17 (422).

-An application from an individual artist must support a project that is initiated and managed by the individual artist, not an organization. The project must be designed to benefit the individual artist and may not benefit an organization with which the individual applicant has a formal affiliation such as employment or volunteer service.

-Individuals who seek funding on behalf of programs or entities that are not yet formally organized must apply as an organization and adhere to the Fiscal Agent Policy.

-Applicants who represent an artist collective or group must apply as an individual artist and clearly state their individual role in the project proposal.

2) Federally tax-exempt 501(c)3 nonprofit organization incorporated and physically located in Iowa:

-Physical location of the organization is defined as maintaining a current home office and registered agent address in Iowa defined by Iowa Code 490.501 as well as maintaining a primary staff presence physically located and working in Iowa.

-Entities located in a border community may be eligible under the Border State Policy.

-Entities that are not yet formally organized may be eligible under the Fiscal Agent Policy.

3) School or institution of higher education physically located in Iowa.

4) Unit of local, county or federally-recognized tribal government physically located in Iowa.

Applicants are required to demonstrate investment in a project by providing matching funds for eligible one-time project expenses that are incurred and expended within the eligible funding period in an amount that is equal to or greater than the total grant amount requested from the Iowa Arts Council. One-half of the required dollar for dollar match must be cash match. The remaining one-half may be in-kind or cash match.

View the grant introduction webinar and download the handbook (attached below) to learn how to manage your grant, including contract compliance and publicity.

Grant Introduction Webinar: http://cc.readytalk.com/play?id=7vxm96

Applications are accepted on a semi-annual basis. There was one deadline in May and the next deadline is as follows:

-November 1, 2016 at 11:59 PM for the funding period of January 1, 2017 - June 30, 2017

Applicants will be notified of funding award decisions within eight weeks of the application deadline.

Grant recipients are required to complete a final report by August 1, 2017.

Before starting your grant application, please review the funding source's website listed below for updates/changes/addendums/conferences/LOIs.
Apply Online: https://iowaartscouncil.slideroom.com/

Veronica O'Hern
515-281-3293
veronica.ohern@iowa.gov

Iowa Department of Cultural Affairs
State Historical Building
600 E. Locust St.
Des Moines, IA 50319

https://iowaculture.gov/sites/default/files/arts-grants-projectsupport-guidelines.pdf
https://iowaculture.gov/sites/default/files/arts-grants-granteehandbook-fy17.pdf

USA: Iowa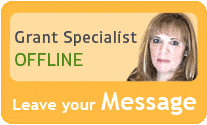 Libby is constantly in touch with grant program managers and reviews numerous publications to make sure that GrantWatch.com provides subscribers with the most up-to-date grant opportunities.
We have grants for:

Need help?
Hi, I would love to guide you through the site.
Please feel free to call or write.
Customer Sales & Support
(561) 249-4129