Interactive Digital Media Fund: Industry Development Program
Grants to Ontario Trade and Event Organizations for Business
Development Opportunities for Ontario Media Companies

Ontario Media Development Corporation

01/31/17

Request a Grant Writer
Grants to Ontario trade and event organizations for events, initiatives, and programs to expand cultural media industries. These efforts must encourage business development or other trade and employment opportunities for Ontario companies that produce and sell content in the book, film, interactive digital media, magazine, or television industries, and any combination of these industries.

Suitable initiatives include:

- Business development activities at significant annual markets and festivals such as structured group or one-on-one meetings between buyers and sellers; content-focused trade shows; or forums that connect buyers or investors with cultural entrepreneurs.
- Trade organization initiatives such as business or content incubators with market participation; trade missions; group marketing projects; or best business practice forums.

The decision to provide support will be based on the following criteria:

- Benefits of the proposed initiative for Ontario companies including the scope of the activity, number of Ontario participants and the commercial impact where applicable such as projected number of business meetings, deals and anticipated revenue;
- Extent to which the applicant's objectives for the initiative and fit with IDP guidelines;
- Extent to which the initiative will lead to results that can be readily identified,measured and assessed;
- Suitability of the proposed delivery method;
- Track record and capacity of the organization and/or the initiative, including consideration of previous results and/or outstanding deliverables for prior OMDC funded projects;
- OMDC branding and sponsor recognition opportunities
- Viability of the initiative including timeline and funding sources projected and committed.

Annual initiatives must re-apply for subsequent funding; previously financed
initiatives are not guaranteed future funding.

Eligible Applicants

- Should be incorporated, not-for-profit Ontario cultural media industry organizations or national organizations offering significant benefit to Ontario participants. At least 50% of a national organization's membership must be Ontario based.
- Organizations must serve the interests of one or more of the book,magazine, film, television and interactive digital media industries. Music industry applications should be directed to the Ontario Music Fund, Music Industry Development Program.
- Must be established organizations in operation for at least one full year.
- Organizations must be recognized as an industry organization that worksto promote the interests of the industry it serves.
- Applications from organizations that are not incorporated or operate on a for-profit basis, but who offer significant benefit to Ontario participants may be considered as an exception by OMDC on a case-by-case basis.

Organizations that are interested in receiving support through the OMDC for activities are instructed to contact OMDC to discuss the eligibility of their proposed activity before making an application.

There are no application deadlines for this program. However, complete applications should be submitted at least 2 months prior to the start date of the initiative. Please note that OMDC reserves the right to not consider late applications. The last application for the 2016–2017 fiscal year will be accepted on January 31, 2017.

Before starting your grant application, please review the funding source's website listed below for updates/changes/addendums/conferences/LOIs.
For specific information please contact the appropriate Industry Initiatives Consultant:

- Erin Creasey: Interactive Digital Media; ecreasey@omdc.on.ca
- Chris Dunn: Screen-based Media; cdunn@omdc.on.ca
- Janet Hawkins: Book Publishing; cdunn@omdc.on.ca
- Matt Hilliard-Forde: Magazine Publishing; mhilliard-forde@omdc.on.ca
- Kelly Payne: Film and Television; kpayne@omdc.on.ca

Additional Contact Information for Queries:
Film, Television and Interactive Digital Media
Phone: 416-642-6697
Email: programs@omdc.on.ca

Books and Magazines
Phone: 416-642-6652
Email: programs2@omdc.on.ca

Interactive Digital Media
Phone: 416-642-6695
Email: idmfund@omdc.on.ca

Canada: Ontario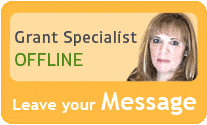 Libby is constantly in touch with grant program managers and reviews numerous publications to make sure that GrantWatch.com provides subscribers with the most up-to-date grant opportunities.
We have grants for:

Need help?
Hi, I would love to guide you through the site.
Please feel free to call or write.
Customer Sales & Support
(561) 249-4129