Vermont Community Development Program (VCDP)
Grants to Vermont Villages, Cities, and Towns
for Housing and Infrastructure Development

Vermont Agency of Commerce and Community Development - Department of Housing and Community Development

11/22/16

Request a Grant Writer
Grants starting at $3,000 to Vermont municipalities to meet community infrastructure needs in the areas of housing, public facilities, handicapped accessibility, public services, and economic development. Applicants are advised to contact program staff before applying. The intent of this program is to improve the opportunities available to low and moderate-income individuals. In addition, assistance is provided to communities for threats of health and safety issues as urgent needs and slums and blight projects.

Types of Grants:

1) Accessibility Modification Grants (AM)
(Grant Range: $5,000 - $75,000) - Example: Bring municipally-owned buildings and libraries into compliance with state and federal accessibility requirements.

2) Implementation Grants (IG)
(Grant Range: $50,000 - $1,000,000) - Examples: Assist businesses to create or retain jobs, create or rehabilitate housing units, build infrastructure, create or assist childcare and senior centers, etc.

3) Planning Grants (PG)
(Grant Range: $3,000 - $40,000) - Examples: Conduct feasibility studies and marketing plans, produce architectural and engineering plans, etc. for IG projects.

4) Scattered Site Grants (SS)
(Grant Range: $50,000 - $1,000,000) - Example: Rehabilitate scattered site housing projects.

-Accessibility Modification Grants: $5,000 - $75,000

-Planning Grants: $3,000 - $40,000

-Scattered Site Grants: $50,000 - $1,000,000

-Implementation Grants: $50,000 - $1,000,000
($50,000 - $300,000 for public facilities and public service projects).

Implementation Grants may be funded over multiple years (minimum three years/maximum four years) in phases. Each phase must meet benefit independently to achieve National and State Objectives.

Any Vermont town, city (except Burlington), incorporated village chartered to function as a general purpose unit of local government, or a consortium of such entities, is eligible for funding.

However, the majority of projects are a coordinated effort between the municipalities, community groups and local or state nonprofit organizations or small businesses.

VCDP staff are available to talk with you about your project and to answer your questions about its fit with the Program, and applicants are highly encouraged to apply ONLY after discussing the project with VCDP staff. Your chief contact will be the Community Development Specialist (CD Specialist) assigned to your geographic region of the State.

Upcoming Deadlines:
-November 22, 2016 for consideration at the February 9, 2017 meeting
-February 7, 2016 for consideration at the April 13, 2017 meeting
-April 18, 2017 for consideration at the June 22, 2017 meeting

Application Instructions and Resources: http://accd.vermont.gov/community-development/funding-incentives/vcdp/applicant-guidance

Municipalities must hold at least one public hearing to provide residents with an opportunity to learn and comment on the proposal.

A 25% match of cash or cash-in-kind goods or services is required for all Accessibility Modifications.

Before starting your grant application, please review the funding source's website listed below for updates/changes/addendums/conferences/LOIs.
Apply Online: https://grants.accd.vermont.gov/Login2.aspx?APPTHEME=VTACCD

Direct questions regarding project eligibility, pre-applications, and applications to your regional program staff:

Orange, Franklin, Grand Isle, Lamoille and Washington counties:
Carl Bohlen
carl.bohlen@vermont.gov

Caledonia, Essex, Orleans, Windham and Windsor Counties:
Nathan Cleveland
nathan.cleveland@vermont.gov

Addison, Bennington, Chittenden and Rutland counties:
Claire Forbes
claire.forbes@vermont.gov

Filling out the Environmental Review:

Quin Mann
quin.mann@vermont.gov

Gaining access to the Online Grants Management System, and creating applications and environmental reviews:

Cindy Blondin, Grants Specialist
802-828-5219
cindy.blondin@vermont.gov

One National Life Drive
Deane C. Davis Building, 6th Floor
Montpelier, VT 05620-0501


USA: Vermont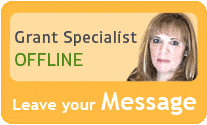 Libby is constantly in touch with grant program managers and reviews numerous publications to make sure that GrantWatch.com provides subscribers with the most up-to-date grant opportunities.
We have grants for:

Need help?
Hi, I would love to guide you through the site.
Please feel free to call or write.
Customer Sales & Support
(561) 249-4129