Iowa West Foundation Grants
Grants to Southwest Iowa and Eastern Nebraska
Nonprofits, Schools and Agencies for Community Projects
Agency Type:
Foundation / Corporation

Iowa West Foundation

11/15/16 5:00 PM

10/17/16

Request a Grant Writer
Grants to Southwest Iowa and Eastern Nebraska nonprofit organizations, schools, school districts and government agencies for programs in the areas of education, health, community and economic development. October 17 is the deadline for a letter of inquiry.

Funding is intended for program support, general operating support and capital requests.

Specific priorities for each of the focus areas are:

1) Place-making - The Foundation seeks to promote place-making by supporting efforts that make the region a desirable place for families to live and to work.

-Neighborhood development and revitalization
-Housing
-Recreational amenities and trails
-Arts and culture
-Community beautification

2) Economic Development - A critical Foundation goal is to increase the standard of living and economic competitiveness of southwest Iowa and the Council Bluffs-Omaha metropolitan area.

-Developing a world-class workforce
-Promoting job readiness and workforce training/preparedness
-Strategic job creation
-Supporting entrepreneurship
-Developing new businesses in the region

3) Education - The Foundation's overall goals in education are broad-based and intended to: increase kindergarten readiness and decrease educational inequity due to socioeconomic factors; increase high school completion rates; decrease high school dropout rates; and, increase post-secondary opportunities.

-Preschool
-Early childhood development
-Children's mental health
-Summer school
-Post-secondary readiness and access

4) Healthy Families - The Foundation places a priority on programs that strengthen families, foster essential life skills and address critical human/social service needs in the community while helping individuals reach their full potential. Examples of such programs include proposals that address the following: family stability, hunger, emergency/transitional housing, teenage pregnancy prevention, child abuse, and mental health.

Applicants must be either a public charity or a governmental entity, and more specifically as follows:

An IRS-approved tax-exempt non-profit public charity qualifying under section 501(a) of the Internal Revenue Code ("IRC") as described in IRC 501(c)(3); and furthermore a "public charity" qualifying under Sections 509(a), and specifically under 509(a)(1) or 509(a)(2) [but not 509(a)(3)]; and, finally, specifically not a private foundation as described in IRC 509(a); or, a school or school district applying through the local area education agency, or another governmental entity.

(The above information is contained in every agency's formal IRS letter-notification of tax-exempt status.)

No grant application will be approved that is inconsistent with the charitable tax-exempt status of the Foundation.

Grantees may receive programmatic and general operating funds for up to six (6) years consecutively. If you have received five (5) or more consecutive years of funding for a program and wish to reapply, please contact the Grants Team prior to application so we can discuss the specifics of your grant funded program.

The Foundation's geographic funding area is southwest Iowa and eastern Nebraska, with the primary focus area being Council Bluffs and Pottawattamie County.

A secondary area of focus includes counties that are contiguous to Pottawattamie County. Those counties in Iowa are: Cass, Harrison, Mills, Montgomery and Shelby; and, the Nebraska counties of Douglas, Sarpy and Washington. Other eligible Iowa counties are: Adams, Audubon, Carroll, Crawford, Fremont, Monona, Page and Taylor; and Cass County, Nebraska.

Proposals may be submitted by organizations from counties not listed above, but the applications may only be for projects/activities undertaken in eligible counties. Please note that while counties that are contiguous to Pottawattamie County receive some funding, those counties are not a primary focus area for the Foundation and, therefore, funding is limited.

The Foundation will not accept proposals that:

- Seek to fund obligations (e.g., deficits, building costs, mortgages and other loans) incurred prior to grant notification.
- Participate in, or intervening in (including the publishing or distributing of statements), any political campaign on behalf of (or in opposition to) any candidate for public office [within the meaning of section 501(c)(3) of the Internal Revenue Code ("IRC")].
- Carry out propaganda or otherwise attempting to influence legislation [within the meaning of section 4945(d) of the IRC].
- Seek to influence the outcome of any specific public election or carrying on, directly or indirectly, any voter registration drive [within the meaning of section 4945(d)(2) of the IRC].
- Make any "donative" grant (i.e., grants through a re-granting program) to any organization or individual (including scholarships).
- Undertake any activity for any non-charitable purpose or to the extent that use of grant funds would constitute a "taxable expenditure" [within the meaning of section 4945(d) of the IRC] or in any other manner which would jeopardize or cause the Foundation to lose its status as an organization exempt from federal income tax under section 501(c)(3) of the IRC.
- Discriminate against any individual or group based on race, religious beliefs, ethnic or national origin, or otherwise legally impermissible criteria.
- Benefit for-profit businesses.
- Support private foundations as described in IRC 509(a), as well as organizations qualifying under 509(a)(3).
- Fund projects outside of Southwest Iowa or Eastern Nebraska.
- Benefit church-affiliated organizations for religious purposes (however, support may be provided to non-religious programs like childcare, meal centers, etc.).
- Provide support for benefits and fundraising events, such as but not limited to galas, golf tournaments, and school dinners.
- Fund campaigns or any fundraising effort that supports and organization's endowment.
- Fund public safety facilities (police and fire stations) or public safety vehicles.
- Fund medical facilities (including hospitals, assisted living projects, nursing homes, independent care, and extended care facilities); medical research; medical equipment; medical education; and/or, hospital charity care assistance.
- Finance publications, films, books, seminars, symposia and conferences.
- Fund proposals that were declined by the Foundation within the previous 12 months.

The Foundation strongly encourages applicants to leverage its grant awards. Grant requests to the Foundation may not exceed 50% of total program or project costs. Applicants must secure, at a minimum, a dollar-for-dollar match for their grant requests. Though organizations are able to request as much as 50% of a program or project, a lower ask is viewed more favorably.

In-kind support may be part of the match, but it cannot exceed 15% of total program or project costs.

Take the eligibility quiz: http://bit.ly/1N1mTIi

If eligible, you will be able to continue to the letter of inquiry. Submit the LOI by October 17.

If approved, final applications are due November 15.

Notification will be approximately 3 months after final submission.

Before starting your grant application, please review the funding source's website listed below for updates/changes/addendums/conferences/LOIs.
Deb Debbaut, Director of Grants Administration
(712) 309-3003
ddebbaut@iowawestfoundation.org

Kathleen Rapp, Vice President of Grants & Initiatives
(712) 309-3005
ktrapp@iowawestfoundation.org

Matthew Henkes, Director of Grants Programs
(712) 309-3007
mhenkes@iowawestfoundation.org

Southwest Iowa and Eastern Nebraska

USA: Iowa Nebraska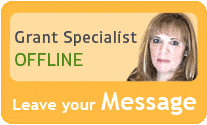 Libby is constantly in touch with grant program managers and reviews numerous publications to make sure that GrantWatch.com provides subscribers with the most up-to-date grant opportunities.
We have grants for:

Need help?
Hi, I would love to guide you through the site.
Please feel free to call or write.
Customer Sales & Support
(561) 249-4129