Community Action Grant
Grants to USA Nonprofits, Individuals, and IHEs
to Improve the Lives of Girls and Women
Agency Type:
Foundation / Corporation

American Association of University Women (AAUW)

01/15/17

Request a Grant Writer
Grants ranging from $2,000 to $10,000 to USA and territories nonprofits, individuals, funding source affiliates, and universities to address issues facing girls and women. The funding source encourages programs that use creative strategies that address issues on a community level and build partnerships in the community.

Special consideration is given to:

-Projects directed by or collaborating with AAUW branches and states;

-Projects focused on K–14 (including two-year colleges) women and girls' achievement in math, science, and/or technology;

-Projects that include community partners. Community partners might include local schools or school districts, businesses, and other community-based organizations.

Types of Grants:

1) One-Year Grant

One-year grants provide funding for community-based projects. Topic areas are unrestricted but should include a clearly defined activity that advances equity for women and girls.

2) Two-Year Grant

Two-year grants provide start-up funds for new projects that address the particular needs of the community and develop girls' sense of efficacy through leadership, advocacy, or training opportunities. Funds support planning activities, coalition building, implementation, and evaluation. The application is for one grant that covers a two-year period. AAUW expects that the project may evolve and change somewhat over the course of the grant period, however, second-year funding is contingent upon the successful completion of the first year of the grant. Two-year grants are not for existing projects.

Funds are available for, but not limited to, project-related expense categories, including:
-Postage, mailing, shipping
-Photocopying, duplicating
-Office supplies
-Audiovisual materials
-Project-related telephone costs
-Professional fees or honoraria for speakers or special consultants
-Equipment purchases
-Meals, food, beverages, or lodging for camps or related activities
-Temporary, hourly clerical help
-Lease of facilities (does not include permanent office space)
-Advertising, publicity, graphic design
-Transportation (should be no more than one-third of grant request; $.565 per mile for auto expenses)

-One-Year Grant: $2,000 - $7,000
-Two-Year Grant: $5,000 - $10,000

The One-Year Grant period is July 1, 2017 – June 30, 2018.

The Two-Year Grant period is July 1, 2017 – June 30, 2019.

Applicants must be individuals, AAUW branches, AAUW state organizations, or local community-based nonprofit organizations (including universities).

Organizations (including universities) must have 501(c)(3) tax-exempt status. AAUW branch and state applicants must have 501(c)(3) or 501(c)(4) tax-exempt status.

Project directors must be the applicant and must be U.S. citizens or permanent residents.

The proposed activity must take place within the United States or its territories.

Nonprofit organizations and universities must be based in the United States or its territories.

The proposed activity must have direct community or public impact.

Proposals from AAUW branches or states must be approved and signed by the branch or state president.

Proposals from local community-based nonprofit organizations must be approved and signed by the organization's executive director.

Community Action Grants are not available for the development of written work for academic credit or for research that will be used for a degree thesis or dissertation.

Members and officers of the AAUW Board of Directors are not eligible to apply for fellowships and grant awards. AAUW staff or volunteers with decision-making authority who wish to apply for an award must recuse themselves from the decision-making process.

Not Funded:
-Salaries or stipends for project directors or permanent positions
-Tuition
-Higher education scholarships for students and participants
-Building funds, construction, or renovations
-Travel expenses for activities not within the scope of the project
-Overhead or general operating expenses for any organization or nonprofit organization
-Personal expenses, shelter, or life, medical, and health insurance
-Previous expenditures, deficits, or loans
-Creating or providing grants to other organizations
-Copyright or attorney fees
-Fundraising activities

Applications for AAUW Community Action Grants are open August 1 - January 15

Notifications of decisions will be emailed to applicants by April 1.

Before starting your grant application, please review the funding source's website listed below for updates/changes/addendums/conferences/LOIs.
Apply Online: https://aim.applyists.net/aauw

aauw@applyists.com

USA: Alabama; Alaska; Arizona; Arkansas; California; Colorado; Connecticut; Delaware; Florida; Georgia; Hawaii; Idaho; Illinois; Indiana; Iowa; Kansas; Kentucky; Louisiana; Maine; Maryland; Massachusetts; Michigan; Minnesota; Mississippi; Missouri; Montana; Nebraska; Nevada; New Hampshire; New Jersey; New Mexico; New York City; New York; North Carolina; North Dakota; Ohio; Oklahoma; Oregon; Pennsylvania; Rhode Island; South Carolina; South Dakota; Tennessee; Texas; Utah; Vermont; Virginia; Washington, DC; Washington; West Virginia; Wisconsin; Wyoming
USA Territories: American Samoa (USA) Guam (USA) Puerto Rico (USA) Virgin Islands (USA) Northern Mariana Islands (USA)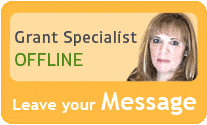 Libby is constantly in touch with grant program managers and reviews numerous publications to make sure that GrantWatch.com provides subscribers with the most up-to-date grant opportunities.
We have grants for:

Need help?
Hi, I would love to guide you through the site.
Please feel free to call or write.
Customer Sales & Support
(561) 249-4129