Recreational Trails Program (RTP)
Grants to Alaska Nonprofits and Agencies to
Develop and Maintain Outdoor Recreational Sites

Alaska Department of Natural Resources - Division of Parks and Outdoor Recreation

11/01/16 Electronic submission and postmarked

Request a Grant Writer
Grants starting at $5,000 to Alaska nonprofits and public agencies for motorized and non-motorized leisure trails that benefit and are open and accessible to the public. Funds may be used to acquire land to develop new trails, to maintain or restore trails; for signage, education, and safety projects; and for costs of labor directly related to the project.

Funds will be provided for:

1) Trail Development, Maintenance, Acquisition and Assessment
-Development and repair or restoration of existing trails,
-Development and rehabilitation of trailside and trailhead facilities, bridges, signs, and trail linkages,
-Purchase and lease of trail construction and maintenance equipment (check rules for match requirement),
-Construction of new trails (with restrictions for new trails on Federal lands),
-Acquisition of easements or property for trails, and
-Assessment of trail conditions for accessibility and needed repair.

2) Safety, Signing, and Education Projects
-Development and dissemination of publications and operation of educational programs to promote safety and environmental protection related to the use of recreational trails, including supporting non-law enforcement trail safety and trail use monitoring patrol programs, and providing trail-related training (limited to 5 percent of a State's apportionment, but not required). These projects must offer training or materials either free to the general public, or at a very minimal cost, also see Public Benefit section below. All reimbursable expenses must be allocated to educational materials.

3) Allowable Labor Costs
-Labor costs, including force-account labor and contractual services costs that are directly related to and required for completing the project are acceptable and may be reimbursed. Costs shall be based on the actual wage or services rate paid.

Non-motorized and diversified projects: $5,000 - $50,000
Motorized projects: $5,000 - $100,000

Grant agreements may be good for up to two years; however, you must turn in a reimbursement request for within the first eight months after FHWA approval or risk federal de-obligation of your project.

Federal, State, local and tribal governments, non-profit organizations, and educational institutions are eligible to apply for the RTP grants. Businesses and individuals are not eligible.

This program allows for a federal grant share of 90% for ALL applicants. The applicant is responsible for the remaining 10% of the total project cost. The matching share may include volunteer labor, in-kind services, cash donation of private funds, or materials and services at fair market value. *Federal agencies applying for grant funds must provide a 5% non-federal match of the total project cost.

Before starting your grant application, please review the funding source's website listed below for updates/changes/addendums/conferences/LOIs.
For project development, application assistance, and programmatic questions contact:
Darcy Harris, State Trails Program Manager
(907) 269-8699
darcy.harris@alaska.gov

For general questions regarding an existing grant, or reimbursement status contact:
Steve Neel, Grant Administrator
(907) 269-8709
steve.neel@alaska.gov

Department of Natural Resources, Division of Parks and Outdoor Recreation
550 W 7th Ave, Suite 1380
Anchorage AK, 99501-3561

USA: Alaska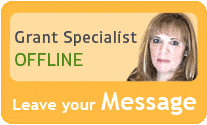 Libby is constantly in touch with grant program managers and reviews numerous publications to make sure that GrantWatch.com provides subscribers with the most up-to-date grant opportunities.
We have grants for:

Need help?
Hi, I would love to guide you through the site.
Please feel free to call or write.
Customer Sales & Support
(561) 249-4129