The Social, Economic, and Political Effects of the Affordable Care Act
Grants to USA, Canada, and International Investigators
to Research USA Health Care Reform Outcomes
Agency Type:
Foundation / Corporation

Russell Sage Foundation

10/31/16

02/27/17 2:00 PM ET

Request a Grant Writer
Grants to USA, Canada, and International scholars and investigators at the PhD (or equivalent) level to conduct research projects to understand the various effects of the health care reforms made in the USA in 2010. A Letter of Inquiry must be submitted by October 31.

The Foundation is especially interested in funding analyses that address important questions about the social, cultural, and economic effects of the Affordable Care Act on outcomes such as:

- Financial security and family economic well-being,
- Labor supply and demand,
- Participation in other public programs,
- Family and children's outcomes, and
- Differential effects of age, race, ethnicity, nativity, or disability status.

The Foundation is also interested in research that examines the political effects of the implementation of the new law, including changes in views about government, support for future government policy changes, or the impact on policy development outside of health care.

Funding may be used to support: research assistance, data acquisition, data analysis, and investigator time for conducting research and writing up results.

Award Categories:

1. Project Awards are generally capped at $150,000, including 15% indirect costs/overhead

2. Presidential awards are capped at $35,000 (no overhead).

In rare circumstances, investigators may apply for a Presidential Award of up to $50,000 (no overhead) when the proposed research project has special needs for gathering data (e.g.: qualitative research) or gaining access to restricted-use data.

Applications should limit budget requests to no more than a two-year period

Eligible Applicants:

- All applicants (both PIs and Co-PIs) must have a Ph.D. or comparable terminal degree, or a career background that establishes their ability to conduct high-level, peer-reviewed scholarly research.
- RSF particularly encourages early career scholars to apply for Presidential awards.
- All nationalities are eligible to apply and applicants do not have to reside in the USA.
- RSF does not accept applications for Project and Presidential Awards from doctoral or other graduate students, unless specified in a special RFP.

Eligible Types of Requests:

Funding is available for secondary analysis of data or for original data collection. The Foundation is especially interested in novel uses of existing data, as well as analyses of new or under-utilized data. Proposals to conduct laboratory or field experiments, in-depth qualitative interviews, and ethnographies are also encouraged. Smaller projects might consist of exploratory fieldwork, a pilot study, or the analysis of existing data.

The Foundation encourages methodological variety and inter-disciplinary collaboration.

All proposed projects must have well-developed conceptual frameworks and research designs. Analytical models must be specified and research questions and hypotheses (where applicable) must be clearly stated.

Ineligible Types of Requests:

The Foundation will not fund research on the effects of the ACA on health care delivery or health outcomes (e.g., barriers to implementation, changes in the quality of care and health status, or trends in enrollment and affordability).

The Foundation does not:

- Provide support for sabbaticals or fellowships at other institutions, even if the PI will be working on an RSF project. The Foundation encourages investigators to consider the Foundation's Visiting Scholar Program if time is needed for completing a project.
- Support release time (course buy-outs) from teaching during the academic year.
- Provide support for any pre-doctoral or doctoral research (including dissertation research) with the exception of the Behavioral Economics Small Grants.
- Pay tuition remission for graduate or undergraduate students.
- Provide any support for personnel or other costs related to communications or dissemination or publication, including journal publication fees.
- Pay for travel for collaboration purposes or dissemination/presentation of findings (conference travel).
- Allow generic costs, such as copying, printing, mailing, phone calls, information/computer services, etc., as these are typically considered to be a part of indirect costs.

How to Apply:

A brief letter of inquiry (four pages maximum, excluding references) must precede a full proposal to determine whether the proposed project is in line with the Foundation's priorities under this special initiative and available funds. All applications must be submitted through the Foundation's online submission system.

Key Dates and Deadlines:

Letter of Inquiry Deadline: October 31, 2016 (2:00 PM ET)
Invited Proposal Deadline: February 27, 2017 (2:00 PM ET)
Funding Decision: June 2017

Click here to view the online FAQs: http://www.russellsage.org/how-to-apply/apply-project-awards/faq

Click here for more information about the budget guidelines: http://www.russellsage.org/how-to-apply/apply-project-awards/budget

Click here for more detailed information about eligibility and application requirements: http://www.russellsage.org/how-to-apply/apply-project-awards/guidelines

Before starting your grant application, please review the funding source's website listed below for updates/changes/addendums/conferences/LOIs.
Click here to submit a Letter of Inquiry (LOI) or Proposal: https://rsf.onlineapplicationportal.com/

If you still have questions after reviewing the information on the Foundation's website, please contact Aixa Cintrón-Vélez, Program Director, at programs@rsage.org.

USA: Alabama; Alaska; Arizona; Arkansas; California; Colorado; Connecticut; Delaware; Florida; Georgia; Hawaii; Idaho; Illinois; Indiana; Iowa; Kansas; Kentucky; Louisiana; Maine; Maryland; Massachusetts; Michigan; Minnesota; Mississippi; Missouri; Montana; Nebraska; Nevada; New Hampshire; New Jersey; New Mexico; New York City; New York; North Carolina; North Dakota; Ohio; Oklahoma; Oregon; Pennsylvania; Rhode Island; South Carolina; South Dakota; Tennessee; Texas; Utah; Vermont; Virginia; Washington, DC; Washington; West Virginia; Wisconsin; Wyoming
USA Territories: American Samoa (USA) Guam (USA) Puerto Rico (USA) Virgin Islands (USA) Northern Mariana Islands (USA)
USA Compact Free Associations: The Federated States of Micronesia (USA) Marshall Islands (USA) Republic of Palau (USA)
Canada: Alberta British Columbia Manitoba New Brunswick Newfoundland and Labrador Northwest Territories Nova Scotia Nunavut Ontario Prince Edward Island Quebec Saskatchewan Yukon
Israel
International country outside of the USA, Israel and Canada.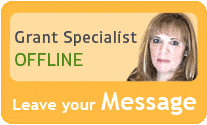 Libby is constantly in touch with grant program managers and reviews numerous publications to make sure that GrantWatch.com provides subscribers with the most up-to-date grant opportunities.
We have grants for:

Need help?
Hi, I would love to guide you through the site.
Please feel free to call or write.
Customer Sales & Support
(561) 249-4129