Lotte Lenya Competition
Prizes to USA, Canada, and International Individuals
for Excellence in Opera, Theater, and Musical Theater
Agency Type:
Foundation / Corporation

The Kurt Weill Foundation for Music

01/23/17

Request a Grant Writer
Prizes of up to $20,000 to USA, Canada, and International singers and actors for competing in a theater, opera, and musical theater contest. Contestents must prepare a presentation in theater, American musical theater, and opera. Singers and actors are encouraged to perform constrasting selections.

To effectively demonstrate that you are a multi-dimensional performer, in constructing your program consider the mood, tempo, length, vocal range, musical style, and characters being portrayed. The program must be performed from memory.

Contestants must perform a program that contains four selections, one from each category outlined below:

1) One theatrical selection (any genre) by Kurt Weill

Weill selection(s) must be sung in their original theatrical versions and language. However, in this category only, authorized English translations for selections from The Threepenny Opera (English lyrics by Marc Blitzstein or Michael Feingold) and Happy End (English lyrics by Michael Feingold) will also be permitted.

2) One song from the "Golden Age" (pre-1968) American musical theater repertoire

Contestants must perform the stage version of the song as it is contained in the piano-vocal score of the show (not in "selections" format, or from a film or popular adaptation of the work). American musical theater selections must be sung in English.

Contestants may also select a Weill song written for Broadway as their pre-1968 musical theater selection. Note, however, that multiple Weill selections should be contrasting (in genre, style, and/or language).

3) One song from the American musical theater repertoire of 1968 or later

Contestants must perform the stage version of the song as it is contained in the piano-vocal score of the show (not in "selections" format, or from a film or popular adaptation of the work). American musical theater selections must be sung in English.

5) One aria from the operatic or operetta repertoire

The opera/operetta aria must be sung in its original musical version, key, and language. Contestants may also choose a selection from an opera/operetta by Weill for this category. Again, please note that multiple Weill selections should be contrasting.

The total length of the program must not exceed 15 minutes. This may necessitate judicious internal cuts, but contestants must be prepared to sing the number unabridged if so requested by the judges.

Awards:

-New in 2017, the Kurt Weill Award, for outstanding performance of at least two contrasting selections by Kurt Weill, one in English, one in French or German.

-Lys Symonette Awards are given in recognition of various aspects of individual performance such as outstanding performance of a single number, extraordinary achievement and/or promise, and outstanding talent.

-Carolyn Weber Awards are given in recognition of outstanding creativity in the design of a diverse program and exceptional sensitivity to text/music relationships.

-Marc Blitzstein Awards are given for an outstanding performance from a "Golden Age" musical.

-All semifinalists who do not proceed to the finals receive an award of $500. Additional awards are available to non-finalists: Grace Keagy Awards for Outstanding Vocal Promise and Emerging Talent Awards, each in the amount of $500.

-Please note that judges may decide not to award all prizes listed here in any given year.

Total prizes exceed $75,000.

Prizes:
-First Prize: $20,000.
-Second Prize: $15,000.
-Third Prize: $10,000.
-Finalists: $1,000.
-Semi-finalists: $500.

Discretionary Awards:
-Kury Weill Award: $5,000.
-Lys Symonette Award(s): $3,500.
-Carolyn Weber Award(s): $3,500.
-Marc Blitzstein Award(s): $3,500.

The competition is open to singer/actors of all nationalities, ages 19–32 (born after 23 April 1984 and before 24 January 1998).

First, Second, and Third Prizewinners from previous years are ineligible to compete in subsequent competitions.

Winners of discretionary awards (Lys Symonette, Carolyn Weber, Marc Blitzstein, and Kurt Weill Awards) may compete again so long as they select repertoire different from what they were previously recognized for.

FAQ: http://www.kwf.org/pages/faq.html

The application deadline for the 2017 Lotte Lenya Competition is Monday, January 23, 2017.

Preliminary Auditions

Each contestant must upload a preliminary video audition through Vimeo with his/her online application form. Contestants will need to create a free account, upload the video, and set it to private with the password Lenya2017. (More detailed instructions may be found on the application form.)
Audition videos must include all four required repertoire selections.

Your video should approximate a live audition; the view of the camera should include your whole body and allow you to move as you perform your selections. It is permissible to cut between selections. The accompanist need not be visible in the video. Make sure that you maximize audio quality and screen size, particularly if the video is produced using a smartphone.

Contestants will be notified by February 6 if they are being invited to the Semi-Final auditions in New York City at the Manhattan School of Music on Thursday, March 9 or Friday, March 10, 2017.

Contestants will be notified by March 13 if they are invited to the Finals in Rochester, NY.

Finals will take place in Kilbourn Hall at the Eastman School of Music on Saturday, April, 22, 2017.

Before starting your grant application, please review the funding source's website listed below for updates/changes/addendums/conferences/LOIs.
Apply Online: http://www.emailmeform.com/builder/form/G04dbq759LaxyfdM

Brady Sansone, Director of Programs and Business Affairs
212 505 5240 x204
bsansone@kwf.org

USA: Alabama; Alaska; Arizona; Arkansas; California; Colorado; Connecticut; Delaware; Florida; Georgia; Hawaii; Idaho; Illinois; Indiana; Iowa; Kansas; Kentucky; Louisiana; Maine; Maryland; Massachusetts; Michigan; Minnesota; Mississippi; Missouri; Montana; Nebraska; Nevada; New Hampshire; New Jersey; New Mexico; New York City; New York; North Carolina; North Dakota; Ohio; Oklahoma; Oregon; Pennsylvania; Rhode Island; South Carolina; South Dakota; Tennessee; Texas; Utah; Vermont; Virginia; Washington, DC; Washington; West Virginia; Wisconsin; Wyoming
USA Territories: American Samoa (USA) Guam (USA) Puerto Rico (USA) Virgin Islands (USA) Northern Mariana Islands (USA)
USA Compact Free Associations: The Federated States of Micronesia (USA) Marshall Islands (USA) Republic of Palau (USA)
Canada: Alberta British Columbia Manitoba New Brunswick Newfoundland and Labrador Northwest Territories Nova Scotia Nunavut Ontario Prince Edward Island Quebec Saskatchewan Yukon
Israel
International country outside of the USA, Israel and Canada.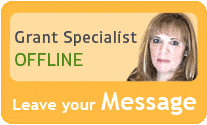 Libby is constantly in touch with grant program managers and reviews numerous publications to make sure that GrantWatch.com provides subscribers with the most up-to-date grant opportunities.
We have grants for:

Need help?
Hi, I would love to guide you through the site.
Please feel free to call or write.
Customer Sales & Support
(561) 249-4129