Future Fisheries Improvement Program Grant
Grants to Montana Agencies, Organizations,
and Individuals to Preserve Wild Fish Habitat

Montana Fish, Wildlife, and Parks

12/01/16 Receipt

Request a Grant Writer
Grants to Montana government agencies, conservation districts, civic groups and landowners for the restoration and preservation of the State's waterways and fish habitats. Applicants are encouraged to discuss project ideas with their local fisheries biologist prior to applying. Any entity proposing a project that would benefit wild fish will be considered for funding.

Between $350,000 and $650,000 are available each year for projects that revitalize wild fish populations. Program funding may be provided for costs of design/build, construction, and maintenance of projects that restore, enhance, or protect habitat for wild fishes.

Applicants must demonstrate that the project will have public benefits and accomplish one or more of these items:

-Improve or maintain fish passage
-Restore or protect naturally functioning stream channels or banks
-Restore or protect naturally functioning riparian areas
-Prevent loss of fish into diversions
-Restore or protect essential habitats for spawning
-Enhance stream flow to improve fisheries
-Restore or protect native fish populations
-Improve fishing in a lake or reservoir
-Other types of projects that restore or protect habitat for wild fish populations

Projects must also be conducted with approval of the landowner on whose property the project is being completed, and they may not interfere with water or property rights of adjacent landowners.

There is no maximum grant amount per application. However, funding awards are subject to the grant money available, total project requests, and the application's demonstration of program goals.

Future Fisheries funds are available for three years after funding approval.

Habitat projects benefiting wild fish, originating from virtually any source, will be considered for funding. This includes (but is not limited to) landowners, anglers, civic groups, conservation districts, or governmental agencies.

Funding cannot be used for administration, coordination, overhead, monitoring, watershed assessments, design alone, or contingency costs. Preference will be given to projects that restore habitats for native fishes.

Applicants are encouraged to talk to their regional fisheries biologist about project ideas prior to filling out an application. Contact the Future Fisheries Program Officer (see contact details below) if you are not sure whom to contact. The local biologist typically knows the limiting factors associated with fish populations in their management area.

Applications may be submitted at any time but must be received before December 1 and June 1 of each year to be considered for the subsequent funding period.

Applications must be sent to FWP at the address below. Electronic applications are preferred but must be signed. If submitting a hard copy application, applicants are strongly encouraged to include a copy of the application in electronic copy format.

FWP will post all the applications received onto the FFIP webpage to provide the opportunity for public review and comment.

Cost sharing is not mandatory but strongly encouraged and makes a project more competitive.

Application Forms and Guides: http://fwp.mt.gov/fishAndWildlife/habitat/fish/futureFisheries/formsAndGuides.html

Eligibility and Application Guidelines: http://fwp.mt.gov/fishAndWildlife/habitat/fish/futureFisheries/eligibility.html

Before starting your grant application, please review the funding source's website listed below for updates/changes/addendums/conferences/LOIs.
Michelle McGree, Program Officer
(406) 444-2432
mmcgree@mt.gov

Montana Fish, Wildlife and Parks Fisheries Division
1420 E. Sixth Ave.
P.O. Box 200701
Helena, MT 59620-0701

USA: Montana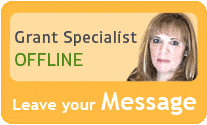 Libby is constantly in touch with grant program managers and reviews numerous publications to make sure that GrantWatch.com provides subscribers with the most up-to-date grant opportunities.
We have grants for:

Need help?
Hi, I would love to guide you through the site.
Please feel free to call or write.
Customer Sales & Support
(561) 249-4129