FY2017 Great Streets Small Business(s) Grant
Grants to Washington, DC Small Businesses to
Enhance Store Spaces in Commercial Corridors

Government of the District of Columbia - Office of the Deputy Mayor for Planning and Economic Development (ODMPED)

09/21/16

10/21/16 6:00 PM

Request a Grant Writer
Grants of up to $75,000 or more to Washington, DC small retail and service-oriented businesses to enhance storefronts and business spaces within eligible commercial corridors. Orientation sessions will be held on September 21 and 27. Applications are accepted from small businesses located on the following Great Street corridors:

-7th Street NW
-14th & U Street NW (including Adams Morgan, Mt. Pleasant & Columbia Heights)
-Connecticut Avenue NW
-Georgia Avenue NW
-H Street/Bladensburg Road NE/Benning Road NE
-Martin Luther King Jr. Avenue/South Capitol Street SE/SW
-Minnesota Avenue/Benning Road NE
-Nannie Helen Burroughs Avenue NE
-New York Avenue NE
-North Capitol Street NW/NE
-Pennsylvania Avenue SE
-Rhode Island Avenue NE
-Wisconsin Avenue NW

The purpose of the Great Streets Retail Small Business(s) Grants is to support existing small businesses, attract new businesses, increase the District's tax base, create new job opportunities for District residents, and transform emerging commercial corridors into thriving and inviting neighborhood centers.

Eligible Funding Uses:

1) For Individual Businesses

Up to 100% of the applicant's funding request under this grant can be applied towards the following hard costs:

-Build-out of new or vacant space
-Interior and exterior renovations, including façade improvements
-Purchase and installation of heavy equipment that is permanently attached to a wall, floor, or ceiling

Up to 50% of the applicant's funding request under this grant can be applied towards the following soft costs:

-Business consultation services
-Point-of-sale and inventory management hardware and software
-Marketing materials and services
-Purchase and installation of movable equipment and furniture

2) For Two or More Businesses

Up to 100% of the applicant's funding request under this grant applied toward the following hard cost, which must impact all businesses:

-Build-out of new or vacant space
-Interior and exterior renovations, including façade improvements
-Purchase and installation of heavy equipment that is permanently attached to a wall, floor, or ceiling
-Funds may be used to improve any visible part of a storefront, including:
-Repair exterior damage (water leakage, rotting wood, etc.)
-Remove inappropriate or incompatible exterior finishes or materials
-Restore exterior finishes and materials
-Repair, reconfigure, or replace existing storefront systems or elements (i.e., windows, doors, etc.)
-Install exterior lighting
-Install signs (new, repaired, replacement and removal)
-Remove exterior security grates and bars
-Install canopies-new, repair or replacement of existing
-Restore appropriate decorative architectural elements (shutters, parapets, cornices,
etc.)

Up to 25% of the applicant's funding request under this grant can be applied towards the following soft costs:

-Business consultation services
-Point-of-sale and inventory management hardware and software
-Marketing materials and services
-Purchase and installation of movable equipment and furniture

-Individual grants: Up to $50,000.
-Buildings with two (2) businesses grants: Up to $75,000.
-Buildings with three (3) businesses grants: Up to $100,000.

The grant period will be from the date of grant execution and shall remain in effect for 12 months. The Districts period of performance and financial obligation for the grant will be from the date of execution through September 30, 2017.

Eligible applicants for the grants are owners of small retail and service-oriented businesses who have not previously received Great Streets funding for the specified business property.

Eligible applicants must meet the following minimum requirements to be considered for a grant:

-Be located within a Great Streets corridor;

-Be a registered business in Good Standing with the DC Department of Consumer and Regulatory Affairs (DCRA), the DC Office of Tax and Revenue (OTR), the DC Department of Employment Services (DOES), and the federal Internal Revenue Service (IRS), and maintain their Good Standing status with the aforementioned agencies throughout the pre-award process and the grant's period of performance. Prospective applicants may contact the aforementioned agencies to inquire about their tax compliance status by calling the numbers below:

-Retain site control of the business property either through fee simple ownership or an executed contract or lease with the property owner with a minimum unexpired term of at least two (2) years. Applicants who lease their business property are required to submit a notarized affidavit from their landlord authorizing the proposed improvement project.

-Provide proof that the business' average annual revenue (based on the last three (3) completed fiscal years), or the projected average annual revenue for the first three (3) years "in business" does not exceed $1 million.

-Provide proof of property and liability insurance (an insurance quote is permitted for new businesses) compliant with the requirements set forth in Section XII of this RFA).

Prospective applicants can verify their location eligibility by using the interactive mapping tool at: http://greatstreets.dc.gov

Not Eligible:
-Adult entertainment
-Auto body repair
-Bank
-Bar
-Construction/general contracting/architecture/design-build
-Financial services
-Home-based business
-Hotel
-Liquor store
-Nightclub
-Phone store
-Professional services*
-Real estate development/property management/realtor

*Professional services is defined as the following businesses: accountant, actuary, architect, dentist, engineer, evaluator, financial planner, lawyer, pharmacist, physician, registered nurse, and training and development.

Applicants who have questions regarding this RFA are encouraged to attend an orientation session.

Orientation sessions are scheduled for the following dates:

-Wednesday, September 21, 2016 - 3:00 PM to 4:30 PM
-Tuesday, September 27, 2016 - 8:00 AM to 9:30 PM

Sessions will be held at:

2316 Rhode Island Avenue, NW
Washington, DC 20018

More information about the orientation session schedule may be found here: shttp://greatstreets.dc.gov/calendar/month

Application Attachments: http://greatstreets.dc.gov/node/1184230

All applications must be submitted via the MicroEdge online application system. Please submit all attachments in PDF format. Applications must be submitted electronically no later than Friday, October 21, 2016 at 6:00 PM.

If you are unable to attend an information session, you are encouraged to email your questions to the contact person listed below before 5:00 PM on Friday, October 21, 2016. Questions submitted after this date may not receive responses.

ODMPED will post answers to questions received via email and during the grant orientation session on the Great Streets website: http://www.greatstreets.dc.gov.

Before starting your grant application, please review the funding source's website listed below for updates/changes/addendums/conferences/LOIs.
Apply Online: https://www.grantrequest.com/SID_5501?SA=SNA&FID=35008

LaToyia Hampton, Grants Manager
(202) 724-7648
LaToyia.Hampton@dc.gov

Office of the Deputy Mayor for Planning and Economic Development
1015 Half Street SE, Suite 675
Washington, DC 20003

RFA Identification No: ODMPED - GSSB - 016826

USA: Washington, DC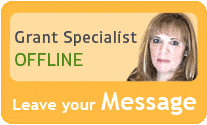 Our team of researchers and grant specialists review hundreds of funding resources daily to make sure GrantWatch.com provides members with the most up-to-date grants.
We have grants for: