Medical Research Fellows Program
Fellowships to USA, Canada, and International
Students for Medical Research at a USA Institution
Agency Type:
Foundation / Corporation

Howard Hughes Medical Institute (HHMI)

01/11/17

Request a Grant Writer
Fellowships of $43,000 to USA, Canada, and International medical, veterinary, and dental students who are currently enrolled in degree programs in the USA. Depending on the position location, potential fellows may be required to submit a preliminary application by November 1 and attend an interview in late November or early December.

The Medical Research Fellows Program encourages the development of future medical-scientists by providing a year of full-time, mentored laboratory research training to medical, dental, and veterinary students who have demonstrated an interest in and commitment to biomedical research, but who are not enrolled in an MD/PhD (or equivalent) program.

Area of Research:

The proposed project must be in the basic, translational, or applied biomedical sciences. HHMI does not fund clinical research, health services or health policy research.

1) Basic Science Research - Basic science research is conducted to increase understanding of the physical, chemical, and functional mechanisms of life processes and diseases.

2) Translational Research - Translational research is the process of applying ideas, insights, and discoveries generated through basic scientific inquiry to the treatment or prevention of diseases.

3) Applied Research - Applied research is directed toward specific objectives, such as the development of a new drug, therapy, or therapeutic procedure. It involves the application of existing knowledge to a specific medical problem. Applied research can be conducted with animals or non-animal alternatives, such as computer models or tissue cultures.

Examples of eligible fields of research include the following:
-Biochemistry
-Bioinformatics
-Biomedical engineering
-Biophysics
-Biostatistics
-Cell biology
-Developmental biology
-Epidemiology
-Genetics
-Immunology
-Mathematical and computational biology
-Microbiology
-Molecular biology
-Neuroscience
-Pharmacology
-Physiology
-Structural biology
-Virology

The Medical Research Fellows Program enables students to be immersed in a high-impact, intensive research experience at a critical time in their professional education, before they make plans for residency or postdoctoral training. Unique aspects of the program include national and regional professional development activities, mentorship by physician-scientists, interaction with HHMI investigators, and integration into a community of like-minded peers.

Each student selects and works with a mentor to develop a basic, translational, or applied biomedical research proposal. Both mentor selection and the research proposal are key components of the fellowship application; working with an HHMI scientist is encouraged but not required. Mentors can be at any academic or nonprofit research institution in the United States (excluding the National Institutes of Health and any other government agency).

Fellows must choose an academic or nonprofit research institution in the United States (excluding NIH or other government agencies) as their fellowship institution. The fellowship institution need not be the student's medical, dental, or veterinary school. Fellows are responsible for making all arrangements for attendance at their chosen institution.

A fellow may engage in research away from the fellowship institution (including a non-U.S. research institution) during the fellowship term if, in the research mentor's judgment, such an arrangement would further the fellow's training.

The total amount awarded to each Medical Fellow is $43,000. HHMI will provide the funds to the fellowship institution, which in turn will pay the fellow. The annual stipend is $32,000. In addition to the stipend, the award includes a fellow's allowance of $5,500 and a research allowance of $5,500.

The fellowship term may begin no earlier than May 1, 2017, and no later than September 1, 2017. The term of the fellowship is 12 consecutive months.

Applicants must be currently enrolled in a medical, dental, or veterinary school in the United States. Students may apply during any year of their studies, but applicants in the last year of school must defer graduation until completion of the fellowship year.

All students must make a commitment to conducting 12 months of continuous, full-time laboratory research with minimal interruptions for interviews for residency or post-graduate training. These fellowships are not available to students enrolled in a combined medical, dental, or veterinary/PhD program (e.g., MD/PhD), a PhD program, or an ScD program or to those who have completed a PhD or an ScD in a laboratory-based science.

Previous wet-laboratory research experience is required. Applicants should have one or more substantial research experiences (e.g., summer or part-time research experience), other than course-based labs/ research experiences. Applicants with a year of full-time research experience since entering medical, dental, or veterinary school must show how further full-time research experience at this time would strongly enhance their future research careers.

There are no citizenship requirements for application, but those who are not U.S. citizens must have and maintain an appropriate visa with eligibility to work in the United States status by the award acceptance deadline of March 24, 2017. Students must be authorized to work in the United States during the entire term of their HHMI fellowship year. HHMI will not handle visa matters for applicants.

Program Dates:
-August 22, 2016: Online application opened
-January 11, 2017, 2:00 PM ET: Application deadline
-March 17, 2017: Award Notification
-March 24, 2017: Acceptance deadline
-Summer 2017: Fellowship begins between May 1 and September 1

Before starting your grant application, please review the funding source's website listed below for updates/changes/addendums/conferences/LOIs.
Apply Online: http://www.hhmi.org/competitions

Medical Research Fellows Program
Undergraduate and Graduate Programs
4000 Jones Bridge Road
Chevy Chase, MD 20815

(301) 951-6708
medfellows@hhmi.org

USA: Alabama; Alaska; Arizona; Arkansas; California; Colorado; Connecticut; Delaware; Florida; Georgia; Hawaii; Idaho; Illinois; Indiana; Iowa; Kansas; Kentucky; Louisiana; Maine; Maryland; Massachusetts; Michigan; Minnesota; Mississippi; Missouri; Montana; Nebraska; Nevada; New Hampshire; New Jersey; New Mexico; New York City; New York; North Carolina; North Dakota; Ohio; Oklahoma; Oregon; Pennsylvania; Rhode Island; South Carolina; South Dakota; Tennessee; Texas; Utah; Vermont; Virginia; Washington, DC; Washington; West Virginia; Wisconsin; Wyoming
USA Territories: American Samoa (USA) Guam (USA) Puerto Rico (USA) Virgin Islands (USA) Northern Mariana Islands (USA)
USA Compact Free Associations: The Federated States of Micronesia (USA) Marshall Islands (USA) Republic of Palau (USA)
Canada: Alberta British Columbia Manitoba New Brunswick Newfoundland and Labrador Northwest Territories Nova Scotia Nunavut Ontario Prince Edward Island Quebec Saskatchewan Yukon
Israel
International country outside of the USA, Israel and Canada.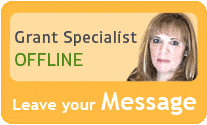 Libby is constantly in touch with grant program managers and reviews numerous publications to make sure that GrantWatch.com provides subscribers with the most up-to-date grant opportunities.
We have grants for:

Need help?
Hi, I would love to guide you through the site.
Please feel free to call or write.
Customer Sales & Support
(561) 249-4129