Professional Development Project Assistance
Grants to British Columbia Artists for Career
Advancing Projects and Travel Opportunities

British Columbia Arts Council

12/01/16 4:00 PM Delivery; or Postmarked by Date

Request a Grant Writer
Grants of up to $7,500 to British Columbia individual artists and arts administrators for professional development activities, including projects and travel opportunities. Applicants are strongly encouraged to discuss proposals with program staff prior to applying. Eligible artistic disciplines include the writing, dance, media, visual arts, publishing theater, music, and multi-disciplinary.

There are two categories of awards in this program.

1) Travel Grants

Travel grants are intended to assist the presentation of work at single events or exhibitions, or other opportunities. Applicants must be paid a guaranteed fee or honorarium for their participation; in-kind compensation is acceptable. Applicants undertaking touring activity outside the province may be assisted through the BC Arts Council's Project Assistance - Touring Initiatives Program; please consult the program guidelines or contact the program officer for information.

Eligible costs include travel expenses, accommodation and meal per diems.

2) Project Grants

Project grants are intended to assist with specific learning activities to advance a practice or career. Activities should lead to specific learning outcomes, goals or objectives. Descriptions and eligibility for specific types of professional development activity are provided below. The following are illustrations and do not encompass all the activities eligible for support through this program.

-Residencies: Eligible residencies must include significant opportunities for learning, outreach and/or knowledge exchange with artistic peers and/or community members. Artists' residencies which are primarily for the creation of work are ineligible for assistance and may be suitable for support through other programs. Residencies which offer a mix of learning and creation may be eligible for support when an application clearly outlines how participation will advance the applicant's practice instead of the creation of a specific work.

-Courses/Workshops: Programs of activity offered by individuals or organizations that follow a specified curriculum or with specific skills acquisition or learning outcomes are eligible for support, including masterclasses and private studies with a specific focus. Please Note: The Professional Development Assistance program does not support programs of study at full-time post-secondary educational institutions.

-Mentorships: Programs of activity may include a placement with an arts organization that will provide qualified and specific mentorship, or an individual structured relationship with a qualified professional who will provide mentorship. Applications should describe specific objectives or learning opportunities and measures, the proposed mentor/teacher and a desired timeline. Mentorships may be undertaken on a one-to-one basis or with a group, however, each member of the group seeking support much submit an individual application to this program. The application requires evidence of specific arrangements and the agreement of the mentor/teacher.

Eligible costs for project grants include: travel expenses, accommodation expenses, subsistence, use of specialized equipment and supplies for a particular development activity, and fees paid to mentors, advisors, institutions or instructors; and subsistence to defray basic living expenses (up to $2,000/month).

-Travel Grants: Up to $2,500
-Project Grants: Up to $7,500

Under normal circumstances, to be eligible, an applicant must:

-Be a Canadian citizen or permanent resident and have lived in British Columbia for at least twelve months immediately prior to application.

-Be an artist or arts administrator in the disciplines of creative writing, dance (performance, choreography), media arts (film, video, audio/sound art and new media), multi-disciplinary practice, museology and conservation, music (performance, composition), publishing, theatre (performance, design, directing, technical), or visual arts (creation, curation).

-Have completed basic training in their discipline (not necessarily in academic institutions). Be a professional artist or arts administrator.

In order to demonstrate professional status, applicants should meet the following criteria:

-Be recognized by other practitioners working in similar disciplines;

-Have a practice in their discipline of two or more years subsequent to basic training;

-Be committed to working full-time at their practice when financially possible; and

-For Performing Artists: Have a demonstrated body of previous professional work;

-For Visual Artists: Have had at least two professionally-curated shows or exhibitions where artists fees have been received;

-For Media Artists: Have directed/created or hold creative control on at least one project subsequent to basic training; this may include 'student works' which have been professionally exhibited or screened;

-For Writers: Have had at least one book (or equivalent – 40 pages of poetry or 120 pages of prose) professionally published previously.

Applicants working in arts administration or within a multi- or interdisciplinary artistic practice are eligible. Please contact your program officer with any questions regarding the eligibility of your discipline or practice.

Not Funded:
-Expenses incurred or projects completed prior to the application date.
-Touring expenses.
-Capital expenditures (purchase of property or equipment).
-Production of promotional materials such as audition recordings, portfolios and/or websites.
-Travel to auditions/audition 'tours'.
-Travel solely for the purpose of attending annual general meetings.
-Travel to present work at marketplaces or showcases where fees are not paid.
-Projects that are secondary to other purposes (e.g. fundraising events, conventions, or family, religious or community celebrations).
-Projects or activities that are funded through other programs of the BC Arts Council or its third party delivery partners.
-Specific vocational placements required as part of basic training/accreditation (formal apprenticeships, practica, etc.).
-Unpaid work placements.

All applicants, especially new applicants, are urged to discuss their request with Council staff prior to submission.

Support through this program may form up to 100% of the total project budget; however, applicants who provide a budget with diverse sources of revenue may receive priority.

Application Deadlines are April 1, August 1, and December 1. If the deadline falls on a weekend or statutory holiday, the deadline becomes the next business day. The next deadline is December 1, 2016.

Applications are accepted by mail and must be postmarked by Canada Post or a courier company. Applications may be hand delivered or delivered by courier up to 4:00 PM on the deadline day.

Before starting your grant application, please review the funding source's website listed below for updates/changes/addendums/conferences/LOIs.
A full list of program officers may be found here: https://www.bcartscouncil.ca/about/coordinators.htm

Walter Quan, Professional Arts Training Programs
250 356-1728
Walter.Quan@gov.bc.ca

Mailing Address:
PO Box 9819, Stn Prov Govt
Victoria, B.C. V8W 9W3

Street Address:
800 Johnson Street, 2nd Floor
Victoria, B.C. V8W 1N3


Canada: British Columbia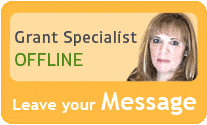 Libby is constantly in touch with grant program managers and reviews numerous publications to make sure that GrantWatch.com provides subscribers with the most up-to-date grant opportunities.
We have grants for:

Need help?
Hi, I would love to guide you through the site.
Please feel free to call or write.
Customer Sales & Support
(561) 249-4129