Community Development Block Grant Economic Development Set-Aside (EDSA) Program
Grants to Iowa Cities and Counties to
Help Businesses Create More Jobs

U.S. Department of Housing and Urban Development (HUD) - Iowa Economic Development Authority

12/31/16 11:59 PM
Grants to Iowa cities and counties on behalf of local businesses for projects that will increase employment opportunities for low- and moderate-income individuals. Applicants are accepted and reviewed on a continuous basis through the December 31 final deadline. Funding is intended to provide financial assistance for new start-ups, expansions of existing businesses, and relocation of out-of-state businesses to Iowa. Assistance may be provided to businesses the form of direct loans or forgivable loans.

Priority is given to projects that will create manufacturing jobs, add value to Iowa resources and/or increase exports out of state. Preference will be given to those businesses which will create or retain the greatest number of jobs with the least amount of program dollars. Refinancing or restructuring of existing loans and projects involving a single retail establishment will be considered low priorities.

Federal guidelines require that funding for projects under CDBG economic development programs be "necessary and appropriate" to accomplish the project. More simply stated, EDSA assistance may only be provided to a business that truly needs public assistance, and then only the minimum amount of EDSA funds necessary to meet this may be provided. The only three valid criteria to determine this need are: a financing gap, insufficient return on investment or locational disadvantages.

HUD guidelines also require that 51 percent of the jobs created or retained be filled by low and moderate income persons or first consideration must be given to hiring low and moderate-income persons. Low and moderate income is a much higher income level than the poverty level and is calculated based on family size and the county in which the person resides.

To meet this objective, 51% of the permanent full-time jobs created or retained must be either:

-Actually taken by persons from LMI households; OR

-Can be considered to be available to LMI persons because the skills necessary enable persons from LMI households to be attracted to and qualify for the position; and/or the business has established a training program to provide the necessary skills to unqualified persons which they hire.

The maximum grant award for individual applications from a city or county on behalf of a business is $1,000,000 per application.

If funded, projects have a 3 year completion period.

Although the program provides financial assistance to businesses, the application must come from a public "sponsor".

Iowa cities under 50,000 population (with the exception of Cedar Falls) and all counties are eligible to apply on behalf of businesses within their jurisdiction.

Applications are accepted and reviewed on a continuous basis through the final deadline of December 31, 2016 (midnight).

Upon receipt by IEDA of a complete application, funding decisions can generally be made within 30 days, however for a decision to be reached, up to 60 days may be taken.

Please note there is an environmental review process required for each project. The environmental review process can take anywhere from 0 to 90-days, depending on the level of review required. Regardless, neither a recipient nor any participant in the development process, including public or private nonprofit or for-profit entities, or any of their contractors, may commit HUD assistance under a program or enter into construction contracts until the state has approved the recipient's Request for Release of Funds (RROF) and the related certification have been approved.

If awarded, an environmental review must be or have been completed prior to the business incurring any costs related to the project. A review may be initiated before or during the application process, as the process may take up to 60 days to complete. Completing this review prior to application or approval can significantly expedite the project timeline and thus is encouraged.

If federal funds are used for construction, a wage determination must be requested to ensure an adequate wage/benefit compensation is being provided to the construction workers. It may take up to 45 days for a wage decision to be received from the U.S. Department of Labor. This process may also be initiated prior to a decision being made on an application.

In addition, any special contract conditions must be met before funds may be drawn. The length of time may vary but generally it will take one to two months to clear conditions. Upon requesting federal funds it will take approximately two to three weeks to receive the check.

Before starting your grant application, please review the funding source's website listed below for updates/changes/addendums/conferences/LOIs.
Login to apply here: https://entaa.iowa.gov/entaa/sso?appId=DOM_GMS&callingApp=https://www.iowagrants.gov/login.do

Register a new account here: https://entaa.iowa.gov/entaa/sso?appId=ITE_BUGS&callingApp=https://www.iowagrants.gov/login.do&tab=createacct

Nichole Hansen, Program Officer
515-725-3081
Nichole.Hansen@iowa.gov

Community Investments
Iowa Economic Development Authority
200 East Grand Avenue
Des Moines, Iowa 50309

Iowa (excluding Cedar Falls)

USA: Iowa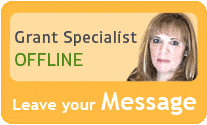 Our team of researchers and grant specialists review hundreds of funding resources daily to make sure GrantWatch.com provides members with the most up-to-date grants.
We have grants for: