Community Challenge Grant (CCG) Program
Grants to Arizona Nonprofits, Agencies, and Schools
for Community and Urban Forestry Projects

Arizona Department of Forestry and Fire Management (DFFM) - Urban and Community Forestry

10/13/17 5:00 PM Receipt
Grants ranging from $5,000 to $20,000 to Arizona nonprofit organizations, local government agencies, tribal governments, and public educational institutions to enhance and protect community and urban forests. This program encourages citizen involvement in creating sustainable and long-term local forestry programs.

Program Objectives:

The Community Challenge Grants are to be used to promote and enhance the quality of Arizona's urban and community forests. Research project funding is provided as seed-dollars. Projects should be aimed at improving the long-term health and care of the urban forest, or at initiating new urban forestry projects in Arizona communities that would not otherwise be funded through existing budgets.

State Strategic Goals and Program Priorities:

In order to be eligible, all proposals must meet at least one of the State's strategic goals for urban and community forestry outlined in the Arizona Forest Action Plan:

1. People and communities receive maximum benefits from forests and trees.
2. Resilient and diverse forest ecosystem structures, processes and functions.
3. Increased resilience of forest ecosystems to climate change.
4. Broad public understanding of climate change science – Arizona's variable climate and current and future impacts on Arizona's forest systems.
5. Improved communication between cultural groups about varying perspectives and beliefs related to forests, trees, and other natural resources.

Grantee Showcase:

Each grant recipient will be required to participate in the annual Grantee Showcase during the year their grant is active. The Grantee Showcase occurs in Phoenix in the fall (October/November). Travel costs associated with attendance and participation in the Grantee Showcase are an eligible budget item (either reimbursable or used as a match toward the grant).

Eligible Projects:

Proposals that meet this year's priority are preferred. Proposals should fall under one or more of the following seven (7) project categories. Proposals that meet multiple categories are desired; those that do not fall into at least one of the categories are ineligible.

Project Examples by Category. This is a non-exhaustive list of possible projects by category; other projects that fit the category are encouraged. These examples should not be construed as a guarantee of project funding for any year or under any category.

Category 1 – Information and Education
-Arbor Day programs
-Workshops/seminars with an urban forestry emphasis
-Urban forestry reference library development or enhancement
-Arborist and tree worker training classes
-Urban forestry youth programs or education

Category 2 – Planning
-Planning or management document development, (e.g., Street-tree Master Plan, Urban Forest Strategic Management Plan)
-Tree ordinance development or revision
-Efforts toward becoming an approved Tree City USA community
-Community forest management or shade master plans
-Urban forestry board or commission development

Category 3 – Community and Natural Resources Management
-Asset Management (that includes urban trees)
-Tree inventories (including protocol development)
-Canopy inventories (including protocol development)

Category 4 – Maintenance
-Hazard tree evaluation, removal, and replacement
-Contract pruning using International Society of Arboriculture standards
-Tree and sidewalk conflict resolution with an emphasis on tree-preservation
-Risk Management programs

Category 5 – Demonstration Projects
-Technology transfer
-Tree habitat restoration projects
-Market-driven Forest Fire Hazard Reduction in urban-rural interface areas

Category 6 – Climate Change Resiliency
-Strategies that build urban forest resiliency
-Urban forest vulnerability mapping (related to drought, flooding, and other climate change impacts)

Category 7 – Research
-Expansion of existing research intended to improve understanding of tree growth and maintenance, tree physiology and morphology and species adaptations in Arizona.
-Projects that further explain the role of urban trees in human health, conserving energy, and mitigating the urban heat island.

$90,000

-Award Ceiling: $20,000
-Award Floor: $5,000
-Typical Granting Range: $5,000 - $10,000

The project timeframe is January 1, 2018 - December 31, 2018.

Eligible Applicants:

-Units of local government (counties, municipalities, cities, towns, and townships)
-Tribal governments
-Nonprofit organizations with 501(c)3 status
-Public educational institutions

Organizations that have previously received any grant from DFFM must be current on their quarterly reporting requirements per their signed grant agreement(s) prior to receiving a new award. DFFM does not discriminate against any person or organization because of race, color, religion, disability, sex, age or national origin.

Grant Limitations:

No more than 20% of the total project dollars may be used for plant materials. Funds used to purchase trees as part of the project may not be used to substitute for existing tree planting and care expenditures. Any project involving tree planting* must include a five-year (5-year) maintenance plan. This maintenance must be funded separately by the applicant. All trees purchased must meet the American Standard for Nursery Stock and Arizona Nursery Association Standards.

Administrative costs associated with the proposed activities may not exceed 10% of the reimbursable project costs.

Funds may be used for specific projects only, and may not be used to meet ordinary operational expenses or to purchase food or beverages.

Grant funds can not be used to purchase capital equipment (i.e., costing >$5,000). However, they may be used to rent equipment.

*Note: Organizations that receive a grant related to planting must have a Certified Arborist or Certified Landscape Professional (CLP) on-hand at the time the plants are delivered and when planting occurs. If the applicant already has either on staff, they may perform this function and credit their time as a match toward their awarded grant.

This is a reimbursable grant program. At least 50% of the total cost of the project must be contributed by the applicant from sources other than the federal government. This amount may be in the form of cash, services, volunteer time, equipment usage, and/or in-kind contributions.

All sub-recipients of federal funding are required to provide a DUNS number to DFFM and to register in the Federal System for Award Management (SAM) prior to receiving an award.

One copy of the completed proposal must be submitted no later than 5:00 PM, Friday, October 13, 2017. This means in the office by October 13, not postmarked by 13 October.

Notifications will be issued after Monday, November 27, 2017.

Before starting your grant application, please review the funding source's website listed below for updates/changes/addendums/conferences/LOIs.
Alix Rogstad, Program Manager
602.771.1427
ARogstad@dffm.az.gov

Community Challenge Grant Program
Dept. of Forestry and Fire Management
Urban and Community Forestry
1110 W Washington, Ste 100
Phoenix, AZ 85007-2935

grants@dffm.az.gov

USA: Arizona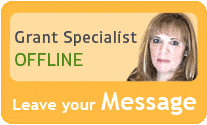 Our team of researchers and grant specialists review hundreds of funding resources daily to make sure GrantWatch.com provides members with the most up-to-date grants.
We have grants for: