Artist Minigrant
Grants to Mississippi Artists for Marketing Projects,
Art Materials, and Professional Development

Mississippi Arts Commission

11/01/16 5:00 PM

Request a Grant Writer
Grants of up to $500 to Mississippi artists for marketing purposes, professional skills development, and art supplies. First-time applicants are strongly encouraged to contact program staff to discuss eligibility. Funding is intended for attending a professional workshop or conference for training and development, promotional projects such as brochures and CDs, and consumable materials for the purpose of creating new artistic works.

More details on what the grant can support are as follows:

- Registration and related travel expenses for a professional conference or workshop where the applicant will receive training or professional development within their artistic discipline. An Artist Minigrant cannot support a presentation by an applicant at a professional or educational conference. Booth fees at fairs or festivals are not eligible under this option. Artist Minigrants may not be used to support academic research or study towards an academic or professional degree.
- Projects that help promote the applicant's work, such as designing and printing a brochure, poster, gallery card, CD/DVD duplication (as part of a promotional plan) or website design. Applicants requesting funds for CD or DVD duplication projects must explain how the discs will be used in their promotional plan and how they will be distinct from the applicant's commercial ("for sale") discs. MAC expects grantees to produce professional quality CDs or DVDs when utilizing Minigrant funding.
- The purchase of expendable supplies (such as clay or paint) used to create new work. The grant cannot be used to purchase permanent equipment, such as musical instruments, computers, or other non-expendable items.

MAC considers the following three components in determining artistic excellence:

- The originality and vision of the work
- The artist's technical mastery of their discipline
- The technique or process used to create the work

Up to $500

You may apply for an Artist Minigrant if you are:

- A professional artist producing work of high artistic quality. Individuals are considered to be professional artists if they:
- earn at least part of their annual income in their artistic work,
- consider their artistic endeavors as a career,
- maintain a high level of artistic quality, and
- make a significant time investment in their artistic disciplines through practice, performance or production

- More than 18 years of age
- Not a full-time student; and
- A permanent, legal resident of Mississippi at the time of application and throughout the grant period.

Applicants may be required to show proof of residence.

Please submit Artist Minigrant applications no earlier than 30 days prior to the deadline.

Artist Minigrants are reimbursement grants, meaning grantees must complete their project and submit a final report and required documentation to MAC (such as receipts or paid invoices) before the payment are sent. All expenses must take place within the grant period (no earlier than 30 days after the application deadline date) in order to be eligible for reimbursement.

The program does not require a cash match from the artist.

Artists may receive only one Minigrant per fiscal year (July 1st - June 30th). Individuals who have been awarded an Artist Fellowship are not eligible to receive an Artist Minigrant in the same fiscal year. If grant funds are limited, MAC gives priority to eligible applicants who have not previously received a Minigrant.

Artists who are applying for the first time are strongly encouraged to contact a MAC program director to discuss whether or not their project would be eligible for funding before submitting an application.

Applicants will be notified 30 days after each Minigrant deadline.

Before starting your grant application, please review the funding source's website listed below for updates/changes/addendums/conferences/LOIs.
To apply, go to http://mac.egrant.org/

For questions about the program, please contact one of the following MAC Program Staff members, based on your artistic discipline:

Charlotte Smelser, Performing Arts
601-359-6037
csmelser@arts.ms.gov

Turry Flucker, Visual Arts and Crafts
601-359-6075
tflucker@arts.ms.gov

Connie Souto Learman, Literary and Media Arts
601-359-6035
csoutolearman@arts.ms.gov

Jennifer Jameson, Folk and Traditional Arts
601-359-6034
jjameson@arts.ms.gov

Mississippi Arts Commission
501 North West Street
Suite 1101A, Woolfolk Building
Jackson, MS 39201

USA: Mississippi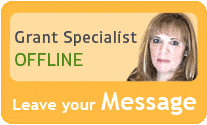 Libby is constantly in touch with grant program managers and reviews numerous publications to make sure that GrantWatch.com provides subscribers with the most up-to-date grant opportunities.
We have grants for:

Need help?
Hi, I would love to guide you through the site.
Please feel free to call or write.
Customer Sales & Support
(561) 249-4129