R40 Autism Field-Initiated Innovative Research Studies (Autism-FIRST) Program
Grants to USA Nonprofits, Agencies, and IHEs for Research on ASD and Developmental Disorder Interventions

US Department of Health and Human Services - Health Resources and Services Administration (HRSA) - Maternal and Child Health Bureau (MCHB) - Office of Epidemiology and Research

10/18/16

11/17/16 11:59 PM ET

Request a Grant Writer
Grants to USA nonprofit organizations, government agencies, and IHEs for research that will inform interventions for children and teens with autism spectrum (ASD) and other developmental disorders. A technical assistance session is scheduled for October 18. Special emphasis is placed on meeting the needs of underserved populations. The programs will address the critical need that exists for research on the barriers to screening, diagnosis, and receipt of evidence-based interventions.

The HRSA-17-013 Autism Field-Initiated Innovative Research Studies competition supports research that advances the evidence base on interventions designed to improve the health and wellbeing of children and adolescents with ASD and other developmental disabilities, with a particular focus on addressing barriers to identification, diagnosis, and services among underserved populations.

A focus on underserved populations is consistent with HRSA's mission as the access agency; underserved ASD populations include low-income, racial/ethnic minorities, immigrant, female, the geographically remote and other groups that are not already well represented in current research on children and adolescents with ASD.

Examples of autism intervention research topics of interest to HRSA's Maternal and Child Health Bureau (MCHB) include, but are not limited to, the following:

-Enhancing the early identification and/or diagnosis among underserved populations, including racial/ethnic minorities, girls, and rural populations;

-Improving access to ongoing care and receipt of appropriate interventions among underserved populations of children and youth;

-Identifying variations in access to services affecting child and/or family functioning in diverse populations;

-Improving access to transitions into adulthood including continuity in health care and other supports associated with successful transitions;

-Using the medical home model to improve care among diverse populations; and

-Identifying supports that mediate or moderate the relations between family stress and outcomes for children and adolescents with ASD.

With this competition, MCHB particularly encourages applications that build and test interventions regarding improving early screening of ASD. Screening topics of interest to MCHB include, but are not limited to:

-ASD screening as part of a system of diagnostic intervention, with emphasis on the collaborative relationship between providers and families during the screening process;

-Tailoring the implementation of ASD screening tools to diverse populations and/or to diverse providers;

-Applying innovative models to improve workforce capacity and/or build systems that provide early ASD screening, including ways to build insurance coverage for screening across states; and

-Developing, implementing, and testing of electronic tools to identify and process variations in ASD risk among families.

$1,800,000

There will be approximately six (6) grants.

Up to $300,000 per year

Approved projects will be awarded project periods of up to five (5) years, September 1, 2017 through August 31, 2022.

County governments
Nonprofits having a 501(c)(3) status with the IRS, other than institutions of higher education
Private institutions of higher education
Public and State controlled institutions of higher education
State governments

Only public or nonprofit institutions of higher learning and public or private nonprofit agencies engaged in research or in programs relating to maternal and child health and/or services for children with special health care needs may apply for grants contracts or cooperative agreements for research in maternal and child health services or in services for children with special health care needs.

Research centers or networks, public or nonprofit institutions of higher learning, including tribal colleges, Historically Black Colleges and Universities, and colleges with sizable Hispanic student bodies may apply.

A Technical Assistance (TA) call will be offered to anyone interested in applying to HRSA-17-013: Autism Field-Initiated Innovative Research Studies competition on Tuesday, October 18, 2016 from 2:00 - 3:30 PM EST.

The call-in information is as follows:
-Dial-in: 1-888-469-1239
-Participant Passcode: 1093482
-URL: https://hrsa.connectsolutions.com/hrsa-17-013_hrsa-17-014/

View this opportunity on Grants.gov: http://www.grants.gov/view-opportunity.html?oppId=288941

Applicants are encouraged to ensure that SAM.gov and Grants.gov registrations and passwords are current as soon as possible. Deadline extensions are not granted for lack of registration. Registration in all systems, including SAM.gov and Grants.gov, may take up to one month to complete.

Before starting your grant application, please review the funding source's website listed below for updates/changes/addendums/conferences/LOIs.
Jessica DiBari, Ph.D., MHS, Program Officer
Telephone: (301) 443-4690
Fax: (301) 480-0508
jdibari@hrsa.gov

93.877

HRSA-17-013


176297_oppHRSA-17-013-cfda93.877-cidHRSA-17-013.pdf

176297_oppHRSA-17-013-cfda93.877-cidHRSA-17-013-instructions.pdf

USA: Alabama; Alaska; Arizona; Arkansas; California; Colorado; Connecticut; Delaware; Florida; Georgia; Hawaii; Idaho; Illinois; Indiana; Iowa; Kansas; Kentucky; Louisiana; Maine; Maryland; Massachusetts; Michigan; Minnesota; Mississippi; Missouri; Montana; Nebraska; Nevada; New Hampshire; New Jersey; New Mexico; New York City; New York; North Carolina; North Dakota; Ohio; Oklahoma; Oregon; Pennsylvania; Rhode Island; South Carolina; South Dakota; Tennessee; Texas; Utah; Vermont; Virginia; Washington, DC; Washington; West Virginia; Wisconsin; Wyoming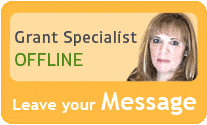 Our team of researchers and grant specialists review hundreds of funding resources daily to make sure GrantWatch.com provides members with the most up-to-date grants.
We have grants for: