Arts Respond Performance Support
Grants to Texas Nonprofits, Schools, Colleges, and
Agencies to Hire Artists for Performances

Texas Commission on the Arts

10/18/16

11/01/16

Request a Grant Writer
Grants ranging from $75 to $8,000 to Texas nonprofit organizations, schools, colleges, and government agencies to host artist presentations. Application drafts will be accepted and reviewed up to two weeks prior to the deadline. The intent of this program is to invest in arts programs and foster the State's creative economy.

This program provides professional artist fees to schools, libraries, and nonprofit organizations for hiring an artist from the TCA Touring Roster to do a performance. The TCA Touring Roster may be viewed here: http://www.arts.state.tx.us/rosters/touring11/main.asp

The eligible request size is $75 - $8,000.

Multiple applications can be submitted, but only $12,000 cumulatively will be awarded to an organization per fiscal year (Sept. - Aug.)

Activities may occur December 15 - March 14.

All Texas nonprofits, schools, colleges, and units of government are eligible.

Ineligible Requests:
-Grants that exceed 25% of the organization's previous year's cash operating revenues
-Social functions, parties, receptions, fundraisers, or galas
-Operating expenses for home offices
-Operating expenses for state-operated facilities including, but not limited to, salary support and facility costs
-Activities for which college or university students receive academic credit
-Projects at colleges and universities that serve mostly students and faculty, with minimal or no community involvement
-Projects by privately owned for-profit corporations
-Financing of political activities
-Retroactive funding
-Debt reduction
-Projects, productions, workshops and/or programs that include obscene material as defined in Section 43.21, Penal Code of Texas.

Note: The Commission will only fund capital improvements, bricks and mortar, and permanent (depreciable) equipment through the Arts Respond Cultural Districts or Commission Initiative/Designated Funding grant programs.

Review additional eligibility and criteria here: https://www2.arts.state.tx.us/tcagrant/TXArtsPlan/Guidelines.htm#GeneralReviewCriteria

This grant requires a 1:1 match.

Quarterly deadlines:
-August 1: For activities occurring September 1 - December 14
-November 1: December 15 - March 14
-February 1: March 15 - June 14
-May 1: June 15 - August 31

TCA staff will accept draft applications for review and comment up to two weeks before the deadline.

Applications are accepted online. Instructions for setting up an account may be found here: http://www.arts.texas.gov/grants/sign-up/

Before starting your grant application, please review the funding source's website listed below for updates/changes/addendums/conferences/LOIs.
Submit application drafts to: draft@arts.state.tx.us

Commission staff are also available to consult with applicants by telephone at:

Phone: 512/463-5535
Message Line: 800/252-9415

You may also hold an in-person appointment at:

E. O. Thompson Office Building
920 Colorado, 5th floor
Austin, Texas

Commission Staff:

Derek Mudd, Program Administrator
512/936-6563
derek@arts.texas.gov

Amber West Rhodes, Program Administrator
512/936-6581
amber@arts.texas.gov

Chuck Winkler, Program Administrator
512/936-6575
chuck@arts.texas.gov

USA: Texas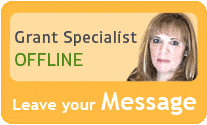 Libby is constantly in touch with grant program managers and reviews numerous publications to make sure that GrantWatch.com provides subscribers with the most up-to-date grant opportunities.
We have grants for:

Need help?
Hi, I would love to guide you through the site.
Please feel free to call or write.
Customer Sales & Support
(561) 249-4129