Regard sur Montreal Residency
Residency to a Montreal, Quebec Minority or
Immigrant Filmmaker to Create a Short Documentary

Conseil des arts de Montreal (CAM), Societe de developpement des entreprises culturelles (SODEC), National Film Board of Canada (NFB)

10/30/16

Request a Grant Writer
Residency to provide $65,000 to a Montreal, Quebec minority or immigrant filmmaker for the creation of a short documentary offering a unique perspective on the City. Applicants must contact program staff prior to applying. The funds will support the film project through all phases, including screenwriting, direction, post-production, promotion and distribution.

Lasting 11 months, the residency will allow the recipient to make a short documentary relating to Montreal. The city's filmography will thus be enriched by the vision of an emerging, culturally diverse artist, offering a fresh perspective on the metropolis.

The residency was designed to attain the following goals:

1) Enable a professional film or video maker from a culturally diverse community to better integrate into Quebec's media landscape and reach a higher professional level through the production of a short documentary about Montreal;

2) Enrich the city's film repertoire with a powerful and original vision of Montreal that will allow viewers to discover or rediscover the city.

The short documentary, with a maximum duration of 15 minutes, may be shot in a language other than French, but French must be the main screening language (subtitles, voice-overs). The documentary made during the residency must offer an original and relevant "Regard sur Montreal" ("View of Montreal").

The grant awarded to the selected artist will be worth a total of $65,000, broken down as follows:

-$15,000 from the Conseil des arts de Montréal for the development and scripting of the work;

-Up to $10,000 from NFB for training costs, under its Programme Équité (a French- language program), and up to $25,000 for in-house technical services for image and sound post-production under its Filmmaker Assistance Program (FAP);

-$25,000 from SODEC for national and international promotion and distribution of the work.

1

$65,000

The residency will last 11 months, from December 5, 2016 to October 30, 2017.

Applicants must meet the following criteria:

-Be a professional artist. Professional artists are defined as individuals who are self- employed creators or practitioners of an art, who are recognized by their peers, who offer their remunerated services in film and video in particular, and who present or perform works in a professional context;

-Be from a culturally diverse community. In addition to being a Canadian citizen or a permanent resident, applicants must meet one of the following criteria: be an immigrant from a first- or second-generation cultural community; or belong to a visible minority, i.e. from Africa, Asia, the Middle East, Latin America, or be of mixed descent, i.e. descended from at least one of these groups.

-Be an emerging artist, at least 18 years old at the application deadline. He or she must also have produced at least one short documentary of 15 minutes or less, but no more than three documentaries, regardless of length;

-Must have lived on the Island of Montreal for at least 12 months. Applicants may be asked for proof of residency;

-Must not be employed by the Conseil des arts de Montréal, SODEC or the NFB.

The following projects are not eligible: films produced as part of a teaching program, promotional films, sponsorships, public interest messages, educational films, series or co-productions.

Before submitting your application, you must contact the project manager.

Applications must be sent by mail or courier to the Conseil des arts de Montreal no later than October 30, 2016.

The committee's decisions, which are final and may not be appealed, will be announced in December 2016.

Before starting your grant application, please review the funding source's website listed below for updates/changes/addendums/conferences/LOIs.
Réjane Bougé, Cultural Advisor
(514) 280-2599
rbouge.p@ville.montreal.qc.ca

Conseil des arts de Montréal
Édifice Gaston-Miron
1210 Sherbrooke Street
East Montreal, Quebec H2L 1L9

Island of Montreal

Canada: Quebec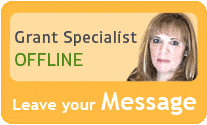 Libby is constantly in touch with grant program managers and reviews numerous publications to make sure that GrantWatch.com provides subscribers with the most up-to-date grant opportunities.
We have grants for:

Need help?
Hi, I would love to guide you through the site.
Please feel free to call or write.
Customer Sales & Support
(561) 249-4129