Land and Water Conservation Fund Project (LWCF)
Grants to Wyoming Local Governments to
Develop and Maintain Outdoor Recreational Areas

Wyoming State Parks, Historic Sites and Trails

12/31/16 Postmarked

Request a Grant Writer
Grants to Wyoming local governments, school districts, and recreational districts for acquisition and development projects that result in public parks and outdoor recreation areas. The project sponsor must agree to develop, operate, and maintain the park or recreational area according to National Park Service standards.

Examples of eligible projects include archery ranges, ballfields, bleachers, boat docks and landing ramps, campgrounds, fencing areas, fishing ponds, golf courses, ice skating ponds, landscaping, multi-purpose courts, parking facilities, pathways and trails, picnic facilities, playground equipment, roads, shooting ranges, sidewalks, signs, site improvements, ski areas, snowmobile facilities, swimming beaches and pools, tennis courts, and utility systems.

All projects approved will have to start development work within 9 months after the formal project agreement is signed. If work has not been started within this 9 month period, the project will be withdrawn.

All billing requests must be received within a 2 year period from the final approval date.

Project sponsors such as cities, towns, counties, school and recreation districts are eligible to apply for L&WCF monies.

Private individuals and organizations are not eligible for assistance under this program, even if they are nonprofit or charitable organizations.

Not Eligible:
-All indoor facilities except ice skating rinks and swimming pools.
-Restoration or preservation of historic structures. However, outdoor recreation facilities in conjunction with historic sites or structures may be eligible.
-Areas and facilities to be used primarily for semi-professional or professional arts and athletics, such as outdoor theaters, rodeo arenas, and similar facilities.
-Amusement facilities, convention facilities, livestock and produce exhibit facilities. Employee residences.
-Lodges, motels, luxury cabins, or similar elaborate facilities.
-Support facilities, such as roads and sewer systems, to serve ineligible facilities. Interpretive facilities which go beyond interpreting the project site.
-School "athletic plant" facilities, such as stadiums and running tracks for interscholastic activities.
-Outdoor recreation and outdoor recreation supported facilities that are to be used exclusively by the handicapped.
-Facilities at a zoo for the purpose of housing, caging displaying, or caring for animals.
-Roads that are outside the park or recreation area unless they are for access to the recreation area only and serve no other individual area or purpose.
-There are no federal funds available under this program for operation and maintenance. Sponsors must agree to operate and maintain the area or facilities at their own expense. Under this program there are not funds available for recreational activities such as salaries for instructors, baseball uniforms, etc.
-Development projects constructed on leased property, with the exception of lands leased from a federal agency.

The L&WCF is a matching grant program based upon a fifty percent (50%) reimbursement of the total cost of the project. Only costs for the development and/or acquisition of public outdoor recreation lands and facilities are eligible for assistance.

Grant applications are to be mailed into the agency postmarked no later than December 31, 2016. Project sponsors are urged to submit their project application at least 6 - 12 months before the actual construction is to begin.

It is anticipated the NPS will provide final approval by October 1 of each year.

Before starting your grant application, please review the funding source's website listed below for updates/changes/addendums/conferences/LOIs.
Tracy Williams
307-777-8681
Tracy.Williams@wyo.gov

Division of State Parks, Historic Sites & Trails
2301 Central Avenue, Barrett Building
Cheyenne, WY 82002

USA: Wyoming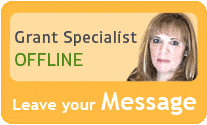 Libby is constantly in touch with grant program managers and reviews numerous publications to make sure that GrantWatch.com provides subscribers with the most up-to-date grant opportunities.
We have grants for:

Need help?
Hi, I would love to guide you through the site.
Please feel free to call or write.
Customer Sales & Support
(561) 249-4129