Research Grant
Grants to Oklahoma Nonprofit Educational
Institutions and Individuals for Humanities Research
Agency Type:
Foundation / Corporation

Oklahoma Humanities (OH)

12/15/16

Request a Grant Writer
Grants of $500 to Oklahoma nonprofit educational institutions and individual scholars to support original research in a humanities discipline. Funding may be used for costs directly related to the project, such as travel expenses incurred during visits to collections or the purchase of materials.

Use of Grant Funds:

-Grant funds may not be used for equipment purchases.

-Travel costs are allowable at current IRS rates by automobile and tourist/economy fare by air. Maximum allowable per diem rates are located on the IRS website. Costs of alcoholic beverages are not allowed.

-International air travel paid in whole or in part by federal sources (including OH funds) must be on an American carrier.

-Research grant funds may not be used for costs of attending conferences or for enrollment in classes.

OH requires not only research leading to new knowledge in the humanities, but also its dissemination. Dissemination of work to the general public is essential. Scholarly publications, presentation of papers at scholarly meetings, or other plans for dissemination that are not aimed at the general public will not meet the requirements of this application. A comprehensive plan for the dissemination of the research will be a significant factor in a successful application.

Please note: While scholarly specific publications and lectures are important avenues of dissemination, a program intended more for the general audience is what is required of this plan.

$500

Research may take place between December 15 and October 15 of the following year.

Awards will be made either to individuals or to nonprofit educational institutions in support of scholars in their employ.

The scholar must hold an earned Master of Arts or Doctor of Philosophy degree in one of the humanities disciplines as defined by the National Endowment for the Humanities. The humanities disciplines include history; philosophy; languages; linguistics; the study of literature; archaeology; jurisprudence; the history, theory, and criticism of the creative and performing arts; ethics; comparative religions; and those aspects of the social sciences employing historical or philosophic approaches. The latter may include cultural anthropology, sociology, political theory, and international relations.

The scholar must be a resident of Oklahoma or be employed in Oklahoma. Resident independent scholars, with or without academic affiliations, are eligible.

Ineligible Applicants
-Applicants who were recipients of OH research grants the previous year. Persons whose applications were not funded last year are welcome to reapply this year.
-Out-of-state faculty holding 1-year visiting appointments.
-Applicants who have accepted or will return to out-of-state employment for the 2016-2017 academic year and who as a consequence have resigned or will resign their Oklahoma appointments.
-Current candidates for a graduate degree (M.A. /Ph.D.).
-Individuals who have received five previous OH research grants are ineligible to apply for a period of four years following their last award.

Ineligible Research Projects
-Research in pursuit of an advanced degree or undertaken for academic credit,
-Publication costs,
-Research in pedagogical methodology,
-Creative or performing arts activities (e.g. sculpting, theatrical production, poetry writing, etc.), and
-Partisan advocacy (political, religious, or social).

These awards must be matched in cash and/or "organizational resources" at least dollar-for-dollar by the applying individual or institution. For example, the value of the scholar's time spent on the research project during the period of the grant (calculated on the basis of his or her salary) should more than meet the matching requirement.

However, if your institution is sponsoring your application and/or matching OH's grant, the institution may prefer--because of internal policies--to budget and report only institutional matching funds as match for the grant.

Applicants are encouraged to seek additional support from their own institutions in conjunction with this application; a number of Oklahoma colleges and universities have matched these Research Grant awards in the past.

Contact the appropriate office in your institution to determine, (a) whether you should apply as an individual or with institutional sponsorship; and (b) whether your institution will match an OH Research Grant and, if so, in what amount.

The deadline for applications is December 15. Applicants will be notified of the OH's decision by early February of the following year.

Before starting your grant application, please review the funding source's website listed below for updates/changes/addendums/conferences/LOIs.
Apply Online: https://www.grantinterface.com/common/logon.aspx?eqs=Masf7qpEgtwUZGtJN4RoLLwb8ZDraDk9p45uiYN-Z0M1

Ann Thompson, Executive Director
athompson@okhumanities.org

Kelly Burns, Program Officer
kelly@okhumanities.org

Oklahoma Humanities Council
424 Colcord Dr., Suite E
Oklahoma City, OK 73102

P: (405) 235-0280
F: (405) 235-0289

USA: Oklahoma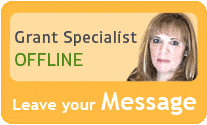 Libby is constantly in touch with grant program managers and reviews numerous publications to make sure that GrantWatch.com provides subscribers with the most up-to-date grant opportunities.
We have grants for:

Need help?
Hi, I would love to guide you through the site.
Please feel free to call or write.
Customer Sales & Support
(561) 249-4129