Community Grants
Grants to Forsyth County Area, North Carolina Nonprofits
for Arts, Health, and Community Development
Agency Type:
Foundation / Corporation

The Winston-Salem Foundation

12/01/16

11/01/16

Request a Grant Writer
Grants to Forsyth County Area, North Carolina nonprofit organizations for a broad range of activities to benefit local communities. A preliminary application is due by November 1. Possible funding areas include education, arts and culture, health and human services, domestic animals, community development, and developing social capital.

The Foundation makes grants for a wide range of charitable purposes, generally in three categories:

1) Capacity-building grants: The Foundation regularly makes grants to organizations to embark on projects that help to strengthen the organization's ability to fulfill its mission. Capacity-building grants have included, but have not been limited to, requests for new positions, planning work, and work with consultants.

2) Programmatic grants: The Foundation regularly makes grants to support the development of new program services and to assist with the expansion of existing programs. The Foundation does not typically support existing programmatic costs.

3) Capital campaign grants: The Foundation occasionally makes grants to capital campaigns in support of local organizations and facilities when they serve a wide cross-section of community members. Any campaign with a local fundraising goal of $500,000 or more must be on the Campaign Coordinating Committee Calendar.

The Foundation will make occasional grants for equipment and special events, although these are a low priority.

The average grant size of The Winston-Salem Foundation is approximately $20,000. The Foundation does make grants that are larger and many grants that are smaller.

The Foundation's average grant size to a capital campaign on the calendar is $75,000; off-calendar grants will not exceed $20,000.

Small Grants of up to $1,000 will be considered throughout the year.

Grants are usually made for one year at a time. Occasionally the Foundation will provide additional support for a project for multiple years.

The Foundation makes most of its grants to charitable organizations with 501(c)(3) status, but does offer some grants to groups without this designation.

The Winston-Salem Foundation funds faith-based organizations when the organization is providing a social service and when the nature of the grant application is appropriate for Foundation funding. See the additional guidelines for religious organizations (attached below) for more information.

Not Funded:
-Individuals
-General operating support
-Religious activities that serve only the members of a single congregation or promote a particular faith

FAQ: http://www.wsfoundation.org/page.aspx?pid=600

Application Instructions: http://www.wsfoundation.org/page.aspx?pid=599

The first step in the Community Grants application process is to submit to the Foundation a preliminary application.

The Foundation will accept Preliminary Applications the first business day of odd-numbered months; the Foundation will contact you within 15 days as to whether your preliminary application qualifies you to submit a full grant application. If your preliminary application is accepted, you will receive a grant application to complete.

Following submission of a full grant application, Foundation staff will visit with you to learn more about the organization as well as your project in preparation for the grant decision by the Foundation Committee. The entire process takes three months.

Upcoming Grant Cycle:
-Preliminary Application Deadline: November 1, 2016
-Grant Application Deadline: December 1, 2016
-Grant Decision Date: January 31, 2017

Additional Preliminary Application Deadlines:
-January 2, 2017
-March 1, 2017
-May 1, 2017
-July 3, 2017
-September 1, 2017

If you are applying for a grant of $1,000 or less, you may submit the Small Grants application form the first business day of any month. You will receive a decision within 30 days.

Before starting your grant application, please review the funding source's website listed below for updates/changes/addendums/conferences/LOIs.
Madelyn McCaully, Grants Manager
(336) 725-2382
mmccaully@wsfoundation.org

The Winston-Salem Foundation
751 W Fourth St, Suite 200
Winston-Salem, NC 27101

Forsyth County Area


USA: North Carolina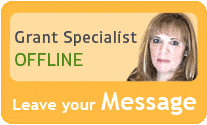 Libby is constantly in touch with grant program managers and reviews numerous publications to make sure that GrantWatch.com provides subscribers with the most up-to-date grant opportunities.
We have grants for:

Need help?
Hi, I would love to guide you through the site.
Please feel free to call or write.
Customer Sales & Support
(561) 249-4129