Major Grant
Grants to Maine Nonprofits for Humanities
Films, Conferences, and Exhibits
Agency Type:
Foundation / Corporation

Maine Humanities Council

12/01/16

01/31/17

Request a Grant Writer
Grants ranging from $1,001 to $7,500 to Maine nonprofit organizations for a broad range of humanities activities. Optional application drafts are due by December 1. Examples of eligible projects include, but are not limited to, films, exhibits, and conferences. Projects must have well-developed thematic content, broad public outreach, and strong scholar participation.

MHC frequency considers the following project formats:
-Conferences, lectures, and discussions
-Websites
-Technical assistance – training in use of video, oral histories, fee for a professional such as a photographer
-Feature-length films (pre and post-production only)
-Cultural tourism attractions
-Oral histories
-Civic Reflection programs
-Radio/podcast productions
-Video/online visual media productions
-Exhibitions
-Projects that link schools and their communities
-Teacher seminars
-Theatrical performances that include analysis or interpretation using humanities disciplines

$1,001 - $7,500

Projects must begin no sooner than 8 weeks after the deadline.

While the MHC occasionally makes awards to the same organization in consecutive years for exceptional projects, it does not make this a regular practice.

All applicants must have an office or address in Maine, or have at least one member of the project who possesses a Maine address and be a 501(c)(3) organization.

Applicants may not have received another MHC grant in this current year (with one exception: organizations may apply for both an MHC and an Arts & Humanities grant in the same year).

If your organization is not a 501(c)(3) nonprofit, you will need a fiscal sponsor. Additional resources regarding fiscal sponsorship may be found here: https://www.councilofnonprofits.org/tools-resources/fiscal-sponsorship-nonprofits

Not Funded:
-Individuals;
-Art performances or projects, unless their primary role is to foster analysis or interpretation using humanities disciplines;
Publications, unless integral to public programs;
-Grants to individuals, or to pay students for projects that are being done for academic credit;
-Grants primarily for group or individual travel;
-Projects designed as fundraising ventures (MHC-funded projects need not be free, but participation costs should be reasonable for the type of program being presented);
-Projects that engage in advocacy or discriminate against persons or groups;
-Capital expenditures, construction, or restoration costs;
-Equipment valued in excess of $100 (except in extraordinary circumstances);
-Normal organizational operating costs, indirect or overhead expenses unrelated to the project;
-Projects that have NO connection to Maine.

It is suggested, but not required, that you call or email program staff discuss your project idea prior to applying. Staff will be able to provide advice and suggestions that may strengthen your application.

The grant award must be matched by either cash or in-kind support, or a combination of both, which may come from a third-party or directly from the applicant. In other words, 50% of the total project costs must come from sources other than an MHC award. In-kind contributions may include time and materials, office space and equipment, travel, donated services, and other non-cash donations. It is important to MHC to show that grant funds leverage additional resources, so please include ALL match, even when it is more than 50%.

Major grant applicants may submit a draft application if they wish. Please email the draft by December 1, 2016. The committee will review it and, if appropriate, offer suggestions for improvement.

The final deadline is January 31, 2017.

Notifications will be issued within 6 weeks of the final submission.

Additional Guidelines and Eligibility: https://mainehumanities.org/grant-application-guidelines/

Before starting your grant application, please review the funding source's website listed below for updates/changes/addendums/conferences/LOIs.
Apply Online: http://mainehumanities.org/major-grant-application

Anne Schlitt, Assistant Director or Lizz Sinclair, Director of Programs
(207) 773-5051
grants@mainehumanities.org

Maine Humanities Council
674 Brighton Avenue
Portland, Maine 04102

USA: Maine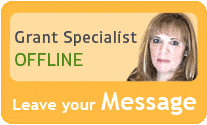 Libby is constantly in touch with grant program managers and reviews numerous publications to make sure that GrantWatch.com provides subscribers with the most up-to-date grant opportunities.
We have grants for:

Need help?
Hi, I would love to guide you through the site.
Please feel free to call or write.
Customer Sales & Support
(561) 249-4129