Major Grants
Grants to South Carolina Nonprofits, Schools, and
Agencies for Public Humanities Programming
Agency Type:
Foundation / Corporation

South Carolina Humanities

01/18/17 5:00 PM Receipt

Request a Grant Writer
Grants ranging from $2,000 to $8,000 to South Carolina nonprofit organizations, government agencies, and schools to provide opportunities for the general public to engage with the humanities. Applicants are strongly encouraged to consult with program staff and submit an application draft for review prior to applying. This funding stream is intended for large-scale humanities programs.

SC Humanities grants support public programs designed to be accessible to a broad audience, to serve citizens in urban, rural, and small-town settings, and to make possible humanities programs that illuminate and enrich the lives of both audiences and scholars.

$2,000 - $8,000

Programs may begin after March 15, 2017. The average grant period is less than one year.

Any nonprofit, governmental, or educational organization may apply for funding through The Humanities Council SC. Previous applicants have included local libraries, museums, schools, churches, civic groups, and historical and arts councils.

Not Funded:
-SC Humanities does not award grants to individuals. Your application must have a nonprofit sponsoring organization.
-Creative or performing arts performances. SC Humanities does fund the theory and criticism of the arts. Your program should be designed to generate dialogue between humanities scholars and the audience and not for the presentation of the art form itself.
-Programs that advocate for a particular ideology, political, social, or religious viewpoint.
-Programs intended for only college students or college faculty. Your program must engage non-academic participants.
-Programs that carry a high ticket or registration fee.
-Courses, scholarships, awards, fellowships or individual research. However, teachers are allowed to apply for programs that earn Continuing Education credits.
-Publications, scholarly, writing or editing projects.
-Capital projects. These include the purchase of land, buildings, restorations, constructions, or museum / library acquisitions. Charges may be made to a grant project for equipment purchases (such as modest expenditures related to SC Humanities funded exhibits) if the applicant can demonstrate that the purchase amount of permanent equipment is less expensive than rental charges.
-Food, alcoholic beverages or entertainment for audiences.
-Expenses incurred or paid for before the SC Humanities grant is awarded or the beginning of the grant period.

Please note: SC Humanities discourages repetitive requests for funding the same project. Applications from the same sponsor for programs of similar content, staff, format, and audience will normally not be funded more than twice.

Due to new federal regulations implemented on October 1, 2010, SC Humanities now requires that all grant applicants have a DUNS number and provide it on the application. Instructions for obtaining a DUNS number may be found in the attachments below.

Major grants are reviewed twice yearly, usually in September (deadlines in August) and February (deadlines in January).

Applications are due to SC Humanities prior to 5:00 PM on Janaury 18, 2017. This is a firm and not a postmarked deadline. This deadline is for programs that start after March 15, 2017.

Drafts are strongly encouraged and will be accepted any time prior to the deadline listed above. Drafts can be submitted by email, fax, or mail.

Applicants for major grants are urged to consult with SC Humanities staff early in the planning stage and should submit a draft for review by staff prior to the application deadline; must make certain that the intended program activities take place no sooner than six weeks following the date of review.

A preliminary review of all applications will be made by SC Humanities Board Members; a limited number of applicants will be invited to submit for a final review. Further instructions will be given to these applicants.

SC Humanities requires a 1:1 match of every outright requested dollar. The cash and in-kind cost shares, must therefore, equal or exceed the amount of the outright request. Cash cost share is the budgeted or "on-hand" amount of real dollars either raised or contributed towards the project. The in-kind cost share is the amount of value donated towards ensuring the project's success. Typically, this is in the form of volunteer hours, donation of services, space, or materials or a donation of honoraria.

FAQs: http://schumanities.org/grants/grantfaqs/

Before starting your grant application, please review the funding source's website listed below for updates/changes/addendums/conferences/LOIs.
Randy L. Akers, Executive Director
rlakers@schumanities.org

South Carolina Humanities
2711 Middleburg Drive, Suite 203
Columbia SC 29204

Mailing Address:
PO Box 5287
Columbia SC 29250

803-771-2477

USA: South Carolina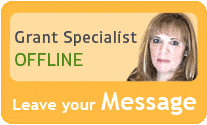 Libby is constantly in touch with grant program managers and reviews numerous publications to make sure that GrantWatch.com provides subscribers with the most up-to-date grant opportunities.
We have grants for:

Need help?
Hi, I would love to guide you through the site.
Please feel free to call or write.
Customer Sales & Support
(561) 249-4129