Solid Waste Alternatives Program (SWAP) - Project Request Greater than $10,000
Grants to Iowa Agencies, For-Profits, Groups, and
Individuals for Large Projects to Reduce Landfill Waste

Iowa Department of Natural Resources

01/02/17 4:00 PM Receipt

Request a Grant Writer
Grants starting at $10,000 to Iowa local government agencies, businesses, public and private groups, and individuals to decrease the quantity of solid waste entering landfills. Funding may be requested in the form of grants or low-interest loans for projects including, but not limited to, the following:

1) Waste reduction equipment purchase and installation;

2) Collection, processing, or hauling equipment including labor for installation;

3) Development, printing, and distribution of educational materials;

4) Planning and implementation of educational forums including, but not limited to, workshops;

5) Materials and labor for construction or renovation of buildings;

6) Salaries directly related to implementation and operation of the project;

7) Laboratory analysis costs; and

8) Engineering or consulting fees.

There are three (3) types of financial assistance that can be awarded to applicants selected to receive funding: forgivable loan, zero interest loan, and a 3% interest loan. The type(s) of financial assistance awarded to selected projects will depend upon the total amount awarded to the applicant.

Award disbursement for projects will occur as follows:
1) First $10,000 of an award is eligible as a forgivable loan
2) Next $50,000 of an award is eligible as a zero interest loan
3) The remainder of an award is eligible as a 3% interest loan

Requests must be greater than $10,000.

Eligible applicants include any unit of local government, public or private group, business, or individual with an interest in or having responsibility for solid waste management in Iowa.

Ineligible Expenses:
-Taxes;
-Vehicle registration;
-Overhead expenses;
-Indirect costs;
-Legal costs;
-Contingency funds;
-Proposal preparation;
-Agreement administration;
-Land acquisition;
-Office furniture, office computers, fax machines and other office furnishings and equipment;
-Costs for which payment has or will be received under another federal, state or private financial assistance program; and
-Costs incurred before a written agreement has been executed between the applicant and the department.

Funds will be released on a reimbursement basis.

Applicants are required to provide a minimum cash match of 25 percent (25%) for each budget line item in which SWAP funding is requested.

As the January 1, 2017 deadline falls on a weekend, applications are due on the next business day, Monday, January 2, 2016, 4:00 PM.

The length of time from proposal review to fund availability will vary, but it is estimated to be approximately two months.

Before starting your grant application, please review the funding source's website listed below for updates/changes/addendums/conferences/LOIs.
Tom Anderson
515-725-8323
tom.anderson@dnr.iowa.gov

Amy Wilken
515-725-8349
amy.wilken@dnr.iowa.gov

Land Quality Bureau
Wallace State Office Building
502 East Ninth Street
Des Moines, Iowa 50319

USA: Iowa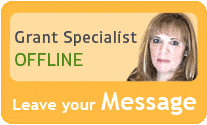 Libby is constantly in touch with grant program managers and reviews numerous publications to make sure that GrantWatch.com provides subscribers with the most up-to-date grant opportunities.
We have grants for:

Need help?
Hi, I would love to guide you through the site.
Please feel free to call or write.
Customer Sales & Support
(561) 249-4129