Land and Water Conservation Fund (LWCF) Grant
Grants to North Dakota Government Agencies
to Develop Outdoor Recreational Facilities

North Dakota Parks and Recreation Department (NDPRD)

12/07/16 1:00 PM CT

Request a Grant Writer
Grants starting at $30,000 to North Dakota government agencies, tribes, school districts, park districts, and water management districts for the development of outdoor recreation facilities. Funding may be used for projects such as campgrounds, land acquisition for the development of parks, pools, playgrounds, and ball fields.

Recreation facilities may include but are not limited to the following facility types:

-Sports and playfields and other outdoor spaces used in competitive and individual sports. This includes fields for baseball, softball, soccer and football, tennis courts, playgrounds, golf courses, rodeo arenas, inline hockey rinks, skate parks, running tracks, and other similar facilities.

-Picnic facilities including tables, fireplaces, shelters, and associated amenities.

-Trails including development and marking of overlooks, turnouts and trails for nature walks,
hiking, bicycling, horseback riding, exercising, and motorized vehicles.

-Swimming facilities including swimming beaches, outdoor pools, wave-making pools, wading
pools, spray pools, lifeguard towers, bathhouses and other similar facilities.

-Non-motorized boating facilities for canoeing or kayaking.

-Winter sports facilities such as cross-country ski trails, sledding, snowmobiling, and other winter
sports. Outdoor ice skating and outdoor ice hockey rinks are also eligible.

-Camping facilities including tables, fireplaces, restrooms, and associated tent and RV facilities. o Exhibit or interpretive panels that present information to aid observation or interpretation of
natural resources located on the recreation site.

-Spectator facilities such as amphitheaters and modest seating areas related to community
playfields and other eligible facilities.

-Accessible facilities including the adaptation of new or existing outdoor recreation facilities and
support facilities for use by persons with disabilities. Such accessible facilities must be available
to the general public or be part of an outdoor recreation area that serves the general public.

Land acquisition:

-Acquisition projects generally consist of land purchase and/or donation that are sometimes combined with development of facilities. Land acquired through purchase or donation must be appraised according to federal standards. An acquisition through donation from non-public sources may be used as a portion of the sponsor's matching share for development purposes.

Minimum grant size is $30,000.

The tentative project start date is September 2017. Expenses that occur prior to the start date cannot be reimbursed.

Grant recipients must utilize funding within 18 months of the award.

The following entities (only political subdivisions of the state of North Dakota with ownership of the project land) are eligible and may apply:

-Cities, counties, and townships
-Park boards and park districts
-School districts
-State agencies
-Water management districts
-Federally-recognized Indian tribes

Ineligible Expenses:
-Expenditures on items not in the approved project scope
-Sales tax
-Service charges for late payment
-Costs incurred prior to federal approval date and after project expiration date
-Equipment such as hammers, ladders or lawn mowers
-Payments to one vendor in excess of $25,000 that are not bid according to federal regulations
-Legal fees

The application cycle will close at 1:00 PM Central Time on December 7, 2016.

Submitted projects are reviewed and ranked at the state level (4-6 weeks).

All cleared projects are submitted to the National Park Service (NPS) regional office for review and the NPS works with the state to ensure compliancy and to confirm the list of projects to receive funding (4-6 weeks).

The state enters eligible projects for funding into grants.gov for final review by the NPS at the federal level; the state is then notified as to which projects will be awarded funding (6-8 weeks).

LWCF grants reimburse up to 50% of the total project cost.

Local sponsors must pay all project costs upfront and then request reimbursement. Partial reimbursement may be requested periodically.

Before starting your grant application, please review the funding source's website listed below for updates/changes/addendums/conferences/LOIs.
Century Center
1600 E. Century Ave. Suite 3
PO Box 5594
Bismarck, ND 58506-5594

701-328-5357
parkrec@nd.gov

USA: North Dakota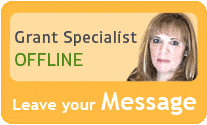 Libby is constantly in touch with grant program managers and reviews numerous publications to make sure that GrantWatch.com provides subscribers with the most up-to-date grant opportunities.
We have grants for:

Need help?
Hi, I would love to guide you through the site.
Please feel free to call or write.
Customer Sales & Support
(561) 249-4129