Hartford Events Grant
Grants to Hartford Area, Connecticut
Nonprofits for Arts and Cultural Events
Agency Type:
Foundation / Corporation

Greater Hartford Arts Council and Hartford Foundation for Public Giving

05/25/17

06/22/17

07/20/17 11:59 PM Receipt

Request a Grant Writer
Grants ranging from $1,000 to $5,000 to Hartford Area, Connecticut nonprofit organizations to hold arts and cultural events within Hartford city limits. The intent to apply is due by June 22, 2017. Examples of eligible projects include festivals, parades, celebrations, and concerts. The goal of this grant is to drive local business, generate excitement and energy, revitalize neighborhoods, and celebrate Hartford's rich cultural diversity.

Examples of eligible events include, but are not limited to:
-Dance, theater, music, visual arts, literature, combination, or multiple art form performances.
- Concerts, parades, festivals, performances, celebrations of local artists, ethnic identity, social, or culturally specific traditions

The Arts Council invests in organizations that demonstrate significant impact among five core areas. Applicants are required to demonstrate strong alignment with at least one of these goals in order to receive funding.
1. Increase Greater Hartford's ability to attract and retain talent by leveraging the value of extraordinary arts experiences as an integral part of the region's quality of life.
2. Promote intercultural understanding by supporting arts experiences that include, represent, and engage all populations regardless of their ethnic, cultural, social, economic, and ability backgrounds.
3. Utilize the arts to cultivate the creative talents of school-aged (pre-K through grade 12) youth in the region, especially those whose social or economic conditions present a barrier to access.
4. Enhance the vibrancy of neighborhoods and local communities that have been marginalized, disadvantaged, or underrepresented by increasing members' access to arts experiences and institutions.
5. Engage members of diverse communities to explore social issues of broad public concern through the arts together.

Funding is awarded to those events that connect culture and community, promote economic activity, serve wide-ranging populations and make the arts accessible to all. Applicants are encouraged to take advantage of the Arts Council's free-of-cost umbrella marketing services and social media outlets to promote events.

Awards range from $1,000 to $5,000; the maximum grant request is $5,000.

Events may occur between April 1, 2017 and September 30, 2017.

Applicants must hold current 501(c)(3) nonprofit tax-exempt status.

For-profit entities are not eligible for funding.

The Greater Hartford Arts Council cannot consider applications that:
-Are not preceded by an Intent to Apply;
-Do not appear in the proper format as outlined in the grant guidelines and application;
-Are submitted without the required attachments;
-Are received after 11:59 PM on the deadline date;
-Are from an organization that does not have its primary physical address within the 34 towns served by the Greater Hartford Arts Council;
-Are from organizations that have not fulfilled grantee obligations from prior Arts Council grants, including filing of final reports;
-Are from for-profit entities
-Are for Ineligible Expenses (noted below);

Ineligible Expenses include costs that:
-Are for the purchase of food or beverages for receptions and hospitality functions;
-Are for events that are considered social or fundraising benefits or are for events that use the proceeds for scholarships;
- Are for lobbying;
-Are for unrestricted operating support, endowment support, or funds to be applied towards capital improvements/equipment such as renovation, restoration, rehabilitation, or construction;
-Are for individual fellowships, graduate education, or university-based projects that require participants to register for academic credit;
-Are for repayments of loans, debt service, or for retroactive funding (activities completed before the start of the proposed grant period);
-Are for undocumented expenses;
-Are for funding of a new, permanent position or replacement of lost funding for existing staff;
-Are for contracted services of an organization's staff or board member;
-Are for regularly contracted services such as a grant writer, accountant, attorney, advertising firm or district curriculum supervisor;
- Are for re-granting;
- Are for grant administration, overhead or processing fees taken by an umbrella/parent organization as a percentage of the total award.

An Information Session will be held on May 25, 2017 from 10-11 PM.

Applicants may request no more than 50% of the entire program/project budget. No more than 25% of expenses represented may be in-kind services.

Round 1: For events that take place between April 1 and September 30
Intent to Apply due December 1, 2016
Applications due January 12, 2016
Award notification in March 2016

Round 2: For events that take place between October 1 and March 31
Information Session (Registration Required): May 25, 2017; 10-11 PM
Intent to Apply due June 22, 2017
Applications due July 20, 2017
Award notification in late September 2017

Applicants should submit the completed Intent to Apply no later than 11:59 PM on the deadline date. Only applicants approved through the Intent to Apply process may submit an application. Applicants are strongly encouraged to contact Arts Council staff with questions prior to submitting applications.

Community Impact Goals and Indicators: https://www.letsgoarts.org/goals

Before starting your grant application, please review the funding source's website listed below for updates/changes/addendums/conferences/LOIs.
Submit Intent to Apply forms to: Grants@LetsGoArts.org

José Feliciano, Manager of Granting Programs
860-525-8629 ext. 245
JFeliciano@LetsGoArts.org

Greater Hartford Arts Council
100 Pearl Street
Hartford, CT

USA: Connecticut: Hartford area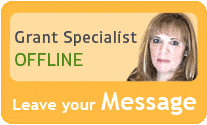 Libby is constantly in touch with grant program managers and reviews numerous publications to make sure that GrantWatch.com provides subscribers with the most up-to-date grant opportunities.
We have grants for:

Need help?
Hi, I would love to guide you through the site.
Please feel free to call or write.
Customer Sales & Support
(561) 249-4129