NYSCA/NYFA Artist Fellowships
Grants to New York and Local Indian
Nations Artists for Unrestricted Funding

New York Foundation for the Arts (NYFA), New York State Council on the Arts (NYSCA)

01/25/17 11:59 PM

Request a Grant Writer
Grants of $7,000 to New York individual artists, as well as artists from Indian Nations located within New York State. Artists must specifically be working in one of the five fields listed below. Funding will be provided for unrestricted use and does not specifically need to be used to support arts projects.

These fellowships are intended to fund an artist's vision or voice, regardless of the level of his or her artistic development.

2017 NYSCA/NYFA Artist Fellowship Categories*:

- Crafts/Sculpture:

This category accepts work in all forms of craft, including ceramics, glass, wood, metal, fiber, textiles and mixed media. This category accepts work in all forms of sculpture, including kinetic works and installations.

- Printmaking/Drawing/Book Arts:

This category accepts work in visual media other than painting, including artists books, aquatints, collages, engravings, etchings, lithographs, monotypes, prints, serigraphs, woodcuts, and drawings. Artists whose work involves painting only, including watercolorists, should apply to the Painting category in the next cycle. Artists whose work involves the computer as a primary medium should apply in the Digital and Electronic Arts category.

- Nonfiction Literature:

This category accepts work in all varieties and genres of nonfiction literary prose, including essays, criticism, journalism, autobiography, monographs and experimental forms.

- Poetry:

This category accepts original work in all forms of poetry, for either the page or the stage.

- Digital/Electronic Arts:

This category accepts work in which technology is an essential element of the work's creation, presentation, or understanding. Examples of appropriate work include: 2D works created or displayed on computers or other electronic media; works based on 3D computer models; sculptural works; interactive installations including immersive virtual environments; internet projects; hypertext documents; and other image, text, audio, or video works rooted in technology.

Examples of inappropriate work in the Digital/Electronic Arts category include: works in which the computer is a vehicle for reproduction (i.e. scanned and manipulated paintings) and works in which the computer mimics, but does not expand on, a traditional method of production (i.e. non-linear video editing).

*Please Note: Included in these grants is the Joanne Chen Fellowship, which is awarded annually to a Taiwanese American artist resident in New York. The winner of this award will receive an unrestricted grant of $7,000.

$7,000

Grants are awarded over a three year period.

Applicant artists must:

- Be 25 years old or older.
- Be a current resident of New York State and/or one of the Indian Nations located in New York State for at least the two consecutive years prior to the application deadline.
- Not be enrolled in a degree seeking program of any kind at the time of the application deadline.
- Not have received a NYSCA/NYFA Artist Fellowship in any discipline in the past five years, (2012-2016), and cannot submit any artwork that has been previously awarded a NYSCA/NYFA Artist Fellowship in the past.
- Not be a NYFA employee, member of the NYFA Board of Trustees or Artists' Advisory Committee, an immediate family member of any of the above, or an immediate family member of a 2016-2017 panelist.

Note: Artists that have been awarded five NYSCA/NYFA Artist Fellowships receive Emeritus Status and are no longer eligible to apply.

The Foundation highly recommends completing the application in advance of the deadline to allow time for work samples to upload as well as to avoid potential technical problems.

Before starting your grant application, please review the funding source's website listed below for updates/changes/addendums/conferences/LOIs.
Click here to access the online application for each category: https://apply.nyfa.org/submit

NYSCA/NYFA Artist Fellowships: fellowships@nyfa.org

Chris Messer, Executive Director: cmesser@nyfa.org

Additional Contact Information:

New York Foundation for the Arts (NYFA)
20 Jay Street, 7th Floor
Brooklyn, NY 11201

Phone: (212) 366-6900
Fax: (212) 366-1778

Office hours: 9:30 AM -5:30 PM, Monday–Friday

USA: New York City; New York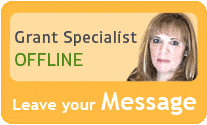 Libby is constantly in touch with grant program managers and reviews numerous publications to make sure that GrantWatch.com provides subscribers with the most up-to-date grant opportunities.
We have grants for:

Need help?
Hi, I would love to guide you through the site.
Please feel free to call or write.
Customer Sales & Support
(561) 249-4129