K-12 Environmental Education Mini Grant
Grants to USA Nonprofits, Schools, and Agencies in Multiple States
for Pre-K-12 Environmental Awareness
Agency Type:
Foundation / Corporation

Chesapeake Bay Trust, National Oceanic and Atmospheric Administration (NOAA), Chesapeake Bay Watershed Education and Training Program (B-WET)

01/13/17 5:00 PM

Request a Grant Writer
Grants of up to $5,000 to USA nonprofits, schools, and public agencies in multiple states for programs promoting pre-K-12 environmental awareness and environmental training for teachers. This grant is intended for programs in the areas of Washington D.C., Delaware, Pennsylvania, Maryland, Virginia, and West Virginia that constitute the Chesapeake Bay Watershed. In particular, this fund is intended to increase awareness of local watersheds and teach children how they can positively impact watershed health.

The program supports meaningful outdoor learning experiences around a watershed issue investigation including field trips, fieldwork, student-led action projects and schoolyard habitat projects. In addition, the fund supports teacher professional development trainings and programs to advance environmental literacy in the Chesapeake Bay region. The Trust strongly encourages grant applications for projects that increase awareness and participation of communities that are traditionally underrepresented.

Project criteria

- Projects should increase student and teacher awareness about local water quality and should promote actions that individuals can take to improve local streams, rivers and the Bay.
- Contributions of funds or in-kind services from project partners and other sources is encouraged in all cases and required in some cases (e.g., field trip requests).
- Projects should include partnerships with community based organizations, government agencies, service providers, and others when relevant to accomplishing your goals.

Up to $5,000

Funds are for projects starting no earlier than March 11, 2017. Projects should be completed within one year after receipt of the grant award.

The Trust welcomes requests from the following organizations:
- Projects that will occur in Maryland, Delaware, DC, Pennsylvania, Virginia, West Virginia or the Chesapeake Bay Watershed;
- 501(c)3 Private Nonprofit Organizations;
- Faith-based Organizations;
- Community Associations;
- Service, Youth, and Civic Groups;
- Municipal, County, Regional, State, Federal Public Agencies;
- Soil/Water Conservation Districts & Resource Conservation and Development Councils;
- Forestry Boards;
- Public and Independent Primary, Intermediate, and Secondary Schools;
- Public and Independent Higher Educational Institutions
- Funding is generally restricted to projects on public property, private community-owned land and conservation easements, unless otherwise specified in a grant program.

The Trust does not fund the following:
- Endowments, deficit financing, individuals, building campaigns, annual giving, research, fund raising or venture capital;
- Mitigation or capital construction activities such as structural erosion control measures;
- Political lobbying;
- Reimbursement for a project that has been completed or materials that have been purchased;
- Budget items that are considered secondary to the project's central objective. These items include, but are not limited to, cash prizes, cameras and video equipment;
- Promotional collateral such as pens, key-chains, t-shirts, etc.

Applicants are strongly encouraged to apply several days prior to the deadline, due to potential for high website traffic on the date of the deadline. Technical assistance for online application cannot be guaranteed on the deadline date.

Contributions of funds or in-kind services from project partners and other sources is encouraged in all cases and required in some cases (e.g., field trip requests). The Trust requires that all non-Title 1 schools provide funding for at least half of their field trip or experience costs.

- For assistance in identifying your local watershed: https://cfpub.epa.gov/surf/locate/index.cfm
- For additional resources: http://www.cbtrust.org/site/c.miJPKXPCJnH/b.5457555/k.5167/Additional_Resources.htm
- For sample projects: http://www.cbtrust.org/site/c.miJPKXPCJnH/b.5587537/k.AF42/Example_Projects.htm

Timeline for this grant is as follows:
- Deadline Date: January 13, 2017, 5:00 PM
- Decision Date: March 10, 2017
- Project Start Date: no earlier than March 11, 2017.

The Trust cannot make exceptions to the above deadlines nor provide reimbursement funding for already completed projects.

Before starting your grant application, please review the funding source's website listed below for updates/changes/addendums/conferences/LOIs.
To access the online application: https://www.grantrequest.com/SID_1520?SA=SNA&FID=35005

Questions & Technical Support
Emily Stransky
estransky@cbtrust.org
410-974-2941 x101

General Contact Information:
Chesapeake Bay Trust
60 West Street, Suite 405
Annapolis, MD 21401
Phone 410.974.2941
Fax 410.269.0387

For a map of eligible areas: http://www.cbtrust.org/atf/cf/%7BEB2A714E-8219-45E8-8C3D-50EBE1847CB8%7D/K-12%20mini%20EE%20funding%20map%20copy.jpg

USA: Delaware; Maryland; Pennsylvania; Virginia; Washington, DC; West Virginia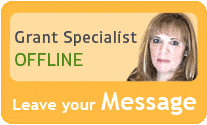 Libby is constantly in touch with grant program managers and reviews numerous publications to make sure that GrantWatch.com provides subscribers with the most up-to-date grant opportunities.
We have grants for:

Need help?
Hi, I would love to guide you through the site.
Please feel free to call or write.
Customer Sales & Support
(561) 249-4129