EZ Arts Access Grant
Grants to West Virginia Small Nonprofits
for Public Arts Activities and Presentations

West Virginia Division of Culture and History (WVDCH) - West Virginia Commission on the Arts (WVCA)

10/01/17 Postmarked
Grants of up to $3,000 to West Virginia nonprofit organizations with small annual budgets for the planning and presentation of public arts opportunities. First-time applicants must contact program staff prior to applying. All applicants must submit an application draft at least two weeks prior to the deadline.

This program uses a simplified application process with the opportunity to apply two times per fiscal year, allowing for special opportunities that occur after other WVCA deadlines have passed.

This grant seeks to support projects that:
-Provide arts experiences to new or underserved audiences.
-Show partnerships in communities to help build an arts infrastructure that will allow for future arts programming growth.
-Clearly fill a need in the community.
-Use the arts in an innovative way to enhance community life.

In addition, arts learning projects are eligible for funding within these guidelines, but the arts learning must be community-based and not curriculum-based. All curriculum-based projects must apply through Arts in Education grant program.

Examples of Successful Project Activities:
-Community choir concerts for public and senior centers featuring local and state artists.
-Community mural project, engaging youth with professional artist as designer and mentor.
-Local juried exhibition featuring community artists and professional jurors.
-A mentoring program that matched professional artists with rural students looking for arts lessons.

Funding may be used for the overall project costs, excluding administrative/overhead costs.

Grants provide up to 50 percent of eligible costs, not to exceed $3,000.

Projects may take place January 1 - June 30.

Eligible Applicants: Any nonprofit 501(c)3 WV organizations providing arts experiences in the community, including nonprofit organizations that do not have an arts focus, but who present arts projects, with an operating budget of $30,000 or less. NOTE: budget should be based on programming budget without capital income/expenses.

Ineligible Activities: Awarded funds may not be used for hospitality costs, administrative fees or overhead costs.

In addition to the program guidelines, all grants must adhere to the West Virginia Commission on the Arts General Guidelines (attached below).

General Eligibility:

-Organizations must be exempt from federal income tax under Section 501(c)(3) of the Internal Revenue Code and be chartered in West Virginia as a nonprofit organization for at least one year prior to application. Organizations currently in the process of obtaining 501(c)(3) status may use a qualifying nonprofit as a fiscal agent for arts related projects.

-State, local and county governmental agencies must include a letter from an appropriate official certifying the organization as a governmental unit.

-All applicants must include a Federal Employee Identification Number (FEIN) that is issued in the name of the applicant organization.

-Local, county, and state agencies must demonstrate that the arts programs they are sponsoring serve the community-at-large and are not restricted to special populations.

-Public or private educational institutions (such as elementary and secondary schools) and school boards are eligible. Private educational institutions must be nonprofit and meet the tax-exempt requirements listed above.

-Public and private colleges and universities must demonstrate arts service to the community-at-large with no restriction to campus or special populations. Colleges and universities may apply for a maximum of 33% of eligible costs. Colleges and universities are eligible to apply for 50% of eligible costs in all NEA Initiatives. Colleges and universities are not eligible to apply for Cultural Facilities and Capital Resources grants.

-Cross-state-border projects initiated by a West Virginia arts organization must demonstrate clear service to West Virginia audiences.

-All organizational applicants must have a Dun & Bradstreet (DUNS) Number and active registration in the Central Contractors Registration (CCR).

What the WVCA Does Not Fund:

-Annual programs previously funded locally
-Public or private primary, secondary, or higher education teaching faculty/staff positions
-Positions that supplant K-12 certified teachers
-Country, pop, or rock bands
-Fundraisers or projects associated with fundraising
-Social dances
-Historical research
-Historical re-enactments
-General operating costs (except in Arts Partners support category)
-Administrative costs (unless specifically outlined in extended guidelines)
-Advertising
-Royalty fees
-Costumes
-Hospitality expenses
-Music or instrument purchases (Except for Cultural Facilities and Capital Resources Grants)
-Space rental
-School-based student awards, competitions or exhibits
-Travel expenses for school groups to perform or compete (i.e.: marching bands, drama clubs, choruses)
-Non-arts related projects
-Overhead costs, such as maintenance and security
-Costs of publishing or self-publishing
-Printing (other than prospectus or catalogs for WV artists)

Applicants are required to match grant funds on an equal dollar-for-dollar (1:1) cash match basis from earned income, federal, foundation, corporate, or local private contributions.

All applicants must submit a draft of their application at least two weeks prior to the postmark deadline for staff review. Staff will provide written comments to focus and improve the application and its chance of success; review does not guarantee funding but will work to strengthen application.

Applications must be postmarked on or before the deadline date. If the date falls on a weekend, the application must be postmarked by the following Monday.

Timeline:

-Two Weeks Prior to Deadline: Required application draft submitted for staff review.
-April 1: Postmark application deadline for projects taking place July 1 - June 30.
-October 1: Postmark application deadline for projects taking place January 1 - June 30.
-May/November: Panel review of grants held
-July/December: Notification of Award

Before starting your grant application, please review the funding source's website listed below for updates/changes/addendums/conferences/LOIs.
Elizabeth Yeager
304-558-0240, extension 152
Elizabeth.A.Yeager@wv.gov

Send your completed package to:

West Virginia Division of Culture and History
Commission on the Arts
Attention: Elizabeth Yeager
The Culture Center
1900 Kanawha Boulevard, East
Charleston, WV 25305-0300

USA: West Virginia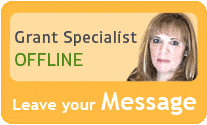 Our team of researchers and grant specialists review hundreds of funding resources daily to make sure GrantWatch.com provides members with the most up-to-date grants.
We have grants for: