Park County Travel Council (PCTC) Grant and Sponsorship Request
Grants to Park County, Wyoming Nonprofits to
Promote the Local Tourism Industry

Park County Travel Council (PCTC)

10/16/17 5:00 PM ET Recommended Submission
Grants to Park County, Wyoming nonprofit organizations for marketing projects that enhance the local tourism industry. Applicants are encouraged to discuss project ideas with program staff prior to applying. The purpose of this program is to provide for the promotion of travel and tourism within the various geographic areas and economic centers in Park County; to facilitate and bring about broad and effective development and marketing of programs; and to enhance and improve overnight and destination tourism.

Marketing projects eligible for funding are:

a. Regional/national advertising campaigns in electronic or printed media;

b. Participation in educational travel related programs;

c. Production of travel promotion and audio-visual presentations such as movies, slide shows, etc.;

d. Production of travel promotion literature such as motivational publications and brochures;

e. Market research studies specifically aimed at identifying target markets at which marketing programs will be directed; and

f. Promotions and solicitations of conventions, meetings and seminars.

The specific categories of costs to be considered within an acceptable project are:

a. Advertising: 1) purchase of space and time, fees of a recognized ad agency, and production costs; and 2) authorized grantee is financially responsible for a minimum of 100 percent of the cost of the portion of the ad used by the individual business, entity, or member of that grantee organization.

b. Participation in educational travel related programs;

c. Travel Shows: Rental of booth space, rental of equipment and services required for the show, shipping and drayage costs for booth, literature, and registration fees;

d. Audio-Visual Production: Printing, photography, separations and artists' services;

e. Research: By contract between the organization and recognized research firm or consultant. Copies of a draft, unsigned contract must be submitted with the organization's application. Specific goals, objectives, costs and the time frame of the research project must be identified; and

f. Administration: Staffing salaries for eligible community visitor centers only.

Advertising programs submitted for funding assistance should be designed specifically to encourage visitors from outside Park County.

Organizations eligible to apply for grants shall be "nonprofit organizations", under the laws of the State of Wyoming, which have projects for the promotion of tourism within Park County.

Organizations applying must have the capability of attracting visitors to Park County.

The costs specifically excluded from funding are:

a. Purchase of equipment;

b. Use of temporary, portable advertising signage, including permanent billboards;

c. Communications: Telephone, website host;

d. Expenses of commitments made prior to project approval. The grant will not cover any expenses paid before the date of project approval. Any contractual commitments made between the project sponsor and the supplier will be the sole responsibility of the sponsor;

e. Any non-budgeted expense which is not presented in the budget and approved contract. No contingency can be allowed; and

f. Sales Items: Travel promotion items such as audio-visual tapes, cassettes, brochures, posters, etc., produced for sale except in cases where profits are reinvested in the program and used for further tourist promotion. Projected profits should be included in the organization's overall, long-range tourism promotional plan.

Special Consideration:

1. Organizations using matching funds from another entity or the private sector shall be given special consideration. Proof of pledges or applications should be submitted to the Council.

2. Organizations which come to the Council with funds of their own already committed to the project and requesting matching funds will be given special consideration.

The Council encourages those organizations not familiar with the PCTC grant program to contact the PCTC Marketing Director and explain their proposed project, dates and any other factors that might be relevant before undergoing the formal application process.

The Council may offer suggestions on the project and will recommend whether or not the organization should proceed with the formal application.

The grant deadline is 5:00 PM Monday, October 16, 2017.

Before starting your grant application, please review the funding source's website listed below for updates/changes/addendums/conferences/LOIs.
Claudia Wade
pctc@codychamber.org

Applications are to be submitted to:

Mail:
Park County Travel Council
Attn: Claudia Wade
P.O. Box 2454
Cody, Wyoming 82414

Delivery:
Park County Travel Council
Attn: Claudia Wade
836 Sheridan Avenue
Cody, Wyoming 82414

USA: Wyoming: Park County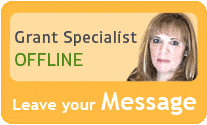 Our team of researchers and grant specialists review hundreds of funding resources daily to make sure GrantWatch.com provides members with the most up-to-date grants.
We have grants for: